Alpena youth explore impacts of invasive rusty crayfish within their local watershed
Sanborn Elementary School students study crayfish to better understand biodiversity and ecosystem health within their Thunder Bay River Watershed.
Spending a sunny spring day on the river looking for crayfish among other aquatic life sounds like a fun day out of school – and indeed it is. Yet for Alpena Public School students of Sanborn Elementary this reflects a typical school day filled with hands-on and real-world learning experiences. Their hunt for crayfish is part of a broader study of the local Thunder Bay River where they monitor water quality and take on important stewardship projects to improve the Lake Huron watershed.
Overall, their research goal is to understand how invasive species affect the health of the watershed by disrupting the natural aquatic ecosystem and food web. These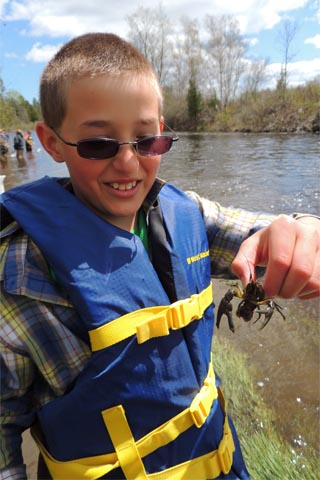 students are taking on a real-world issue, and are doing so in collaboration with community partnerships fostered through the Northeast Michigan Great Lakes Stewardship Initiative network, such as Michigan Sea Grant, US Fish & Wildlife Service (USFWS), Michigan Dept. of Natural Resources Fisheries, the NOAA Thunder Bay National Marine Sanctuary (TBNMS), and Michigan State University Extension-supported 4-H2O and NOAA BWET water education partnerships, among others. A great example of place-based stewardship education in action, these students are engaged, through their learning, in studying their local watershed and identifying important environmental stewardship issues (and possible solutions) of great importance to their coastal community.
On this particular mid-May day, their research aim is to track the invasion of a lesser-known invasive rusty crayfish. Third, fourth, and fifth grade students wade the waters at multiple study sites on the Thunder Bay River capturing and counting crayfish. Applying science study process and math, they are documenting the spread of this invasive and looking for areas where native crayfish might remain. At each of these sites, they are discovering native crayfish to be extremely scarce (collecting only a few over the past couple of years), instead capturing invasive rusty crayfish in large numbers. Comparing their findings with a Michigan crayfish survey conducted by Michigan State University researchers in the 1970's, these students are discovering just how far the invasive crayfish have spread, displacing native crayfish species at their study sites located throughout the watershed in just the past 30 years.
These students have identified aquatic invasive species to be one the foremost threats to the health of their local watershed. Working alongside scientists, they study how invasive species have caused ecosystem changes drastically impacting Lake Huron's fishery along with a broader bi-national study implicating invasive species as a threat to biodiversity across the Lake Huron basin. Students have been observing invasive zebra and quagga mussels with local agency scientists, documenting zebra mussel densities in the river with USFWS. They also monitor quagga mussel infestations on shipwrecks in Lake Huron with NOAA TBNMS staff, by deploying underwater remotely operated vehicles (ROVs) that the students had built themselves to study the problem. Upon discovering rusty crayfish, their studies expanded to include this invasive known to displace native crayfish and alter aquatic habitat by destroying aquatic vegetation.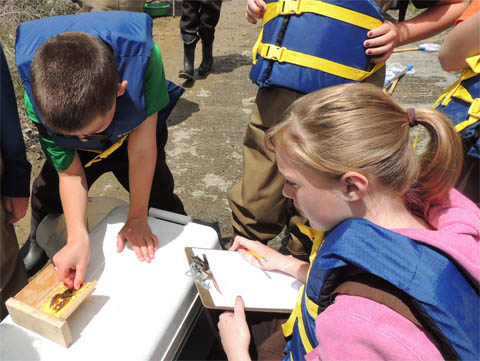 Contributing to their community, students are generating awareness and educating local residents about this important issue. They interact often with community members, meeting them on the water, visiting other classes, meeting with local legislators, and even through the many local news stories that cover the adventures of these students. Some of the rusty crayfish collected have been cast in acrylic blocks and are used now across the Great Lakes region as specimen examples to teach others about this important environmental issue. In support of Michigan Sea Grant's education and outreach efforts, they are partnering in the distribution of aquatic invasive species educational materials, including the regional Stop Aquatic Hitchhikers™ campaign. They even identified the need and contributed much of the text for the newest Great Lakes Most Unwanted poster for the rusty crayfish.
A project like this brings learning to life, and this Thunder Bay River Watershed study reflects multidisciplinary learning at its best. These elementary students apply science, technology, engineering, and math (STEM), while designing their research project, building underwater ROVs, and applying math to analyze data collected. They explore history, social studies and English language arts when researching and writing about invasive species in the context of their local watershed. Students must apply artistic creativity in designing their displays and presentations, and gain invaluable life skills when out in the community—whether on the river with researchers or interacting with their community about the issue. In this community context, they practice problem solving, team-building, leadership, communication and community engagement.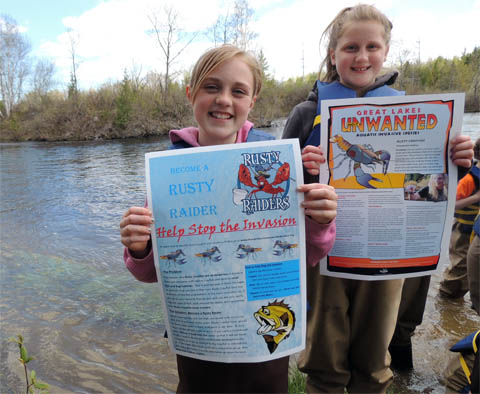 In the end, this student project offers fun and memorable days for students on the river exploring their Thunder Bay River. In their community, these students are enhancing education, fostering awareness, and addressing this important issue of invasive species impacting our Great Lakes watersheds.
For more information about the Northeast Michigan Great Lakes Stewardship Initiative (NE MI GLSI), an initiative supported by the Great Lakes Fishery Trust, and place-based education programming partnerships with Sanborn Elementary School, visit the NE MI GLSI website and their Thunder Bay River Watershed Project page.