Although nationally celebrated in May, Michigan strawberries arrive in June
Michigan consumers anxiously await the arrival of delicious and nutritious Michigan grown strawberries.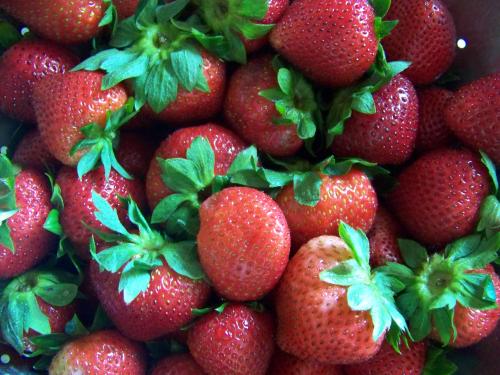 The United States is the world's largest producer of strawberries, producing nearly 1.3 metric tons which accounted for nearly 30 percent of the world strawberry production in 2010. California, Florida and Oregon are the top three strawberry producing states with California producing nearly 90 percent of all the strawberries grown in the United States.
According to the United States Department of Agriculture (USDA), there are 165 commercial strawberry farms in Michigan. In 2011, Michigan farmers grew 1,550 tons of strawberries for the fresh market and 100 tons that were processed. In 2012, the state ranked eighth in the nation for the number of acres planted (750 acres) and for the value of production ($4,826,000). While strawberries are grown in every Michigan County, Berrien, Leelanau and Van Buren are Michigan's largest strawberry producing counties. Jewel, Honeoye and Allstar are the most prevalent commercially grown varieties and account for nearly 60 percent of all land in strawberries in the state.
The strawberry, a member of the rose family, is unique in that it is the only fruit with seeds on the outside rather than the inside. Many home gardeners consider strawberries to be one of the easiest fruits to grow. The plants are perennials and relatively hardy in Michigan. They produce decent yields of fruit in less time than many other fruit crops and the berries ripen earlier than other fruit crops.
No matter how you slice, dip or cook them, strawberries are a perennial consumer favorite. The USDA indicates that strawberries are the fifth most preferred fresh fruit in the United States behind bananas, apples, oranges and grapes. Their popularity continues to grow as Americans now consume twice as many strawberries than they did two decades ago. Last year, Americans ate nearly 7.9 pounds of strawberries per person.
If the recent weather holds, growers in northeastern Michigan are predicting that berries will be ready for picking around June 25, but consumers in more southern regions may find them a little sooner. While waiting for the berries to fully develop and ripen, consumers are encouraged to learn more about strawberries, including purchasing and preservation tips, by checking out the Michigan State University (MSU) Extension Michigan Fresh fact sheets.