Alumni Spotlight: Tracy and Jason Scheffler
Tracy and Jason Scheffler reflect on their time at MSU and discuss what they are doing now.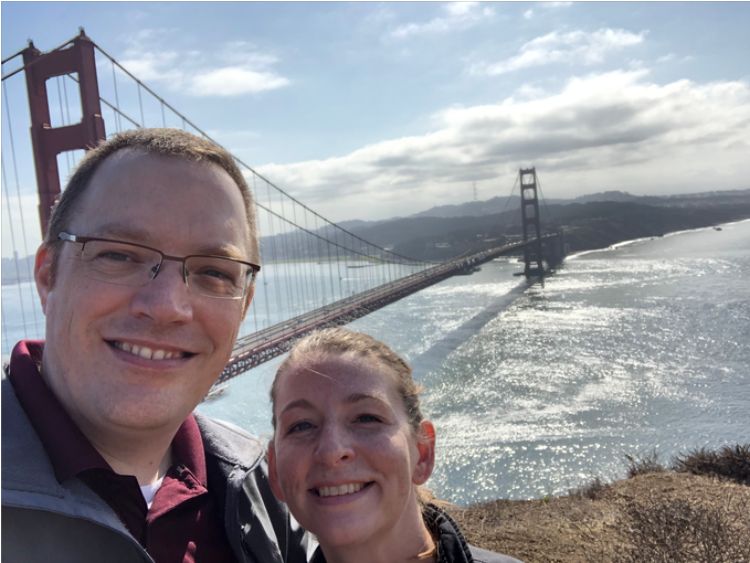 Tracy and Jason, you were both students in the Animal Science department when you first met. Could you share with us the story of how the two of you first connected?
We met in a meat judging van! Tracy's coach, Jeff Sindelar, was Jason's roommate. Jason rode along to help with one of the judging practices.
When did you graduate from MSU and what degree did you receive?
Tracy: 2002, BS
Jason: 2002, MS
What are some things you remember most about your time at MSU?
Tracy: many road trips with my judging teams, going to the Dairy Store for grilled cheese sandwiches and ice cream, the parade to welcome back the Men's Basketball team after they won the national championship (ironically, they beat Florida!)
Jason: I did my undergraduate degree at a small university in Wisconsin, so MSU was my first big land grant college experience and getting to be a part of all three missions. I also remember being at the Clock-game in 2001 where MSU beat #6 Michigan on the last play of the game.
Were there any faculty members at MSU who particularly influenced you?
Tracy: I really enjoyed all my Animal Science courses. Dr. Matt Doumit's courses in Meat Science and Growth & Development were among my favorites, and he gave me valuable advice about graduate school. My first involvement in research was working for Dr. Ron Bates and Dr. Dennis Banks; working with faculty and their graduate students helped me realize my passion for research.
Jason: I did my master's degree under the direction of Dr Matt Doumit. He is a great example of a mentor who is both an outstanding researcher and educator. He gave me my first opportunity to teach a class.
Where did you go after graduation?
Tracy went to Purdue to graduate school, and Jason moved to Nebraska to pursue a PhD. We got married after Tracy finished her MS at Purdue.
What are you doing now?
Tracy: I'm an Associate Professor in Animal Sciences at the University of Florida. My research area is muscle biology and meat quality, and I teach undergraduate courses in Growth & Development of Farm Animals and graduate courses in Meat Science.
Jason: I am an assistant professor in Animal Science at the University of Florida. I have a teaching and extension program largely focused on food safety. For extension, I coordinate Hazard Analysis and Critical Control Points (HACCP) and Animal Food Preventive Controls training programs. In the classroom, I teach Introduction to Animal Science, HACCP systems, and senior seminar.
How did you spend the holidays?
We traveled to Michigan to visit Tracy's family. We weren't sure we were going to make it – our flight from Orlando was delayed, and we were flying into Grand Rapids as the winter storm was starting to hit the Thursday before Christmas. Then we drove through blizzard conditions – it really felt like home!