An update on the village of Paw Paw's natural shoreline demonstration at Maple Isle Park
Lots of sunshine, frequent rains and plenty of fertilizer from past goose activity have combined to make a good first growing season for this project.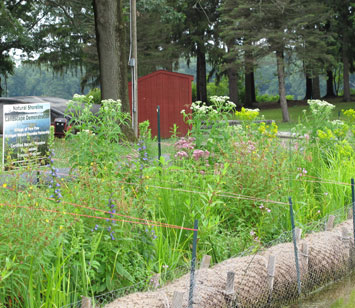 A recent series of Michigan State University Extension articles highlighted the village of Paw Paw's role in hosting the natural shoreline demonstration site for the 2013 Certified Natural Shoreline Professional (CNSP) training. This article provides readers with a follow-up on the project's first growing season.
This summer's generous rain and sunshine, combined with high nutrient soils from historically intense waterfowl activity on Maple Isle, have combined to make this project's first growing season a good one. The temporary waterfowl exclusion fencing, installed to protect young plants from grazing swans, geese and ducks, is functioning as planned and the nearly 1200 native plug plantings are off to a strong start.
Photo: Paw Paw natural shoreline demonstration site six weeks after planting. Photo by Jane Herbert
A history of tightly mowed turf grass to the water's edge has made Maple Isle Park a favorite nesting and grazing spot for Canada geese for many years. Goose droppings can create human health and water quality concerns. The Village hopes to reduce goose activity through a long-term plan to balance lake access for humans with a dense buffer of native plantings to deter geese. (And according to Sebastian -- an authority on goose behavior, goose droppings, turf grass and natural shorelines -- Paw Paw's plan could just work!)
Maintenance of this large project is the job of Paw Paw's Department of Public Services DPS and it's no small job. Keeping up with the task of identifying and weeding out undesirable plants from this demonstration site is no different than keeping up with a new 1200 square foot perennial bed. In future years, as the native plants grow, mature and fill in, their ability to compete with weeds will strengthen. But invasive shoreline plants, like Reed Canary Grass and Purple Loosestrife, will always be a concern. That's because water is such an efficient transporter of plant parts and seed and, once established, invasive plants can easily outcompete native plants – hence their label "invasive."
MSU Extension Senior educator Jane Herbert recently traveled back to Paw Paw to spend some time with DPS staff on project maintenance – helping build confidence as to which plants to remove and which to keep. As always, Paw Paw's enthusiasm for this project was impressive. Staff followed along carefully, took notes and photos and asked pertinent questions.
The Paw Paw natural shoreline demonstration was constructed this past June by 2013 CNSP participants as a required field component of the training. Since 2010, CNSP classes have constructed several natural shoreline demonstrations around the state. The classroom component of the 2014 CNSP training will be located in Traverse City, Mich. It will take place from February 18 – 20, 2014. The required field component and certification exam are scheduled for June 11 near Petoskey in Emmet County. Participants must attend all four days of training and pass the exam to become Certified Natural Shoreline Professionals. To register for CNSP 2014, please watch the website of the Michigan Natural Shoreline Partnership and/or contact Jane Herbert for more information.