Aquatic invasive plants and animals hitch a ride on your boats and trailers
Moving aquatic "hitchhikers" between inland lakes is the number one reason for the spread of aquatic invasive species in Michigan. MSU Extension educator joins the effort to help boaters identify hitchhikers on their boats and trailers.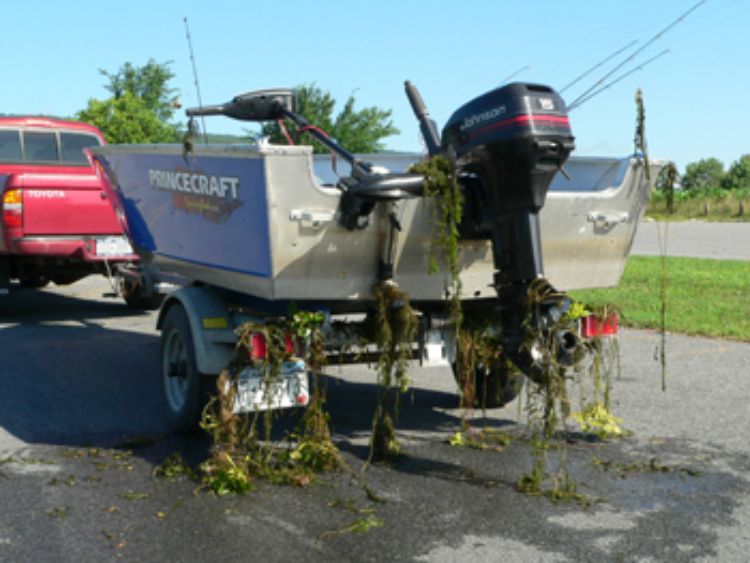 Michigan has more than 11,000 inland lakes larger than 5 acres. Plus it is surrounded by the waters of the Great Lakes. This makes Michigan one of the Nation's most popular boating recreational states. Michigan has almost a million registered watercraft in the state. Michigan's clean waters rank as the top natural resource attraction for Michigan's tourism industry and are threatened.
Having clean waters as an attractive natural resource means fighting the threat and spread of aquatic invasive species (AIS) that disrupt these ecosystems. Aquatic invasive species also interfere with recreational swimming, fishing and boating activities. AIS are often unintentionally spread from one body of water to another through the activities of boaters. This happens through the failure to clean off and remove plants and animals that are clinging to boats and trailers and hiding in live wells and bait buckets. People can help by cleaning and drying their boats.
Clean Boats Clean Waters is an AIS-prevention program designed to train volunteers assist Michigan boaters by showing them simple ways they can keep their equipment free of invasive species. By preventing the movement of invasive species, boaters can continue to enjoy Michigan's clean waters for generations to come. Volunteers are another component of this partnership that brings together local, state, regional and national organizations and agencies all working to reduce the threat of AIS.
As an educator for Michigan State University Extension, I will be joining the team working to promote the Clean Boats Clean Waters program in Michigan. I will begin by providing information that offers a fast reference checklist for watercraft check points, to make sure boats and trailers are clean before leaving a launch site, to marinas, sporting goods stores and bait shops in southwest Michigan. Also planned are demonstrations at access points on popular lakes. If you or your lake association is interested watercraft checkpoints education or in a volunteer training to educate boaters at local public launches, you may contact me through my Expert Profile.
Water Quality educators are also working across Michigan to provide natural resources water quality educational programming and assistance. You can contact an educator through MSU Extension's "Find an Expert" search tool under the topic "Water Quality."