Aquatic invasive species are biological pollution and, once established, they are here forever
Two small non-native mussels have caused serious ecological impact in the Great Lakes.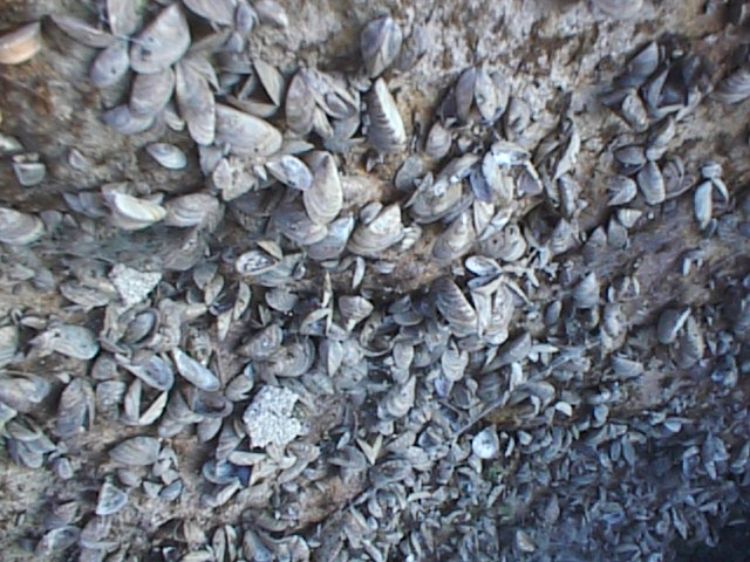 Michigan Sea Grant and Michigan State University Extension conducted a program at Bay College in Escanaba on aquatic invasive species in the Great Lakes and their ecological impacts. The Delta County League of Women Voters and the Delta County Chamber of Commerce sponsored the program. Both groups recognize the importance of this topic as their coastline consists of both Little and Big Bays' de Noc in northern Lake Michigan, which is a prize recreational fishery.
The program reviewed how aquatic invasive species are biological pollution and, once established, they are here forever. They differ from chemical pollution, which generally can be cleaned up over time. The Great Lakes had in it a system and ecological barrier— Niagara Falls—that kept fish from entering from the Atlantic Ocean into Lake Erie and upwards. Once the Welland Canal was built for shipping, it opened access to the upper Great Lakes. Early on, sea lamprey and alewife made their way in from the Atlantic Ocean. In the more recent years, transoceanic vessels brought aquatic invasive species into the Great Lakes via their ballast water. At present, over 180 non-native aquatic species have become established in the Great Lakes.
During the program, Great Lakes ecological changes related to zebra and quagga mussels were given as an example of how two small organisms can disrupt several of the Great Lakes. These mussels filter large quantities of water to obtain algae for their food source. This results in clearer water and concentrates the nutrients on the bottom of the lakes. This provides excellent conditions for the growth of filamentous algae, which grows in large mats on the lake bottom in early summer. When it dies, it creates anoxic conditions on the lake bottom and some can wash up on shore, which looks like a brown muck. Round gobies, an aquatic invasive fish, feed on zebra and quagga mussels. If this feeding occurs during anoxic conditions, type E botulism growth can occur. As they move through the food web, this toxin also moves up the food chain into feeding water birds, which in some years, have been known to die in large numbers in northern Lake Michigan.
The invasion of zebra and quagga mussels into Lakes Huron and Michigan has also been implicated with the major decline of Diporeia, which was a primary food source for lake whitefish. This freshwater invertebrate was an energy rich prey source as it transferred omega-3 fatty acids up the food chain. As a result, lake whitefish now consume these non-native mussels, which are low in essential fatty acids. Several years ago, Michigan Sea Grant participated in a Lake Michigan lake whitefish study with Purdue University that was funded by the Great Lakes Fishery Trust. The results of this study showed that Lake Michigan lake whitefish are lower in omega-3 fatty acids when compared to Lake Superior lake whitefish that still feeds on Diporeia. This is because these invasive mussels do not survive well in Lake Superior because of the low calcium levels that they need to build their shells.
While, there is a growing list of other aquatic invasive species that have their unique impacts on the Great Lakes ecology, hopefully, now, one can see the serious ecological impacts that two, small non-native mussels have caused in the Great Lakes.