ArtPrize in Grand Rapids, Mich. is fueled by local produce
West Michigan Farmlink provides the connection between farmers and chefs for many of the community's top restaurants.
Every Wednesday, farmers from around the Grand Rapids metro region gather with chefs from many of the top local restaurants to conduct business. Farmers bring in the bushels of local produce, meat, cheese, bread and eggs that the chefs have ordered online a few days before. Chefs come to pay their bill and carry their goods back to the restaurant. But they also come to talk with their farmers about field conditions, production expectations, new recipes they would like to try and how they are going to deal with the ArtPrize crowds for the next few weeks. The location is a non-descript and well-worn former furniture company on Grand Rapids' southwest side. From the outside, you would never think this would be a hub for local food, but that is exactly what it is.
West Michigan Farmlink was the brainchild of a creative museum exhibit design and art collection specialist, Jerry Adams, and his culinary and craft beer media-star wife, Amy Sherman. Adams was one of four people who founded the West Michigan Co-Op, a not-for-profit launched in the early 2000s, which provided an online ordering platform for locally produced foods, personal care items and household goods targeted at residential customers. A couple of years ago, Adams decided it was time to take the online ordering platform he designed to a new customer base – local chefs. Working with his programming partner, Paul DeLeeuw, Adams and his wife already had personal relationships with many of the area's culinary professionals and they knew from their travels to other parts of the U.S. and Europe that local food in restaurants was on the rise.
Farmlink is unique in that the farmers themselves enter what products they have available and they set their own price into the online system. After the farmers set the system, chefs are reminded via email to place their orders by Monday at 3 p.m. so farmers have time to pick and package their products for delivery to Farmlink's pick-up location every Wednesday afternoon year-round. This system helps farmers know exactly what products have sold so waste is minimized. Farmlink also pays the farmers for their products – even if the chefs don't pay their bill on the spot. Many farmers who sell directly to restaurants have said it is difficult to track down chefs for outstanding payments, but those selling through Farmlink don't have that hassle. There is a cost for selling through Farmlink – a 5 percent surcharge on every sale – but many farmers think it is well worth it because of the marketing and purchasing power of the Farmlink system.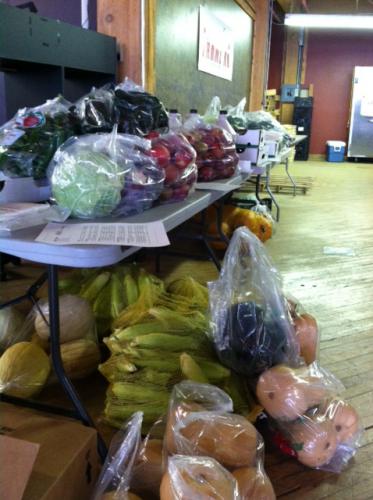 Michigan State University Extension has provided resources to several of the farmers selling through Farmlink including: production research, business planning assistance, pesticide certification courses, and soil testing services. For the past couple of years, I have been working to promote Farmlink as a way for K-12 school food service directors to purchase local produce for school meals and taste testing activities. Sarah Stone, Food Service Director for Godfrey-Lee Public Schools, used Farmlink to purchase 'purple dragon' green beans for a taste testing activity that was a big hit with her students. Any food service director or chef can create a profile and start ordering through Farmlink at no cost. Contact them through their web site for more information.
So if you are coming to Grand Rapids for ArtPrize, one of the largest free art competitions in the world, make sure to stop into one of our many locally-owned restaurants with a farm-to-table menu and ask them if they order through West Michigan Farmlink. Chances are they do!