Aster leafhoppers are abundant in Michigan
Check celery and carrot fields for aster leafhoppers. Based on the commonly found 11 to 15 percent aster yellow infectivity in west Michigan, the recommended treatment threshold is three to five leafhoppers per 100 sweeps.
Aster leafhoppers are small insects and are important pests of fresh market vegetables primarily because they transmit aster yellows phytoplasma, which is a disease of celery, carrots, lettuce and, occasionally, onions and potatoes. Disease symptoms vary from crop to crop, but affected plants typically have distorted, discolored foliage and a bitter taste and are, therefore, unmarketable. Leafhoppers can migrate to Michigan from southern states on weather fronts, but they can also overwinter on weeds found locally. Due to this year's mild winter, it is likely that the number of overwintered leafhoppers is higher, and reports in March from the southern part of the United States gave indication that the migrating populations will arrive early and in significant numbers. In Michigan, aster leafhoppers appeared earlier and in larger numbers this year than in the past.
In commercial agriculture, aster leafhoppers can be controlled with synthetic pyrethroid insecticides. (Examples: Asana XL, Baythroid XL - carrots; Mustang Max, Ambush 25W, Pounce 25WP, Baythroid XL – celery.) For a complete list of registered insecticides on different crops for aster leafhopper management please check out E-312 MSU Extension Bulletin, Insect, Disease and Nematode Control for Commercial Vegetables. Insecticides are applied based on thresholds that are determined by finding out the percent of leafhoppers that are infected with aster yellows (percent infectivity) in a sample, and the crop species where the insecticide application will be made. Samples for the determination of the threshold are collected with sweep nets by scouts and Extension educators and are sent to MSU Diagnostic Services where they are tested within 24 to 48 hours.
In six samples collected May 18-21, 2012, leafhopper infectivity ranged between 11 to 15 percent in west Michigan, with one exception that had only 1.7 percent infectivity. Based on the 11 to 15 percent infectivity, the recommended threshold is three to five leafhoppers per 100 sweeps, where celery has a slightly lower threshold than carrots. See the map for percent infectivity of leafhoppers in six different samples collected on May 18 and May 21.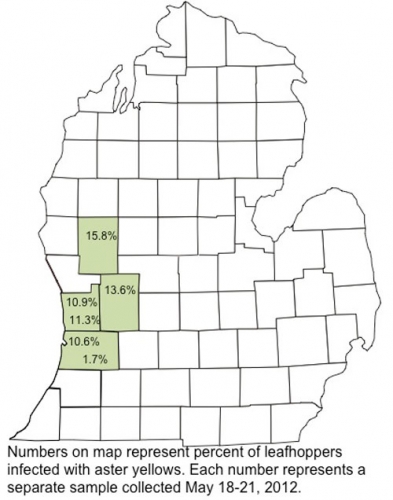 Recent research in the MSU vegetable entomology laboratory has determined that aster leafhoppers prefer to feed on cereal crops compared to carrots and they prefer carrots to common broadleaf weeds (such as wild carrot). Therefore, rye or other cereal cover crops grown in the same field as carrots may attract more leafhoppers to the field.
Michigan State University is not supporting the use of any particular insecticide brand. When using pesticides, always follow the label recommendations.
Dr. Szendrei's work is funded in part by MSU's AgBioResearch.
---