Au Gres-Sims Elementary youth lead watershed monitoring project
From its upper stretches to where the Au Gres River flows into Lake Huron, Au Gres-Sims Schools elementary students are exploring water quality across their watershed, and inspiring new partnerships and community awareness.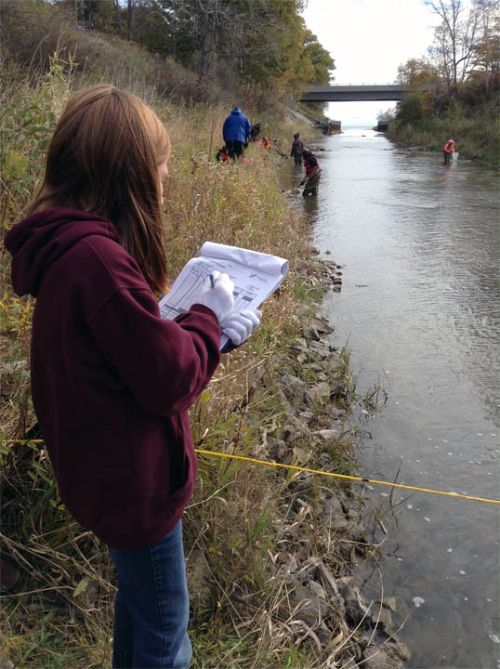 This school year, elementary students from Au Gres-Sims School District have embarked on an ambitious water quality monitoring project and study focused on the AuGres River within the Saginaw Bay watershed. In just their first year, students can boast that their school was the first across the Great Lakes region to contribute data in piloting a new water-focused citizen science website, Great Lakes FieldScope, created by Michigan Sea Grant, National Geographic Society, and U.S. Geological Survey. Collaborating with Michigan State University Extension 4-H Youth Programs and the NOAA Thunder Bay National Marine Sanctuary, they are also building underwater remotely operated vehicles (ROVs) which may help them expand their future water studies.
The Au Gres-Sims Watershed Project, a place-based education effort in water monitoring led by teacher, Michael Fields, involves nearly 50 students and is coordinated with resource experts and community partners. These elementary students are studying the Au Gres River at various sites from its upper stretches to where it eventually drains into Saginaw Bay. They are some of the youngest citizens within the Saginaw Bay Watershed, but they are stepping up (and getting their feet wet) in hopes of making some important contributions to their environment and community.
Taking a watershed approach, they are looking inland and to the rivers that feed Saginaw Bay. At the heart of Lake Huron, Saginaw Bay is fed by an impressive network of rivers and streams draining the land—the Saginaw Bay Watershed—from approximately fifteen percent of Michigan's total land area into Lake Huron. Saginaw Bay waters and vast coastal wetland habitats are the largest continuing system of freshwater coastal wetlands in the country and support a wide diversity of fish and wildlife—an important and treasured resource. This stewardship opportunity is not lost on these students.
In the river, students become the water resource experts themselves. Separating into teams, they measured physical parameters of the river such as width, depth, type of river bottom, and flow rates. Applying chemistry, they tested stretches of the river to determine levels of ammonia, nitrate, and dissolved oxygen in the water. Connecting biology to their study, they surveyed and counted aquatic macro-invertebrates (some of the smallest organisms inhabiting the river) documenting biodiversity of life in the river. Applying math, they used the counts of these organisms as biological indicators in calculating a water quality rating that could be compared with their chemical tests. As a writing project back in the classroom, students summarized their data and findings. Through this combined assessment, and applying in-class lessons, students gained a better picture of the health of the river as it flows downstream.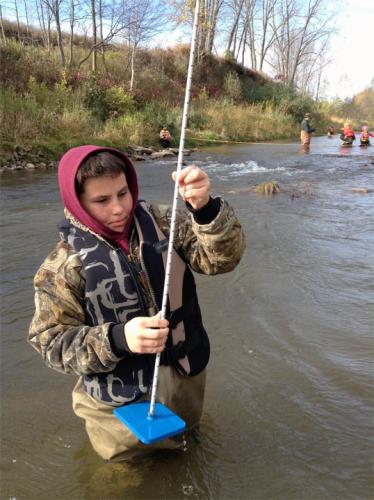 Entering their data as part of the Great Lakes FieldScope website, students learn about geography and GIS technology by contributing their school's testing sites and project data to online and interactive maps allowing students to further explore their findings in the context of different geographic scales—their watershed, Lake Huron, or the world. Through this innovative website, students are able to map and share their findings with other schools, their local community, and environmental experts. Together, they are contributing to a web of interconnected schools and citizen scientists working to promote water awareness.
Through the Northeast Michigan Great Lakes Stewardship Initiative and the NOAA B-WET program, the Au Gres-Sims Elementary team effort has also connected with a diversity of community and conservation partners. These include U.S. Fish and Wildlife Service, Huron Pines, NOAA Thunder Bay National Marine Sanctuary, Saginaw Bay Watershed Initiative Network, Saginaw Chippewa Indian Tribe of Michigan, local township officials, among many others. These partners contribute environmental expertise and volunteers, professional development, and resources to the project. In trade, they benefit from the accomplishments of this student-led project.
These young student leaders are not only exploring science and technology, but also collecting valuable water quality data. Students are conducting water sampling this spring, as will be the incoming class of new students next school year. They have continuing goals of expanding to new sampling sites, exploring new community partnerships, using innovative technology to expand their studies and communicate their findings. Au Gres-Sims Elementary teachers, and students expect to contribute as a long-term partner in stewardship of Saginaw Bay and Lake Huron waterways.