Automotive parts manufacturer expands in Northern Michigan, imports jobs from Japan
Northern Michigan auto parts manufacturer growing stronger as evidenced in an $11.5 million expansion.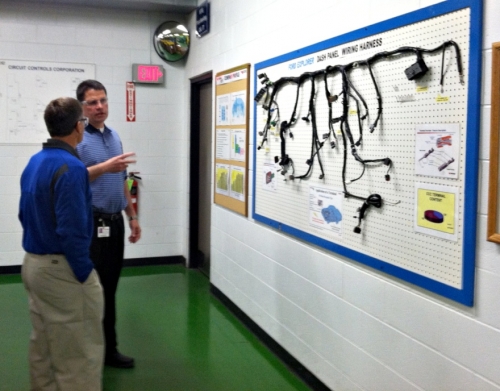 Circuit Controls Corporation recently received approval from Bear Creek Township to proceed with their planned $11.5 million new investment. The Bear Creek Township manufacturer, located on M-119 near Petoskey, produces automotive electrical terminals. They are expanding their building and adding new equipment in order to increase their capacity and add at least 10 new jobs. Owned by a Japanese firm, this manufacturer has benefited as jobs have been transferred to this facility from Japan.
A public hearing on the company's tax abatement application was held in early May, after which the Township voted to approve the abatement. The company's expansion will result in nearly $500,000 of new taxes over the next 12 years. The company will continue to pay current local, school and state taxes, while a portion of the taxes on the new investment is abated over a 12-year period. This helps the company afford the expansion and be able to create new jobs. Michigan State University (MSU) Extension staff working through Northern Lakes Economic Alliance (NLEA) facilitated the application process.
Circuit Controls Corporation has been in the Petoskey area since 1959 and is a part of the Yazaki Group. They are one of the Petoskey area's major manufacturing employers, currently employing 160 people. Their high-speed precision stamping presses and state of the art gold-plating equipment make this company one of the world's leaders in automotive electrical components. They specialize in the sales and research and development of automotive wiring harness, instrument cluster, and related components.
To learn more about Circuit Controls Corporation visit their website.
Photo: Bear Creek Township Supervisor Dennis Keiser receives a plant tour from Circuit Controls Corp. Vice President and General Manage Tom Mason.
MSU Extension has had a unique partnership relationship with the regional economic development organization Northern Lakes Economic Alliance for more than 20 years. Recognizing the strength of combining resources, this partnership focuses on economic development, entrepreneurship growth and community infrastructure throughout a four-county region in the northwest Lower Peninsula, specifically Antrim, Charlevoix, Cheboygan and Emmet counties. As a result, NLEA utilizes resources offered through MSU Extension and the NLEA provides leadership to state-wide programs sponsored by MSU Extension.