Backpack resource helps translate Michigan's complex landscape into describable natural communities
New field guide makes the perfect stocking stuffer for those interested in understanding, describing, documenting, conserving and restoring diverse natural plant communities of Michigan.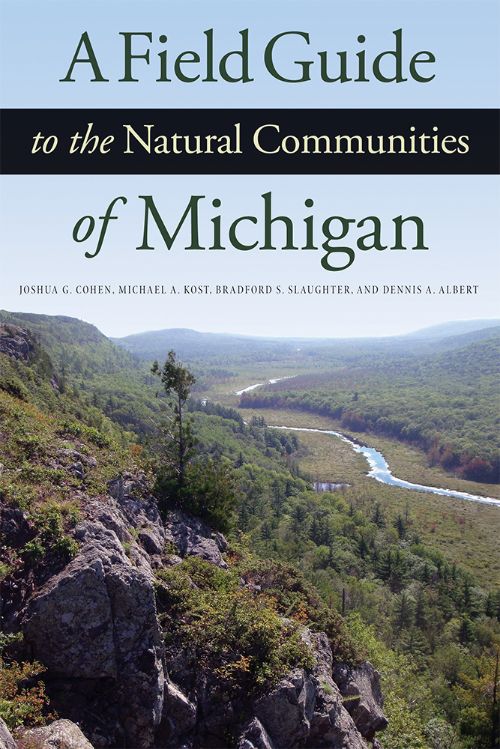 "A Field Guide to the Natural Communities of Michigan" was just recently released by the Michigan State University Press. This resource is an incredible tool that helps anyone, from someone with limited ecological experience to a professional scientist, interpret the unique biodiversity of Michigan's landscape. The field guide presents a framework for dividing the natural world into easy-to-understand and describable components called natural communities. Included in this guidebook are distribution maps, photographs and lists of characteristic plant species that help to define each natural community.
Readers may also enjoy several additional types of information included in this guidebook:
Suggested places individuals can visit to gain a more in-depth experience of a particular natural community.
Glossary of ecological terms to help decipher and gain a more comprehensive understanding of each natural community.
Dichotomous keys to help readers identify natural communities in the field and learn about the critical factors that distinguish the natural community types.
Author Josh Cohen added, "We have found that learning about natural communities and being able to identify them is facilitated by visiting benchmark example across the range of variability of the natural community types throughout their distribution."
This guidebook is the culmination of three decades of work by ecologists with Michigan Natural Features Inventory, an important program of Michigan State University Extension. Authors of the guidebook include Joshua G. Cohen, Lead Ecologist for MNFI, Bradford S. Slaughter, MNFI's Lead Botanist, Michael A. Kost and Dennis A. Albert. Kost was the Lead Ecologist for MNFI from 2004-2012 and currently serves as the Native Plants Specialist with Matthaei Botanical Gardens and Nichols Arboretum of the University of Michigan. Albert was the Lead Ecologist with MNFI from 1987- 2004, and is now on faculty with the Department of Horticulture at Oregon State University.
This guidebook can be purchased from the Michigan State University Press.
In addition to the field guide, MNFI offers a suite of high-quality resources that can help those interested in and/or actively working to conserve Michigan's biodiversity. The mission of MNFI is to deliver the highest quality information that contributes to the conservation of biodiversity, especially rare and declining plants and animals and the diversity of ecosystems native to Michigan. Since 1979, MNFI has developed, maintained and managed the only statewide biological and conservation database on rare plants and animals in Michigan and high-quality natural communities. Federal, state, local and private agencies use these data to guide decisions related to land management, development and conservation. To find out what other data, programs, services and educational resources they offers, visit the MNFI website.
One particular resource of note is the online classification of Michigan's Natural Communities. Information included for each natural community type includes a community overview, distribution map, landscape context, soils, natural processes, vegetation, noteworthy animals, rare plants and animals, biodiversity management considerations, variation, similar natural communities and a link to even more detailed natural community abstracts if available. Two examples of natural community types include muskegs and oak openings.
For more information, visit MSU Extension's Natural Resources page.