Balance Flexx rotation restrictions changed for planting dry edible beans
Growers who applied Balance Flexx in 2016 should not rotate to dry edible beans in 2017.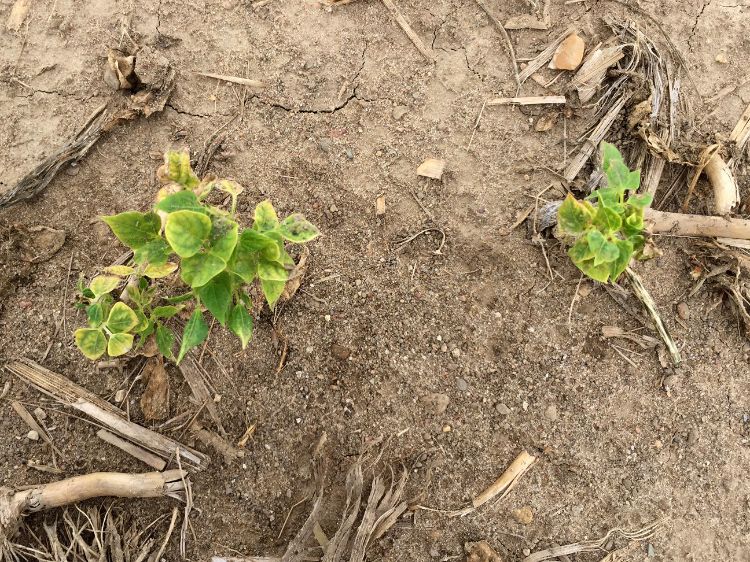 Effective immediately, there has been a change to the Balance Flexx label for rotation to dry edible beans. This new label will state that dry beans should not be planted for 18 months after Balance Flexx has been applied. The change to this label is to decrease the potential for dry bean injury from the previous year's Balance Flexx application.
Last year, injury symptoms consistent with a HPPD-inhibiting herbicide (i.e., Balance Flexx) were apparent in a few Michigan dry bean fields where Balance Flexx was applied to the previous year's corn crop. Injury symptoms consisted of stunting and, in some cases, beans had distinct bleached and chlorotic leaf margins (see photos).
To reduce the potential for Balance Flexx carryover to dry beans, do not plant dry beans in 2017 in fields were Balance Flexx was applied to corn in 2016. Alternative planting options for these fields include:
Corn (zero-month rotation restriction)
Soybean/potato (six-month rotation restriction)
Sugarbeet/alfalfa (10-month rotation restriction with 15 inches of cumulative precipitation)
These recommendations can be found on page 173 in Table 12 - Herbicide Crop Rotation Restrictions of the "2017 MSU Weed Control Guide for Field Crops" (Michigan State University Extension bulletin E0434).