Beaches, Boats and Beyond!
Be prepared for a safe summer at the beach, on the boat, and beyond!
It's summer and we all get to enjoy the great outdoors a bit more this time of year. Michigan is the Great Lakes state, with a coastline longer than any state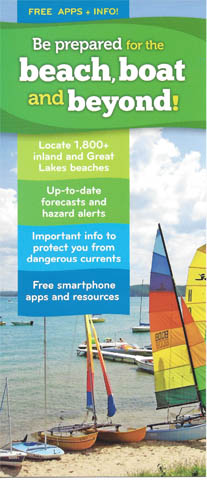 except Alaska, so there are many things to do on or near the water. So it's time to get in the know to help make sure you're safe wherever you go. Here are some new tech tools and information sources that will help to keep you informed and safe this summer!
Let's say you need information on your favorite beach. But, you're in the car or on the water. What do you do? A new mobile app – myBeachCast – will allow you to find the beach of your dreams and then get its up-to-date weather forecast and any active hazard alerts. Containing information on more than 1,800 beaches, myBeachCast serves all of Michigan and the other seven Great Lakes states as well. Visit the myBeachCast website at www.beachcast.glin.net to search for beaches and download the free myBeachCast smartphone application.
Will you be going boating on the Great Lakes this summer? Then you'll want to know the latest weather forecast and current wave conditions for your area. Thanks to WindAlert, you can access information from more than 50,000 weather stations from your smartphone. Visit www.windalert.com to download the free app for your phone and have forecasts, radar, nautical charts, wave heights, surface temperatures, and more at your fingertips. Don't leave home without it!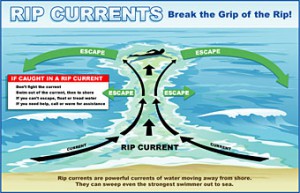 Water safety on the Great Lakes also depends on knowing if there are dangerous currents present. Dangerous currents are often found near piers or other structures. The currents do not pull a person under the water, but can pull a swimmer away from the shore. These currents become dangerous when swimmers panic or try to fight against them. To stay safe, be sure to check the National Oceanic Atmospheric Administration National Weather Service forecast before going to the beach, and visit www.dangerouscurrents.org for more information on how to keep your summer a safe one.
Michigan Sea Grant and Michigan State University Extension recognize the need for readily available water safety information and have cooperated in promoting tech tools including myBeachCast and WindAlert, and information on www.dangerouscurrents.org. Michigan Sea Grant Extension has also been working to spread the word about Great Lakes currents as part of the Dangerous Currents Outreach project, which helps educate natural resource professionals, community leaders and first responders about the issue. Here's to a safe summer!