Biosystems engineering student finds her place at MSU
Alex Seybold's experiences at Michigan State University, along with a professional internship, have prepared her for a career in pharmaceutical manufacturing.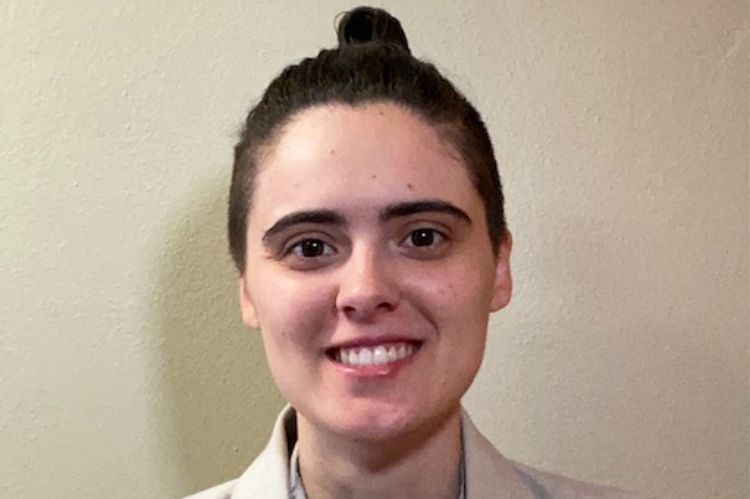 Alex Seybold's interest in the medical field started right in her hometown of Portage, Michigan.
Seybold grew up not too far from the Kalamazoo manufacturing plant for pharmaceutical development and distribution company Pfizer, where her dad worked as an engineer. She knew she wanted to pursue a career in medicine, but wasn't sure exactly what that looked like for her — until she came across Michigan State University's (MSU) biosystems engineering program.
"I knew I didn't want go with a straight biology major route and then figure out I didn't want to go to medical school. Instead, I thought biomedical engineering would be the best route to explore my interests," she said. "MSU doesn't have a biomedical engineering undergraduate program, but biosystems engineering offers a biomedical concentration. "
After taking a few classes, Seybold realized that biosystems engineering was the right academic program for her.
"Because of how the biosystems engineering program is structured, I was able to get a taste of the medical field, as well as engineering, and figure out that engineering is really what I wanted to pursue," she said.
Seybold said she appreciates the holistic, systems approach of the biosystems engineering program, which involves considering inputs and outputs throughout a mechanism or process, rather than breaking it into smaller components.
A systems approach often requires knowledge across different engineering disciplines. Most biosystems engineering students choose to focus on one concentration area — food, bioenergy, environment, or biomedical — but are encouraged to take classes and explore opportunities in all four of these sectors.
This past summer, Seybold worked as a manufacturing intern for E&J Gallo Winery in Modesto, California. In this role, she managed a newly built boxed wine production line. This role entailed leading beginning production for the line and troubleshooting around a tight production schedule.
"The project was interdepartmental, so I got to work with quality, operations, safety — all those different departments," she said.
Although the internship was more focused on food, Seybold said it provided her with skills that will be necessary in her future career in pharmaceutical manufacturing
"I think it's really important to understand the systems orientation of engineering," she said. "Going into a manufacturing setting, like I did, was super easy, because I had that background in systems engineering. Even though it was more food, I still saw some biological components when dealing with the wine."
Seybold is beginning her second year as president of MSU's Biosystems Engineering (BE) Club, which brings together biosystems engineers for educational and social activities, as well as networking opportunities. She said the knowledge she has gained both in and outside of the classroom has been extremely valuable.
"I could not have imagined choosing a different major at MSU," she said. "Biosystems engineering was a perfect fit."
---
Name: Alex Seybold
Hometown: Portage, Michigan
Major: Biosystems engineering with a biomedical concentration, Department of Biosystems and Agricultural Engineering
Anticipated graduation: Spring 2022
Why did you choose your major and why MSU?
Originally, my plan out of high school was going into biomedical engineering. I looked at MSU and came across the biomedical concentration in biosystems engineering. It seemed like a really cool major, plus I was already familiar with the campus. My parents are MSU alums, so they took me to campus when I was growing up. We'd go to the Dairy Store, explore, all that fun stuff. In addition, MSU is in-state and isn't far from home.
Why was biosystems engineering a perfect fit for you?
In biosystems engineering, I noticed I was in classes with the same people over and over again. At some point, I was like, 'I know basically everyone in my major.' It's a great way to really connect with other people, and it made finding friends a little bit less stressful, because I didn't really know anyone that went to MSU.
Academically, it's amazing, because you are going through some really hard classes, but you have people to go through it with.
What is the best part of being an MSU student?
If you can find your little niche area, which for me, was biosystems engineering, then you can easily find a community. MSU is giant school that has so many people that you don't know, but it's easy to find your community, your people.
And the campus itself, I absolutely love. It's awesome to sit in the hallway before class and read, or go to the library and go through the bookstacks, or go to the Children's Garden and sit outside and paint.
The campus is amazing and so are the people that you find in your little communities. MSU is a great place.
Any thoughts or advice for current students?
Meet people who have the same interests as you, especially when it comes to academics, because they will push you harder to stay interested in your classes, especially if you're having difficulties.