Blue views associated with improved mental well-being
Michigan's Great Lakes, inland lakes, rivers and waterfalls may soothe troubled souls.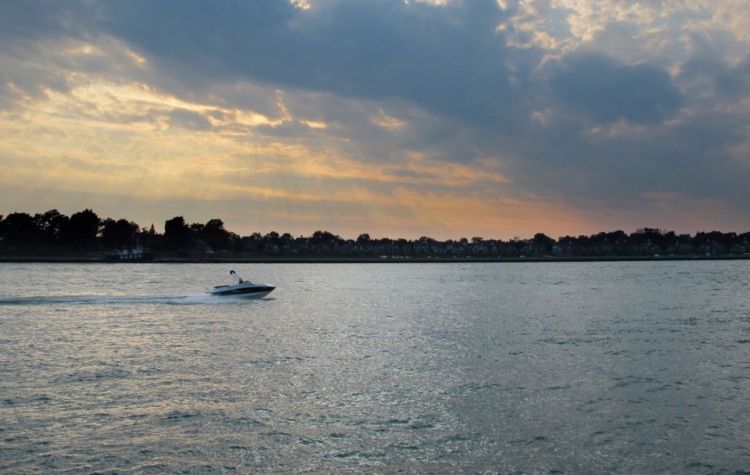 Seeing blue waterscapes has mental health benefits, which may mean good news for Michigan's residents. An article by Michigan State University faculty member Amber Pearson and colleagues published in the journal "Health & Place" presents the findings of a study from New Zealand. In the study, the research team compared the relationships between green spaces (e.g., forested areas, parks, conservation areas, etc.), blue spaces (e.g., oceans, lakes, rivers, etc. but not fountains or sculptures), and mental health benefits. The authors found in their study that in an urban city, lower psychological distress, an indicator of mental well-being, was associated with increased views of blue spaces, after adjusting for other variables that might influence well-being. These findings are consistent with other research that provided evidence that visibility of water evoked positive emotions, and fit within expansive efforts to link human well-being with ecosystem services. This is encouraging news for the health and well-being of residents living and working in urban environments.
Why do we care about the views of the Great Lakes and mental well-being? According to a 2006 U.S. Centers for Disease Control data, Michigan ranked higher than the national average for major depressive events among residents [Michigan: 10.2% (95% CI: 9.2-11.3) compared to United States: 8.7% (95% CI: 8.3-9.1)]. While highly effective interventions and treatments exist, without treatment, depression can become a chronic condition, and is expected to "surpass heart disease to become the number one burden of disease in the world" by 2030 (MDCH Critical Health Indicators, 2017).
While the blue/green spaces research was conducted in the island country of New Zealand, there may be several parallels to Michigan, a peninsula state surrounded by the freshwater Great Lakes. Michigan and other Great Lakes states have thousands of miles of coastline and numerous cities where urban residents can likely accrue similar mental health benefits by viewing the expansive Great Lakes. Additional health benefits of blue as well as green spaces also involve physical health from recreation activity and social benefits from recreation with others. The results may also extend to non-urban areas that have views of blue areas.
This research was conducted using a geographic information system (GIS)-based 3-dimensional analyses, the researchers quantified visual structure of residential neighborhoods' visibility of green and blue spaces. In other words, they calculated indices of the viewing areas (e.g., viewsheds) of green spaces and blue spaces and related them to psychological distress data from residents who responded to the New Zealand Health Survey.
Future research could explore these relationships and link well-being of residents, quality of life, and the freshwater Great Lakes in both urban and non-urban areas to verify if these results are replicated in a freshwater system. The Great Lakes region has 27 Areas of Concern for environmental quality, so additional research could explore how mental well-being is affected by quality of environment.
In the meantime, enjoy the beautiful views of the Great Lakes. Viewing the waterscapes may just improve your mental well-being and recreating may improve mental well-being even more!
Michigan Sea Grant helps to foster economic growth and protect Michigan's coastal, Great Lakes resources through education, research and outreach. A collaborative effort of the University of Michigan and Michigan State University and its MSU Extension, Michigan Sea Grant is part of the NOAA-National Sea Grant network of 33 university-based programs.
References:
Michigan Department of Community Health (MDCH). (2017). Critical Health Indicators, https://www.michigan.gov/documents/mdch/29_Depression_198929_7.pdf, accessed May 1, 2017.
Nutsford, D., Pearson, A., Kingham, and Reitsma, F. (2016). Residential exposure to visible blue space (but not green space) associated with lower psychological distress in a capital city. Health & Place, 39(May): 70-78. https://doi.org/10.1016/j.healthplace.2016.03.002