Heather Triezenberg, Ph.D.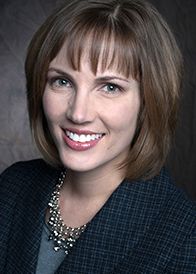 vanden64@msu.edu
Telephone: 517-353-5508

MSU Extension
Extension Specialist and Program Leader, Michigan Sea Grant Extension
1405 S. Harrison Road,
305 Manly Miles Building
Center for Systems Integration and Sustainability
Social Scientist/Extension Specialist
Michigan Sea Grant Extension Program Coordinator
---
Education:
Ph.D. Natural Resources Policy and Management, 2010, Cornell University
M.S. Fisheries and Wildlife Management, 2006, Michigan State University
B.S. Fisheries and Wildlife Management, 2002, Michigan State University
---
Background:
As Extension Specialist and Program Leader, Dr. Heather Triezenberg coordinates the statewide Sea Grant Extension Program in collaboration with Michigan State University Extension Community, Food & Environment Institute. Michigan Sea Grant Extension educators work with stakeholders on critical Great Lakes issues, such as resilient communities and economies, healthy coastal ecosystems, sustainable fisheries and aquaculture, environmental literacy and other issues. She joined Michigan Sea Grant in March 2014
Triezenberg conducts applied human dimensions research in support of Great Lakes aquatic resource policy and management. She has received numerous honors and awards, including the Association of Natural Resource Extension Professionals gold award for a referred journal article.
Triezenberg is interested in resilient coastal community development and healthy coastal ecosystems. Her research explores how stakeholders perceive risks related to critical issues within the Great Lakes to inform communication efforts, citizen involvement in research (e.g., Citizen Science), and program evaluation. She is also interested in the application of Geographic Information Systems (GIS) and other quantitative methods to better understand stakeholders' perceptions and actions as well as the incorporation of human dimensions data into management modeling and decision-making.
---
Current Research:
Stewardship motivations and collaborative governance of Great Lakes coastal wildlife management areas

Telecoupling and the Great Lakes region

Aquaculture siting GIS mapping development

High engagement training programs for STEM graduate students and practitioners

Evaluation of Extension Programming: Center for Great Lakes Literacy shipboard science workshop; Water School for Municipal Leaders

Extension public policy education in the 21st century

Improving risk communication within coastal and Great Lakes aquatic ecosystems.

Trust-space continuum: a spatial analysis of stakeholders' trust and confidence in a state wildlife agency.

Stakeholders' perceptions and actions related to zoonotic diseases within natural resources contexts.
---
Previous Experience:
Triezenberg has studied and worked as a practitioner in community-based natural resources management since 2002. She examined social conflicts among stakeholders using coastal and waterfront areas in New York State for her dissertation research. For her master's research, she developed and evaluated the Michigan Conservation Stewards Program, an adult conservation education program.
As a practitioner, Triezenberg was the Education Director for the Clinton River Watershed Council in a four-county area in metro Detroit where her responsibilities included developing, planning and implementing youth and adult education programs — for example, developing an Adopt-A-Stream program designed to help communities meet requirements for education and public participation.
In partnership with the Marine Environmental Education Foundation, she co-coordinated a Dock Walkers education program for peer-to-peer learning among boat club members. She has also worked in partnership with local conservation districts and regional planning units for planning and management of the Grand River watershed.
Previously, Triezenberg served as social scientist for the NOAA National Sea Grant Office from 2010-2011 and as an assistant professor for MSU Fisheries & Wildlife Department and Geography Department from 2012-2014.
---
Publications (nee Van Den Berg):
Triezenberg, H.A., Riley, S.J. & Gore, M.L. (2016). Efficacy of communication in changing behaviors of antlerless deer hunters. Journal of Wildlife Management, 80(5):941–946; DOI: 10.1002/jwmg.21078
Youn, S. J., Allison, E. H., Fuentevilla, C., Funge-Smith, S., Triezenberg, H. A., Parker, M., Thilsted, S., Onyango, P., Akpalu, W., Holtgrieve, G., Good, M.J., & Muise, S. (2016). The underappreciated livelihood contributions of inland fisheries and the societal consequences of their neglect in Freshwater, Fish, and the Future: Proceedings of the Global Cross-Sectoral Conference, C. Goddard, N. Leonard, W. W. Taylor, and D. Bartley (Eds.). American Fisheries Society, Bethesda, MD.
Triezenberg, H.A., Gore, M.L., Lapinski, M.K. & Riley, S.J. (2014). Role of persuasive communication for achieving wildlife health goals. Wildlife Society Bulletin, 38(4):734-740. DOI: 10.10002/wsb.462
Triezenberg, H.A., Gore, M.L., Riley, S.J., & Lapinski, M.K. (2014). Perceived risks from disease and management policies: an expansion and testing of a zoonotic disease risk perception model. Human Dimensions of Wildlife, 19(2):123-138. DOI: 10.1080/10871209.2014.844288
Triezenberg, H.A., Lauber, T. B., & Knuth, B.A. (2012). Policy learning and deer co-management in New York State: Insights from Newspaper Coverage. Journal of Wildlife Management, 76(6):1317-1325.
Triezenberg, H.A., Knuth, B.A., Yuan, Y.C., & Dickinson, J.L. (2012). Social networking and collective action models of citizen science: Theory meets possibility. In Dickinson, J.L. & Bonney, R. (Eds.) Citizen Science: New Frontiers for Enhanced Public Collaboration in Environmental Research.
Triezenberg, H.A., Knuth, B.A., & Yuan, Y. C. (2011). Social Networks and Collective Actions: Relationship of Network Positions and Framing of Public Issues in Wildlife Management. Human Dimensions of Wildlife, 16:381-396.
Van Den Berg, H.A., Riley, S.J., & Dann, S.L. (2011). Conservation education for advancing natural resources knowledge and building capacity for volunteerism. Society & Natural Resources, 24(3):205-220.
Van Den Berg, H.A., Dann, S.L., & Dirkx, J.M. (2009). Motivations of Adults for Non-formal Conservation Education and Volunteerism: Implications for Programming. Applied Environmental Education and Communication, 8:6-17.
Van Den Berg, H.A. & Dann, S.L. (2008). Evaluation of an Adult Extension Education Initiative: The Michigan Conservation Stewards Program. Journal of Extension [On-line], 46(2). Available at: http://www.joe.org/joe/2008april/rb1.shtml
---
Affiliated Pages:
Tags: michigan sea grant, msu extension