Brown marmorated stink bug in Michigan fall 2013 update
Captures of an invasive pest, the brown marmorated stink bug, increase in Michigan.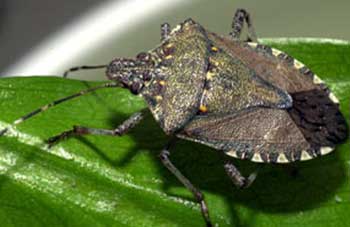 The brown marmorated stink bug (BMSB), Halyomorpha halys (Stål), is a major nuisance pest of homeowners and a serious economic pest of many commercial crops in the eastern United States, including apples, cherries and peaches. It is an invasive stink bug from Asia that was first introduced into the Middle Atlantic States of Pennsylvania and New Jersey in mid-1990. It has since spread to most of the Atlantic states: inland to Ohio, Indiana, Iowa and west to Oregon and Washington. Brown marmorated stink bugs were officially identified in Michigan from Berrien County in 2010 and they have since been recorded in 12 additional counties including Eaton, Genesee, Ingham, Lenawee, Monroe counties in 2011, and Allegan, Clinton, Kent, Oakland, Oceana and Wayne counties in 2012. No detections have been reported from the Upper Peninsula.
Statewide surveys for this pest began in 2011-2012 using black light traps and visual scouting of known preferred habitats. In 2013, the survey program expanded to include more counties and also incorporated traps baited with a pheromone for this insect recently identified by USDA researchers. Four new sites along the Michigan and Ohio border produced 20 positively identified individuals this spring. Trapping with pheromone-baited traps and black light traps has been ongoing this summer at more than 50 sites and will continue into fall throughout the Lower Peninsula in fruit growing regions.
The first captures of BMSB this season occurred during late July in Holt, Mich., at a site previously identified with overwintering adults last fall. Approximately 60 adults were captured over three weeks in a trap containing the pheromone plus an added synergist being investigated in a cooperative effort with the USDA Agricultural Research Service (ARS). Captures of BMSB also occurred at another previously identified site in southwest Michigan. Nine adults were collected in the black light trap at about the same time in July and adults and nymphs have been captured since late August. The numbers of captured insects continues to fluctuate at both of these sites with the majority of captures found in pheromone baited traps; 57 adults in Holt, Mich., and 39 adults and nymphs in southwest Michigan. A preferred BMSB host, Russian olive, is present at both of these hot spots. Interestingly, individuals have not been captured in any of our other trapping sites.
Brown marmorated stink bugs aggregate in the fall frequently in large numbers to overwinter and will gather inside of houses, sheds and barns to overwinter. This is the same behavior exhibited by Asian ladybird beetles, chinch bugs, boxelder bugs and western conifer seed bugs. Standing dead timber with loose bark still attached has been reported as the favored overwintering of habitat of BMSB by researchers in the eastern United States. Indeed this is the predominant habitat at the Holt, Mich., site.
Surveying for BMSB continues, but thus far BMSB have not been recovered this year from light or pheromone-baited traps deployed in Allegan, Van Buren, Kent, Ottawa, Newaygo, Oceana, Monroe, Macomb, Oakland, Genesee, Lenawee, Hillside, Branch, Montcalm, Ionia, Leelanau, Benzie or Grand Traverse counties. Most importantly, it has not been found in commercial orchards nor has stink bug damage been detected during our fruit inspections.
Given the numerous reports of stink bugs from the Holt and Stevensville, Mich., areas, it is likely the BMSB population is established in these locations. It's not possible to predict the spread of this pest or when it might become a pest to crops, but it's a good idea for growers in south central and southwest Michigan to be on the alert for this pest and knowledgeable about management options. An overview of BMSB biology and management can be found on pages 66-67 in the Michigan State University Extension bulletin, "2013 Michigan Fruit Management Guide" (E-154).
Ideally, growers and consultants should be able to identify BMSB. It will require using magnification to see important characters. Read the MSU Tree Fruit Brown Marmorated Stink Bug fact sheet to become familiar with what to look for. There are some native stink bugs that could be confused with BMSB. Use this BMSB key to assist in differentiating them from BMSB. Specimens should be kept in a container in a freezer or placed in a container with isopropyl alcohol to preserve them until they can be passed along to an expert for positive identification. A routine of regularly checking for these pests in orchards, buildings and woodlots is very important. Aggregations of overwintering infestations will begin at any time and continue to increase as cool weather advances into the fall. Researchers are currently trying to understand what factors influence the movement of this pest. Repeated infestations of the same orchard occurring within the same field season are not unusual with this insect.
We will continue to trap and monitor for BMSB through fall 2013 in many areas of the state. Updates regarding this pest will be reported through MSU Extension's Fruit and Nuts page and the MSU Brown Marmorated Stink Bug website. If you find BMSB in your orchard, you should let your local MSU Extension educator know and email Mike Hass at haasm@msu.edu or Peter McGhee at mcghee@msu.edu with "BMSB report" in the subject area.
Photo credit: David R. Lance, USDA APHIS PPQ, Bugwood.org
Dr. Gut's work is funded in part by MSU's AgBioResearch.