Building future STEM professionals
Engaging youth in science, technology, engineering and math (STEM) through mentoring.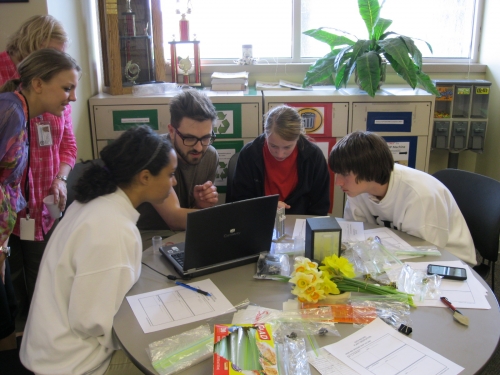 How do you encourage young people to explore science and technology as a career path? Engage them with hands-on learning experiences while being mentored by adults who work in those fields.
Michigan 4-H Tech Wizards is one program that is making use of this type of format to get kids excited about science. The program matches people who work in science, technology, engineering or math (STEM) fields with up to four young people for a year of science exploration, relationship development and fun. These STEM professionals share their passion for their fields, introducing young people to potential careers and hobbies while serving as a supportive role model. Michigan 4-H arranges meeting spaces, provides curriculum and supports program participants through training and weekly interaction.
Key to the success of this program is that youth select the activities and are active participants in this out-of-school, experiential learning program. One match in the program may be learning about rocketry while another focuses on robotics. Other popular topics include video production, application design, underwater remote operated vehicles, general science and environmental science. In addition to exploring these topics, matches take what they have learned and design a project to serve the community. Service projects have ranged from creating a public service announcement to teaching younger youth science lessons. This community service component is incorporated because young people build developmental assets when they take their knowledge and use it to help others through service.
Young people are not the only ones who benefit from this small-group mentoring experience. STEM professionals acting as mentors enjoy spending time and sharing their passion with young people. The activities provide structure and allow relationships to develop naturally while working toward a shared goal.
The 4-H Tech Wizards program began in Washington County, Oregon through Oregon State University Extension. Michigan 4-H is replicating the program in Macomb, Oakland, Ottawa and Wayne counties and will soon be expanding to three additional counties. Follow the Michigan 4-H Tech Wizards page on Facebook to learn more.
MSU Alumnae of either the College of Agriculture and Natural Resources, the College of Engineering, the College of Natural Science or the College of Social Science are invited to attend the MSU Women in STEM Conference – an opportunity to:
Engage and connect with other MSU alumnae working in science, technology, engineering and math (STEM) professions
Expand your professional network
Acquire tools and knowledge that can assist you in furthering your career objectives
Geared towards early to mid-career alumnae who currently work in government, corporate, entrepreneurial start-ups and small businesses, or non-profits, the conference program will include a keynote address, presentations, and breakout sessions that focus on three core areas: professional development; leadership; and entrepreneurship.
For more information on the MSU Women in STEM Conference, visit the MSU College of Natural Science's website.