Caring for water gardens in fall reduces problems in winter and spring
Water gardens experience major changes as chillier weather approaches; managing plants, fish and debris throughout the fall will lead to greater success next year.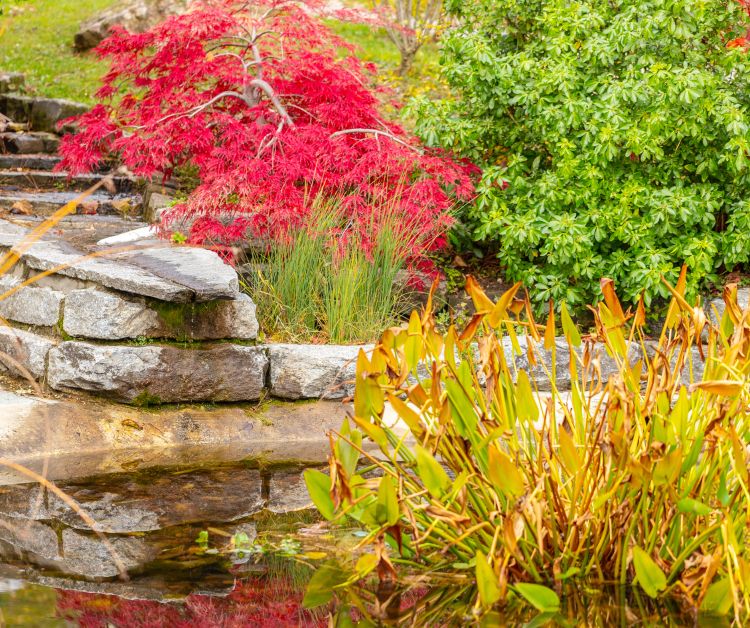 Water gardens are popular water features that help beautify the landscape and bring nature right to your backyard. However, water gardens can have issues in the spring if plants, fish and debris were not managed properly in the previous fall and winter. The good news is that they can be enjoyed throughout these seasons with a little bit of extra attention and care.
Be responsible when removing unwanted plants and fish
A first step to take in the fall is to determine which water garden plants and fish to keep and which to remove. Some of the most popular water garden plants sold, including water lettuce, water hyacinth and European water clover, are not native to Michigan and should never be released into waterways, lakes and streams. All three of these plants and several others are found on Michigan's invasive species watch list. If they are discovered in the wild, invasive species professionals, including from Cooperative Invasive Species Management Areas (CISMA), are called in to help remove them.
In October 2020, the Lake St. Clair CISMA had to remove water lettuce from the Clinton River Spillway, an issue further explored in reporting by WXYZ Detroit. Lake St. Clair CISMA coordinator, McKenzi Waliczek, shares that "it is important to help prevent the introduction of plants in the wild that have the ability to cause harm to the environment and economy, if we want to keep Michigan's waters clean and accessible." Unwanted plants should be placed in a sealed bag in the trash.
Manage fish populations
Fish from water gardens should also never be released into water bodies. Many water gardeners are surprised to find that their goldfish have reproduced throughout the summer, especially in water gardens with floating plants and rocks that protect fish from predators. If you find your water garden with an overabundance of fish in the fall contact a local retailer, find another water gardener that has space for additional fish, or trade with another hobbyist. Some retailers may have display ponds that can accommodate extra fish. To learn more about reducing invasive species in water gardens visit the MSU Extension's Reduce Invasive Pet and Plant Escapes (RIPPLE) website.
Trim and move plants
Pond plants thrive as fall approaches thanks to our warm and sunny summer. To get the most out of your water garden wait until the first frost when most plants turn yellow to trim them back. Potted plants can be moved to deeper water, protecting them from freezing temperatures. Removing decaying and non-winter hardy plants before the water freezes reduces the amount of nutrients in the water. Excessive amounts of plant material decaying in water gardens can lead to algae issues and reduce the amount of oxygen available to fish in winter.
Discard falling leaves
Cooler temperatures also mean falling leaves, which inevitably end up in water gardens. Falling leaves can cause clogs in pumps and result in excessive buildup of leaves in the pond. Some water gardeners opt to install pond nets to keep leaves out while others remove leaves and debris with hand nets throughout the season. Removing the leaves and debris prevent them from sinking and decaying in the water.
These simple tips help to ensure a healthier water garden when spring arrives and keeps unwanted plants and fish out of Michigan's waters.
The RIPPLE education program is a partnership between Michigan State University Extension and the Michigan Departments of Natural Resources, Agriculture and Rural Development, and Environment, Great Lakes and Energy. RIPPLE and the Lake St. Clair CISMA are funded by the Michigan Invasive Species Grant Program (Michigan.gov/Invasives).