Catch & Cook benefits local businesses, enhances coastal tourism experiences for northeast Michigan
Lake Huron fisheries businesses have recently been challenged due to ecosystem changes. A Michigan Sea Grant-supported program seeks to add value and grow new business opportunities for northeast Michigan charter fishing operators.
The Lake Huron fishery has undergone drastic changes due to invasive species. These ecosystem changes have negatively affected charter fishing businesses along the Lake Huron shorelines of northeast Michigan.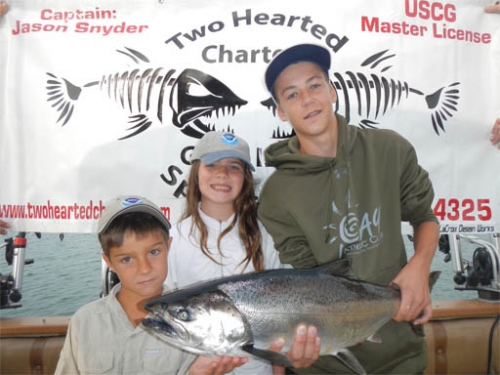 Michigan Catch & Cook is one of the ways Michigan Sea Grant is working to support coastal fisheries-dependent businesses, such as charter fishing captains, in adapting and increasing marketability of their businesses to overcome these challenges. Michigan Sea Grant has been working with Michigan Charter Boat Association and charter boat operators in the region to identify new market opportunities. Connecting fisheries with the food industry and local restaurants is one specific opportunity these Lake Huron captains identified. The Michigan Catch & Cook program offers this opportunity by allowing licensed captains and restaurants to offer customers the option to have their catch prepared at local establishments.
Two Alpena area businesses are pairing up to pioneer this program in northeast Michigan. Local charter operator – Captain Jason Snyder of Two Hearted Charters – and one local restaurant – Chris Carlson with Courtyard Restaurant – are partnering in this program to grow their tourism businesses. In this partnership, the charter boat captain becomes an advocate for local restaurants in town, while the local restaurants can encourage customers to participate in Great Lakes fishing and bring their own freshly caught meal to a participating restaurant. In the end, tourists benefit through an enriched visitor experience in northeast Michigan through the ability to enjoy the Great Lakes fisheries and a fine meal shore-side after a great day of fishing.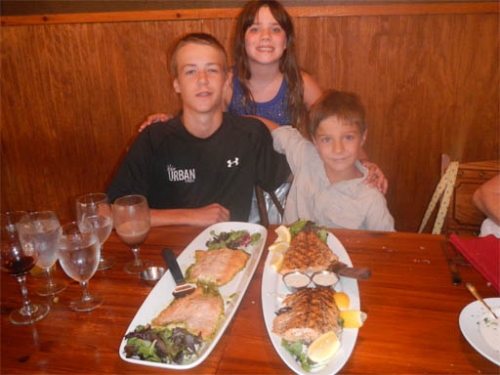 This partnership between Great Lakes fishing and local restaurant businesses highlights a valuable community development opportunity as local fisheries add value to the broader coastal tourism landscape in northeast Michigan. The Northeast Michigan Integrated Assessment – a Michigan Sea Grant report on sustainable coastal tourism development opportunities - identifies values in cross-connecting tourism-focused businesses to create a more enriching visitor experience. The Catch & Cook partnership presents an opportunity to connect fisheries businesses with broader coastal tourism development efforts in northeast Michigan. Supported by the Alpena CVB and Alpena Chamber of Commerce, this effort reflects an opportunity for multiple local businesses to benefit, economically, from Lake Huron fisheries. Regionally, this partnership provides a great story to share with future visitors through regional US 23 Heritage Route coastal tourism marketing efforts.
In northeast Michigan, the Catch & Cook partnership is helping to diversify the region's coastal tourism opportunities, while highlighting and promoting the Great Lakes fisheries experiences for visitors to the area. For charter fishing operators and restaurants interested in learning more about participating in the Michigan Catch & Cook program, visit the Catch & Cook website.