Celebrate local food and farming during National Farmers Market Week
Visit a your local market during August 2 – 8, 2015.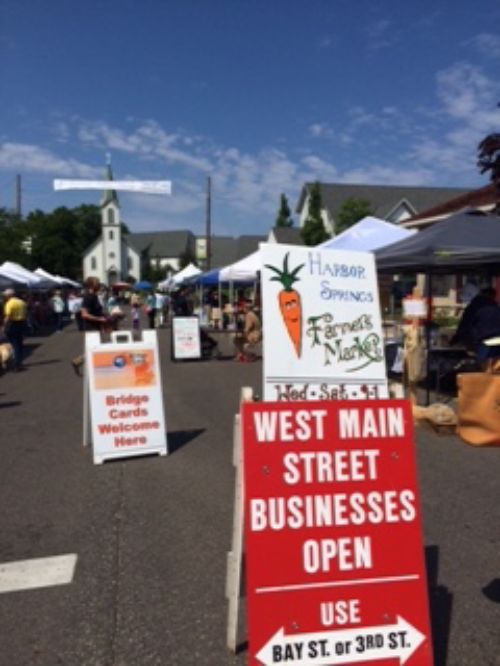 Mr. Tom Vilsack, Secretary of the United States Department of Agriculture, has officially designated August 2 – 8, 2015 as National Farmers Market Week. A copy of the proclamation and information on this event is provided by the Farmers Market Coalition, a 501(c)(3) nonprofit dedicated to strengthening farmers markets across the United States.
The proclamation and the Farmers Market Coalition list several reasons why farmers markets are important to our communities and economy, such as:
Farmers markets help meet consumer demand for fresh, affordable, convenient, and healthful products sold directly from the farm.
Farmers markets increasingly offer electronic benefits transfer for use by Supplemental Nutrition Assistance Program (SNAP) recipients in redeeming their benefits to purchase local food. In Michigan, this is enhanced by the Double Up Food Bucks Program, which provides up to $20 in matching funds per visit for the purchase of Michigan grown fruits and vegetables for SNAP benefit users.
Several studies have found lower prices for conventional and organic produce at farmers markets than at supermarkets.
Today there are over 300 farmers markets in Michigan, which is a dramatic increase from the 90 counted in 2001. The Michigan Farmers Market Association (MIFMA) defines a farmers market as a public and recurring assembly of farmers or their representatives selling direct-to-consumer food and products, which they have produced themselves. MIFMA adds that farmers markets are organized for the purpose of facilitating personal connections that create mutual benefits for local farmers, vendors, shoppers and communities.
Michigan State University Extension's Community Food Systems Work Team supports efforts that expand access to locally produced foods, which includes farmers markets. You can find MSU Extension staff and volunteers in thirteen farmers markets throughout the state this summer. For more information, visit www.msue.anr.msu.edu.
To find a farmers market near you, visit the Michigan Farmers Market Association's website at www.mifma.org and click on the "Find a Farmers Market" tab.