Celebrate the bees at our annual Bee Palooza
The third week of June 2017 is National Pollinator Week, and Michigan State University's Department of Entomology will be involved in several events to celebrate our fuzzy friends.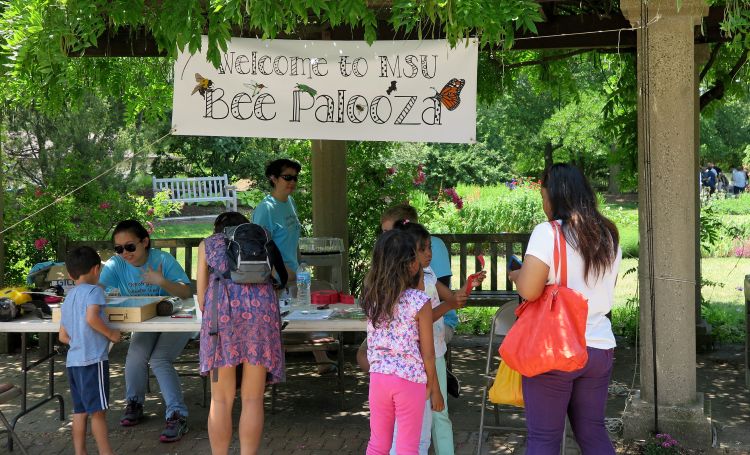 Michigan State University will be buzzing with activity on Sunday, June 18, 2017 (Father's Day), from 1-4 p.m. as the MSU Department of Entomology hosts the sixth annual Bee Palooza at the MSU Horticulture Gardens. For people of all ages, this is a free, fun and educational afternoon of interactive activities centered on understanding the wonderful world of pollinators.
The beautiful gardens will be dotted with displays on honey bees, bumble bees, wild bees of Michigan, plants to support pollinators, garden pesticide safety, bee-friendly lawn-care and how important bees and other pollinators are for our food supply. Hands-on workshops will show you how make a native bee hotel, how to make seed "bombs" to support pollinators, and how to identify different pollinators in your garden. Pollinator-themed face painting will be back by popular demand, too!
The MSU Horticulture Gardens are located on the southwest corner of Bogue Street and Wilson Road on the MSU campus in East Lansing, Michigan, with ample parking on the west and east side of the gardens. For updates and more information, visit the MSU Bee Palooza website or our Bee Palooza Facebook Event page.
Step in at the Bug House
On the other side of campus in Room 147 of the Natural Science Building, the MSU Bug House will also be open for visitors on the same day, June 18, from 1-4 p.m.
Libations
Later in the week, join members of the MSU Department of Entomology for two events: Biology on Tap on June 20, 7:30 p.m., at The Loft, 414 E. Michigan Ave, Lansing, MI, and Orations & Libations on June 22, 7-9 p.m., at American Fifth, 112 N. Larch St, Lansing, MI. Enjoy short talks from local experts about the state of pollinators and pollination in Michigan. These two free events (other than the purchase of your desired beverage!) are for persons 18 or older. Watch for upcoming information on these events by visiting the events' websites or going to the MSU Extension Pollinators and Pollination page.