Julianna Wilson
ORCID iD: https://orcid.org/0000-0003-0807-5421
See a list of Dr. Wilson's publications on her website or her Google Scholar page.
Program Description
As the Tree Fruit Integrated Pest Management (IPM) Specialist, Dr. Wilson conducts applied research and develops extension programming with regional, national, and international collaborators to improve and implement farm management practices that will result in healthy, marketable tree fruit in support of the long-term sustainability of the Michigan tree fruit industry. Her applied research and extension program depends on multidisciplinary collaborations with a focus on monitoring and managing dynamic pest complexes, orchard pollinator health, and impacts of climate change and the potential for climate mitigation in orchard systems.
Current assignment: Research 25% | Extension 75%
Concentrations
Pest Management
Apples
Tart Cherries
Orchard Resiliency
Pollinator Stewardship
Professional Experience
2011–Present - Tree Fruit IPM Specialist/Integrator, Department of Entomology, Michigan State University
2009-2011 - Adjunct Instructor, Biology Department, Lansing Community College
2007-2011 - Post-doctoral Research Associate, Berry Crops Entomology Lab, Department of Entomology, Michigan State University
Selected Research Publications
(Also published as J.K. Tuell)
Graham KK, Perkins JA, Peake A, Killewald M, Zavalnitskaya J, Wilson J, and Isaacs R (2020) Wildflower plantings on fruit farms provide pollen resources and increase nesting by stem nesting bees. Agricultural and Forest Entomology, http://dx.doi.org/10.1111/afe.12424.
Reilly JR, Artz DR, Biddinger D, Bobiwash K, Boyle NK, Brittain C, Brokaw J, Campbell JW, Daniels J, Elle E, Ellis JD, Fleischer SJ, Gibbs J, Gillespie RL, Gundersen KB, Gut LJ, Hoffman G, Joshi N, Lundin O, Mason K, McGrady CM, Peterson SS, Pitts-Singer T, Rao S, Rothwell N, Rowe L, Ward KL, Williams NM, Wilson JK, Isaacs R, and Winfree R (2020) Crop yield in the USA is frequently limited by a lack of pollinators. Proceedings B, https://doi.org/10.1098/rspb.2020.0922.
Bintari, AF, Quintanilla MA, Wilson JK, and Shade A (2020) Biogeography and diversity of multi-trophic root zone microbiomes in Michigan apple orchards: analysis of rootstock, scion, and local growing region. Phytobiomes, 4: 122-132. https://doi.org/10.1094/PBIOMES-01-20-0007-R
Nicholson, C.C., Ward, K.L., Williams, N.M., Isaacs, R., Mason, K.S., Wilson, J.K., Brokaw, J., Gut, L.J., Rothwell, N.L., Wood, T.J., Rao, S., Hoffman, G.D., Gibbs, J., Thorp, R., Ricketts, T.H. (2019) Mismatched outcomes for biodiversity and ecosystem services: testing the responses of crop pollinators and wild bee biodiversity to habitat enhancement. Ecology Letters, https://doi.org/10.1111/ele.13435.
Grab, H., Brokaw, J., Anderson, E., Gedlinske, L., Gibbs, J., Wilson, J., English-Loeb, G., Isaacs, R., and Povenda, K. (2019) Habitat enhancements rescue bee body size from the negative effects of landscape simplification. Journal of Applied Ecology, 56: 2144–2154.
Wood, T., Gibbs, J., Rothwell, N., Wilson, J.K., Gut, L., Brokaw, J., and Isaacs, R. (2018) Limited phenological and dietary overlap between wild bee communities in spring flowering crops and herbaceous pollinator enhancements. Ecological Applications, 8 (7): 1924-1934.
Recent Extension Publications
Szucs, M., O. Simaz, L. Gut, J. Pote, and J. Wilson (Dec 2020) Increasing the abundance of samurai wasp for biological control of brown marmorated stink bug. MSU Extension News
Wilson, J. (Sept 2020) Managing Brown Marmorated Stink Bugs in Homes & Gardens. Major revision of 2015 tip sheet originally written by P. Botch and D. Brown. Fact Sheet.
Wilson, J., L. Gut, M. Grieshop, and W. Shane (revised August 2020) Managing Brown Marmorated Stink Bug in Michigan Orchards. Fact Sheet
Grieshop, MJ, D. Brown, R. Isaacs, J. Wilson (June 2020) Spotted Wing Drosophila Management in Home Fruit Plantings. Fact Sheet.
Wilson, J., L. Gut, R. Isaacs, S. VanTimmeren (June 2020) Spotted Wing Drosophila Biology and Identification. Fact Sheet.
Wilson, J., L. Gut, N. Rothwell, E. Pochubay, K. Powers, J. Wise (major revision June 2020) Managing Spotted Wing Drosophila in Michigan Cherry. Fact Sheet.
Wilson, J., M. Quintanilla, A. Shade, T. Einhorn, G. Sundin, and A. Irish-Brown (Winter 2019) The apple replant field trial at the Clarksville Research Center. Fruit Quarterly, Vol 27(4): 33-35. INVITED
Wilson, J., M. Quintanilla, A. Shade, T. Einhorn, G. Sundin, and A. Irish-Brown (Fall 2019) Unraveling the mysteries of apple replant in Michigan. Fruit Quarterly, Vol 27(3): 17-20. INVITED
Quintanilla, M., E. Cole, K. Poley, and J. Wilson (Summer 2019) Fruit replant problem with a special emphasis on nematodes. Fruit Quarterly, Vol 27(2): 19-21. INVITED
Wilson, J., J.E. Carroll, E. Pochubay, A. Agnello, W. Shane (February 2019) Stone Fruit IPM for Beginners, A series of fact sheets published by the North Central IPM Center; 74 pages.
Wilson, J. (Summer 2018) Studies on Pollination and Fungicide Use During Orchard Bloom. Fruit Quarterly, New York Horticultural Society, 26(2): 11-13. INVITED
May, E., R. Isaacs, K. Ullmann, Wilson, J. Brokaw, S.F. Jordan, J. Gibbs, J. Hopwood, N. Rothwell, M. Vaughan, K. Ward, and N. Williams (2017) Establishing Wildflower Habitat to Support Pollinators of Michigan Fruit Crops. Bulletin E-3360, MSU Extension Service, East Lansing, MI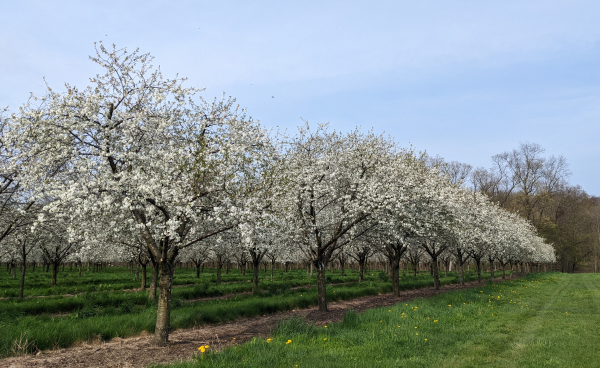 Published on May 12, 2022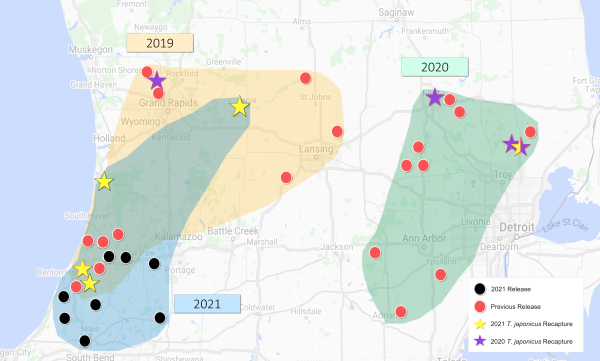 Published on February 9, 2022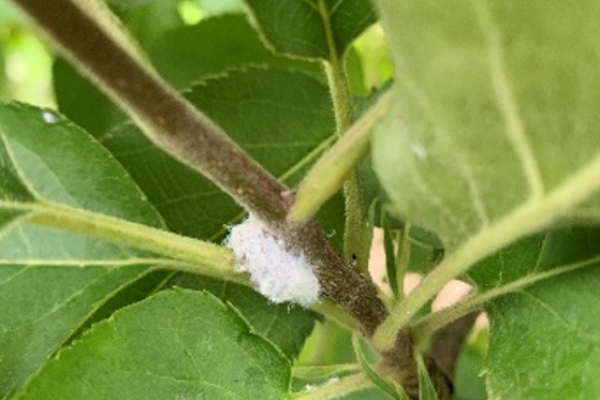 Published on July 30, 2021
Published on July 20, 2021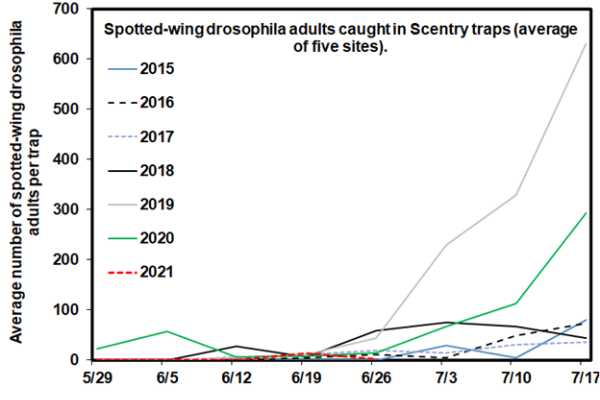 Published on July 9, 2021

Published on March 11, 2021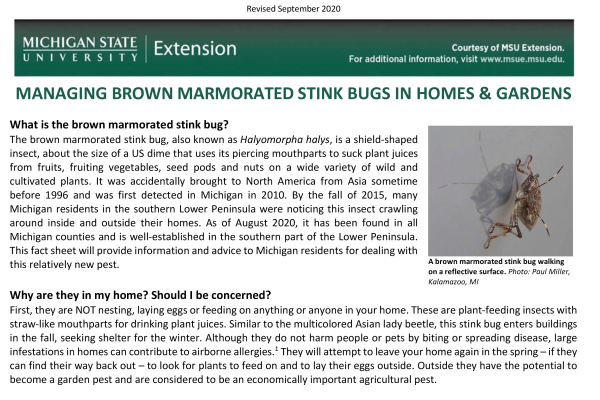 Published on September 29, 2020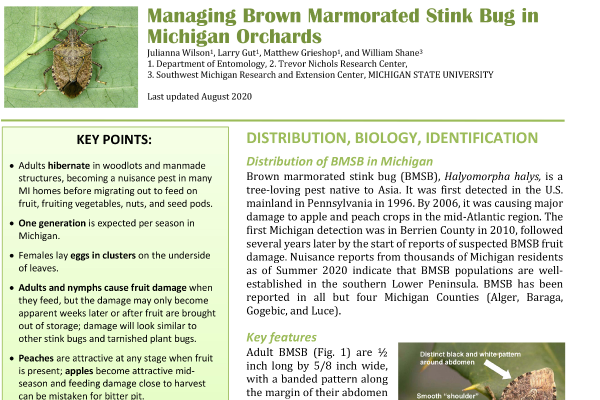 Published on August 28, 2020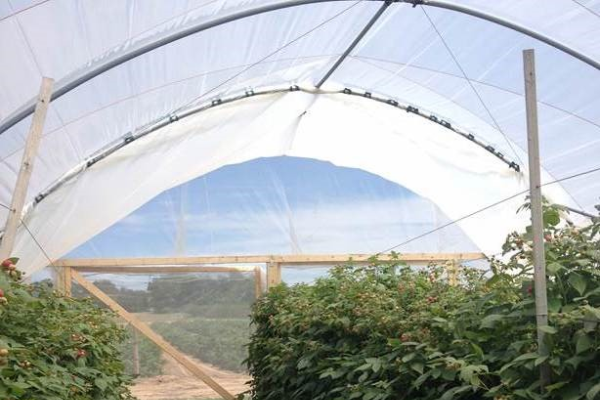 Published on July 28, 2020