For the safety of our visitors and staff, the Bug House will be closed indefinitely until social distancing requirements have been lifted and MSU has reopened. Please check back for updates as to when we may again be able to accommodate tours and visitors. Thank you for your patience and stay safe.
Learn about insects at the Bug House! Where science and fun meet!
Come visit The Bug House at MSU! Located on the ground floor of the Natural Science Building, The Bug House features a live honeybee hive, stunning specimen displays, and a menagerie of live insects and arachnids, including beetles, tropical cockroaches, and tarantulas!
Visit our Facebook, Instagram, or Twitter pages to keep up-to-date with The Bug House. Don't forget to print our flier!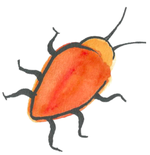 TOURS BY APPOINTMENT
All tours must be scheduled at least one week in advance. All payments must be by check or cash. No credit cards accepted.
Inquire about our available tour times and make your reservation today by calling 517-355-4662 or emailing bughouse@msu.edu.
The Bug House is open for tours made by appointment. Due to staff and resource limitations, we are NOT open daily. Tours are suitable for all ages and are offered Monday through Friday 9 a.m. – 4 p.m. by appointment only.
For our regular, 1-hour educational tour for a group of 30 people or less, our rate is $50. This tour includes a 20-minute educational presentation and two 20 minute-rotations for viewing the displays and holding live insects and arthropods.
We also offer half-hour "mini-tours" for $20. The mini-tour includes viewing the displays and holding live arthropods (no educational presentation).
OPEN HOUSES
No time for a tour? No problem! The Bug House provides a variety of free open house events during evenings and weekends for the general public throughout the year. No appointment is necessary for our free open houses. See the "Events" tab above for a list of upcoming open houses!

Attention MSU Students!

You can apply to work or volunteer in the Bug House!

For more information, email Gary Parsons at parsonsg@msu.edu or Amanda Lorenz-Reaves at lorenzam@msu.edu.