Central Michigan vegetable regional report – May 11, 2016
Rain showers and cool soil temperatures keep progress at a moderate pace.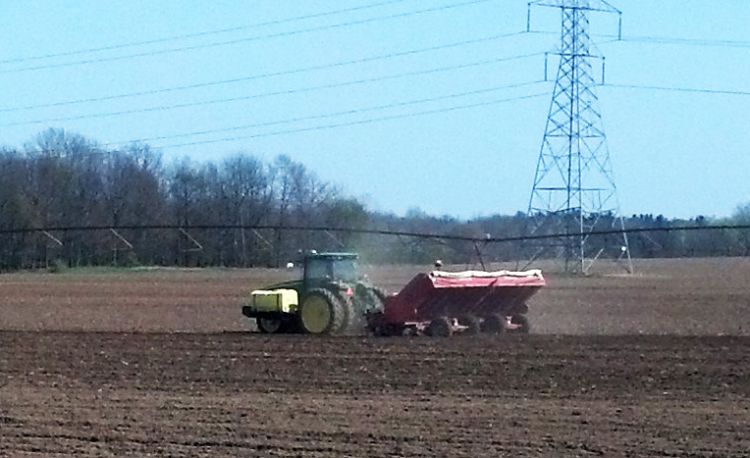 Weather
Air temperatures in Entrican, Michigan, ranged from the mid-50s to mid-70s for highs this week. Low temperatures ranged from the mid-30s to low 40s. Soil temperatures remain cool for early to mid-May with minimum temperatures just reaching the 50-degree mark on bare soil. Soil conditions are variable with well-drained soils being worked and poorly drained, heavier soils still remaining too wet for tillage. Rainfall totals were variable with 0.3-0.75 inch received Tuesday May 10, with the higher totals in southern portions of the region.
Crops
Potato planting is well-underway, but progressing at a somewhat slower pace than normal. There are only a few early planted potatoes beginning to emerge.
Sweet corn planting is progressing with several growers on their second planting. No emergence has been observed in the field.
Asparagus harvest has begun with the first picking this week.
Pea planting is ongoing for roadside markets. Early planted peas are emerging.
Cole crops in market gardens are being transplanted as well as onions. Carrots, beets and many other early season crops are also being planted. Early planted red beets are emerging with good stands.
Rye cover crops are growing rapidly many with two nodes showing. Michigan State University Extension suggests that covers be controlled very soon as control will become increasingly difficult.
Winter annual weed growth has also been vigorous this spring with chickweed doing especially well. Chickweed stands should be controlled soon even if planting will not occur for a week or two as they can favor black cutworm egg deposition.