Chestnut growers: Mark your calendars for these two important meetings
Chestnut growers are encouraged to attend two upcoming meetings on insect and disease scouting on Aug. 27, and cultivar evaluations and chestnut blight research on Sept. 7. Both meetings are free, but require registration.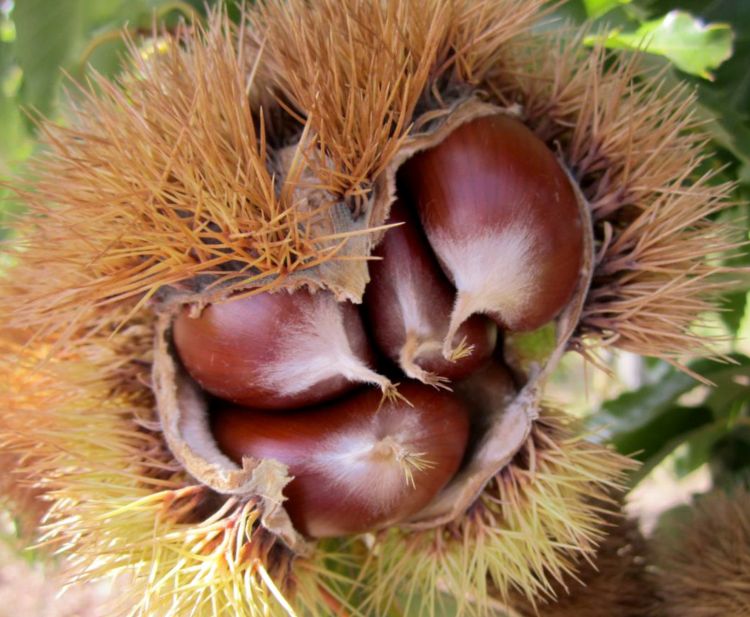 Chestnut Scouting Meeting, Aug. 27
Scouting for chestnut insect pests and diseases is critical to environmental and economic sustainability. Come learn about best scouting practices in the field. Michigan State University Extension will be hosting a free chestnut scouting demonstration Aug. 27 from 5-7 p.m. at the Clarksville Research Center, 9302 Portland Rd., Clarksville, MI 48815. The meeting will start with a classroom style presentation and then move into the field for hands-on scouting at the research station chestnut orchard.
This event is free, but registration is required and space is limited, so sign up today by registering online or calling Erin Lizotte at 231-944-6504.
Harvest Meeting of the Midwest Nut Producers Council, Sept. 7
The Midwest Nut Producers Council will hold its Harvest Meeting Sunday, Sept. 7 at noon at the Clarksville Research Center, 9302 Portland Rd., Clarksville, MI 48815. After meeting in the parking lot (restrooms available), we will proceed to the chestnut plot to look at the various cultivars and review past production records. We will informally discuss the 2013 Forrest Keeling transplants, the 2013-14 winter and the effects it had on the various cultivars including flowering and pollen production. We will also discuss the Forrest Keeling 2014 transplant shipment arriving this October. There will be no formal presentation in the auditorium at this meeting. Light refreshments including water and granola bars will be available, so bring your own food.
This event is free of charge to all interested parties, but participants should register online or by contacting Dennis Fulbright at fulbrig1@msu.edu. Midwest Nut Producers Council members will receive written packets of information at the meeting.
After the meeting, participants are welcome to continue the Harvest Meeting by driving to the MSU south campus to observe even more cultivars and the chestnut blight treatment research program. MSU has chestnut blight and Clarksville, as of this summer, still does not have chestnut blight, so we will travel from the blight-free plots at Clarksville to the blighted plots at MSU. It is a 45-minute drive to MSU from Clarksville. The meeting will begin again at MSU at 3 p.m. until 5 p.m. Written driving directions will be provided at Clarksville if you wish to go to the MSU chestnut orchard.
Directions to Clarksville Research Center
9302 Portland Road, Clarksville, MI 48815
Exit 59 off of I-96, go south to Portland Road. (about 1/2 mile) and turn right. Proceed to the main entrance on Portland Road. Meet in main parking lot and prepare to move to the orchard.
Directions to MSU research plots
Meet in the parking lot of the Plant Pathology Field Laboratory
Take US-127/I-496 south to Jolly Road exit. Turn left at exit (you are not at Jolly Road yet). Cross freeway and head to signal at end of road. Turn right at this signal; go to signal at end of this road (this is Collins Road, you go by Lansing main post office). Turn left at end of Collins onto Jolly Road. Drive to the next signal and you are at the corner of Jolly and College Road. Turn left and go to first building on left, the Plant Pathology Research Lab.
Accommodations for persons with disabilities may be requested by contacting Erin Lizotte at taylo548@msu.edu to make arrangements. Requests will be fulfilled when possible.
This program was developed with support from the Sustainable Agriculture Research and Education (SARE) program, which is funded by the U.S. Department of Agriculture — National Institute of Food and Agriculture (USDA-NIFA). USDA is an equal opportunity provider and employer.