Christmas safety with young children
Tips for parents for a safe and happy holiday season.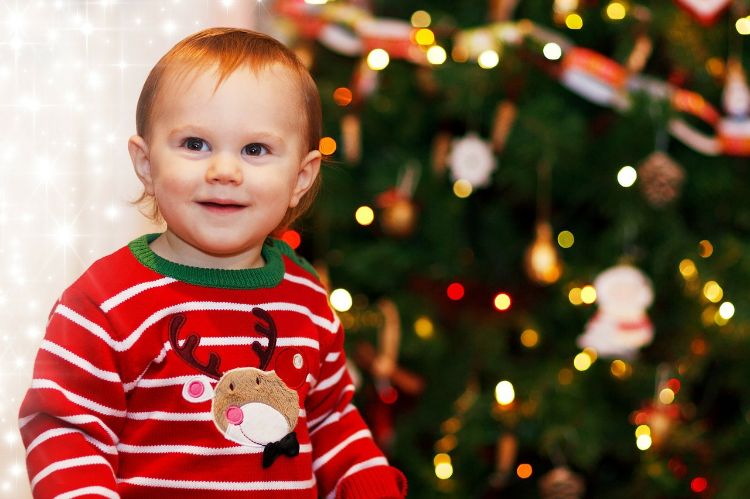 Holiday celebrations bring many beloved family traditions, but many of these must be reevaluated once small children are in the home. Michigan State University Extension recommends the following tips for a safe Christmas at home with your small child.
Choose a fire-retardant, artificial tree or a fresh, real tree. Fresh trees should have flexible branches that hold their needles when you pull gently on the end of the branch. If the tree loses needles when you pull, keep looking! Keep your real tree well-watered to reduce fire danger. Read "Choosing the right Christmas tree" for more information from MSU Extension about choosing a fresh tree.
Carefully check your lights for loose, broken or missing bulbs. Check wires carefully and make sure there are no frays, cracked or broken sockets, or other potential electrical hazards. Do not overload extension cords or outlets, or string too many lights strands together end-to-end. Always turn lights off when you are not home or when you go to bed.
Child-proof your tree by placing a flexible play yard around the tree, setting it up in another room that isn't as frequently used or choosing non-breakable ornaments tied with ribbon instead of metal hooks (choking hazard) to place on the lower portion of the tree. Be sure the tree is secure in the tree stand and consider tying it to the wall or ceiling for additional support, especially if your children are prone to climbing.
Be aware of poison risks. While many people worry about the ingestion of poinsettias, the truth is they are not poisonous to people. Holly berries, however, are poisonous. Mistletoe can cause gastrointestinal upset, but is not likely to cause serious positioning. Additionally, a common source of unintentional poisoning in small children occurs with alcohol left in glasses, and accidental ingestion of ornaments and decorations that look like food. Keep a close eye on your young children at busy family gatherings and don't hesitate to call poison control at 1-800-222-1222 with questions.
Choose toys for children that are the right age. Make sure there aren't small parts or potential choking hazards, read the instructions and warning labels carefully. Be cautious with small pieces including button batteries that may be included in electronic toys. While these toys can be appropriate for older children, they present a serious hazard to younger children who may ingest the batteries.
If you're gifting bikes, skates, scooters or skateboard, don't forget to include a helmet to keep them safe while they're busy having fun!
Find more information about holiday safety including tips for safety on the road and out of the home at Safe Kids Worldwide Holiday Safety Tips. Visit MSU Extension's Early Childhood Development for resources and information for families and children and to find upcoming events in your area.