Citizen science volunteers are being recruited to help protect Michigan's tree resources
There is an impending possibility of new populations of invasive pest species poised to enter the state and wreak havoc on the state's forestland and urban tree resources.
Michigan State University Extension is working to enlist and educate a statewide volunteer workforce of citizens to keep a watchful eye on designated trees and monitor their health. There is hope that through the continued efforts of these citizen science helpers, new populations of pest issues can be identified early enough to implement effective management strategies.
With more than 20 million acres of the land in Michigan being classified as "forested" it is a resource that is vital to the sustainability of the state's economy. For example the forest products industry - along with recreational tourism - are directly dependent on the forest resources. Healthy wildlife populations are also connected to and reliant on healthy woodlands and forests. Even the state's water resources are, in part, protected by adjacent trees and shrubs.
With potentially devastating invasive forest pest species active near our state borders, Michigan State University Extension has been conducting the Eyes on the Forest program. The aim of the project is to engage interested residents of the state to identify and monitor Sentinel Trees for overall health.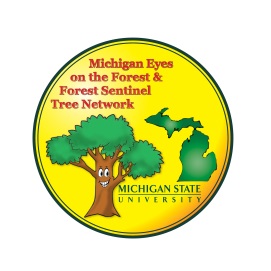 Persons interested in participating in the program are offered training through MSU Extension on three target pest species with instructions on data submission. Volunteers can then identify "their tree", access its overall health and enter the information via the Internet to the Midwest Invasive Species Information Network (MISIN). Once established, these trees are referred to as Sentinel Trees and tags are provided for future identification.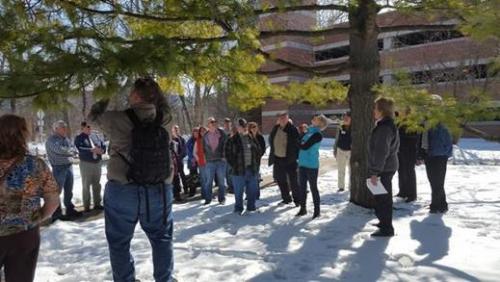 Although the focus currently is on three invasive pests, Asian longhorn beetle, hemlock woolly adelgid and thousand cankers disease and their potential host trees, Sentinel tree volunteers can choose species of tree for the Eyes on the Forest program. Once registered in the system, it is suggested the Sentinel Trees be revisited two or three times a year to access their growth and health. Information gathered from these repeated assessments is also entered into the MISIN data base.
The goal of the project is to establish a volunteer-driven network of trees of various species across the state. With regular inspection it is hoped that the Sentinel Tree program will help identify possible outbreak locations of invasive pest species. A team of resource professionals is available in the event an invasive pest problem is identified. It is hoped that this citizen science effort will lead to early detection and rapid response. With quick action there is a greater chance newly identified populations of invasive pests can be eradicated before they have the chance to become too well established to control.
Anyone interested in becoming a "citizen scientist" involved in this project by adopting a tree as their Sentinel Tree is encouraged to visit the MSU Extension Eyes on the Forest web page for additional information and contact information.