Citizen scientists investigate aquatic invasive species in Hubbard Lake
Aquatic invasive species were the target of citizen science investigations undertaken by elementary students and local lake association volunteers teaming up with MSU research.
On a rain-chilled November day, citizen scientists from Hubbard Lake Sportsman & Improvement Association (HLSIA) and students of Ella White Elementary (Alpena Public Schools) teamed up with researchers from Michigan State University (MSU) to track aquatic invasive species in Hubbard Lake.
It takes commitment for researchers to get out on a rainy day to collect samples needed for their science studies. This lesson was not lost on the budding elementary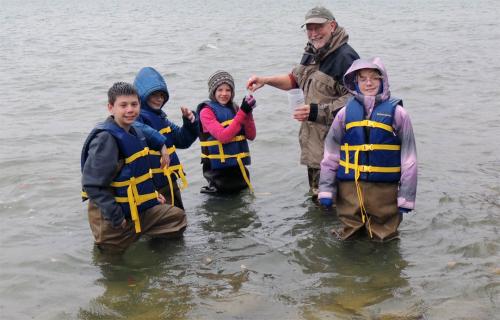 scientists who joined HLSIA citizen science volunteers on this rainy day to gather data on aquatic invasive species that threaten the health of their local waterways.
It reflects an equally committed researcher who has taken the time and thought to engage and involve these committed citizen volunteers in the science process. Fostering this opportunity was Maggie Kronlein, a researcher at MSU, who recently met up with Hubbard Lake volunteers. Part of a team led by Dr. Syed Hashsham, her work reflects innovative science using DNA evidence in water (environmental DNA, or "eDNA") to conduct a CSI-like search for more than a dozen different invasive species at risk of spreading among Michigan waterways.
On this day, her project involved 28 fifth graders and their teacher, Bob Thomson, from Ella White Elementary, in the scientific search for invasive species. Working alongside Hubbard Lake Association volunteers, Gerry Kraft and Bill Haase, students helped collect water samples from northeast Michigan waterways for Kronlein's eDNA analysis. HLSIA had volunteered to help when they learned of Kronlein's study and her desire to involve citizens in scientific collection of water samples from across the state. It only made sense, given HLSIA's investment in protecting their local Hubbard Lake; and so Maggie set them up with sampling kits and training to needed to make it all happen.
Part of a broader Thunder Bay River Watershed investigation of invasive species, these students have been studying populations of rusty crayfish and zebra mussels throughout the watershed. Students valued the opportunity to take their studies to Hubbard Lake, a popular recreational and fishing lake, as it is at the headwaters of the Thunder Bay River Watershed. Understanding invasive species infestations in this lake are important to these students. Illustrating their understanding of watershed connections, they recognize that invasive species in Hubbard Lake are connected downstream to the broader Thunder Bay watershed; eventually influencing the health of Lake Huron fed by the water moving downstream through this watershed.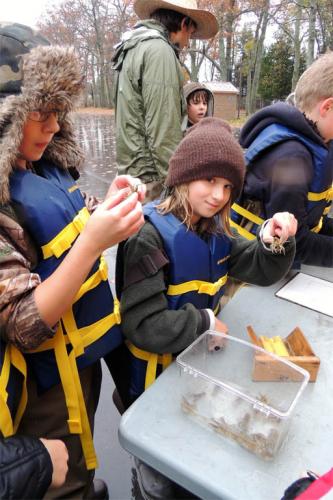 This place-based education project connects students' learning with their local environment and community, and reflects a truly meaningful watershed education experience supported by NOAA B-WET water education initiative. Along with HLSIA, their project collaborates with Michigan Sea Grant, Michigan State University Extension, 4-H Youth, U.S. Fish and Wildlife Service, NOAA Thunder Bay National Marine Sanctuary, and others supporting this watershed study through the Northeast Michigan Great Lakes Stewardship Initiative network. This project is a terrific example of a great partnership between committed community volunteers and enthusiastic school youth working together as stewards of water quality in northeast Michigan.
On this day, students successfully collected rusty crayfish data in support of their science project and monitoring efforts of this invader across the watershed, but they were unable to collect samples of the zebra mussels known to infest Hubbard Lake. While learning alongside their newfound HLSIA partners, students collected water samples in support of Kronlein's research, which now awaits eDNA analysis at MSU.
Despite the rain, these undeterred students were enthusiastic about their trip to the lake to take part in this project. Engaged in hands-on learning, they also bring to light the power in partnerships where their science studies contribute to stewardship goals of HLSIA and cutting edge university research. In trade, students leave with an unforgettable, real-world learning experience through newfound community partners investing in their education.
For more information visit the Northeast Michigan Great Lakes Stewardship Initiative website and the Thunder Bay River Watershed Project page to explore place-based education programming partnerships with Alpena Public Schools. To learn more about volunteer monitoring in Michigan's inland lakes, including the launch of eDNA-based volunteer monitoring for aquatic invasive species, visit the MiCorps website or contact Dr. Jo Latimore at MSU.