Climate change and the increasing probability of extreme weather
With another record warm year, rising averages are increasing the odds of extreme weather.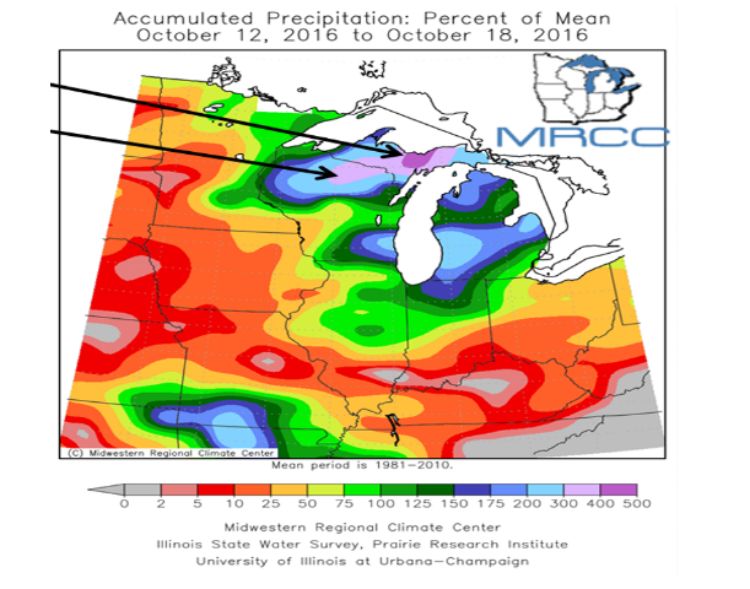 Globally, 2016 is shaping up to be the warmest year on record. Each of the first six months of 2016 set records, respectively, as the warmest month globally since 1880, the start of the modern temperature record. This record year comes immediately after 2015 being declared the warmest on record, which followed 2014 as the warmest year on record.
In the Great Lakes Region, the trend is warmer and wetter. With average temperatures increasing and average precipitation increasing, the likelihood of experiencing extreme heat and/or extreme precipitation events is also being shifted upward. In other words, what was once considered extreme heat or precipitation is now likely to happen more frequently as average temperature and precipitation increases. The Environmental Protection Agency Climate Change Science website further explains the link between climate change and extreme weather with a descriptive extreme weather bell curve animation.
In July 2016, western Gogebic County experienced a tornado and flash flooding caused by 2.5 inches of rain in a short period of time that washed out roads and stranded some residents in the area. Governor Snyder declared a state of disaster and activated the National Guard. In early October 2016, Marquette County experienced an unusual series of storms that produced heavy rainfall of more than four inches in just a four hour period. The storms created flooding along the Chocolay River, washed out roads, and also led to the gubernatorial declaration of a state of disaster.
Given the increases in temperature and precipitation experienced and further predicted for the Great Lakes region, as well as the increasing likelihood of such events, the Michigan Department of Health and Human Services (MDHHS) Division of Environmental Health has determined that it will be important to continue building Resilience Against Climate Effects on Michigan's Health. Principally, the local government has key roles to mitigate threats to public health with its unique responsibility of land use regulation and infrastructure provision. Decisions related to local land use and infrastructure can affect the severity of climate change impacts.
Local government officials and community members looking for assistance in identifying and assembling resources or developing climate change adaptation or risk management strategies can contact a member of the Michigan State University Extension Climate Outreach Team. The team is a multi-disciplinary group focused on providing science-based information related to climate variability and change in order to foster dialogue with rural and urban communities, as well as stakeholders involved in economic development, natural resources and youth. In 2013, members of the MSU Climate Outreach Team worked with the City of Marquette to facilitate the development of a climate adaptation plan for the community. That same year, the team assisted the Twin Cities Area Transportation Study Metropolitan Planning Organization in Berrien County with the development of a similar plan with greater emphasis on transportation considerations related to climate adaptation.