Recent extreme cold events produced varied temperatures with varied results in Michigan's viticulture areas
The movement of Arctic air into the Great Lakes shows the importance of site and cultivar selection, the impact of lake effect, mixed viticulture and other considerations in wine grape production.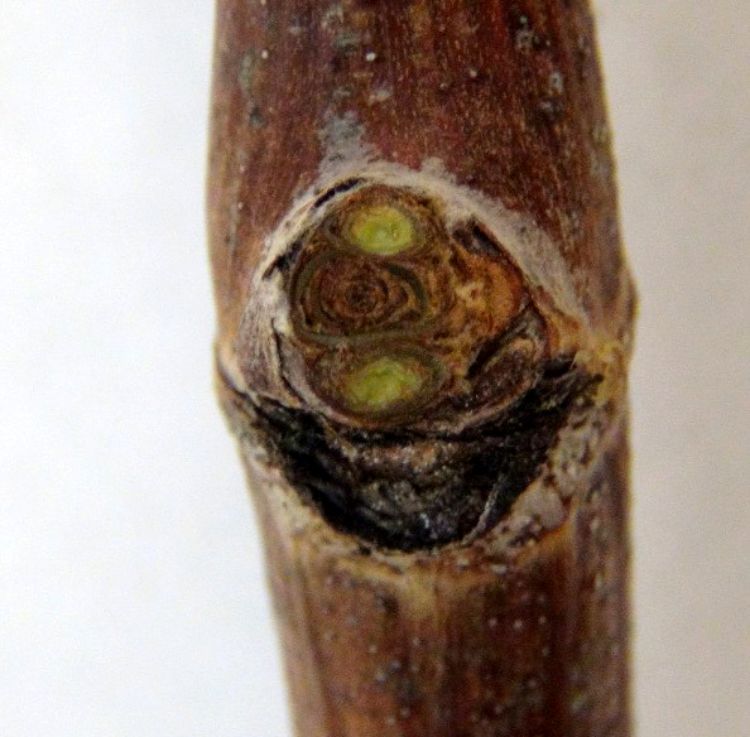 After a mild December, Michigan experienced two extreme cold events in January 2019. The first was a pulse of cold dry air from Jan. 18 to 22. The second was a more extreme Polar Vortex event in late January. "Polar Vortex" was introduced during the 2013-2014 and 2014-2015 winters, describing a mass of frigid polar air, plunging southward bringing very cold temperatures to the United States. These two cold events were cold enough to damage perennial fruit crops, especially grapevines across the Great Lakes region.
This article examines how the local weather, climate and proximity to Lake Michigan reduced potential damage across Michigan's American Viticulture Areas (AVAs), the importance of matching grape species and cultivars to suitable sites, and how cultural practices impact success in vineyards exposed to extremely low winter temperatures.
Winter cold injury depends on many inter-related factors including the site, varieties planted, snow level, temperatures before and during the event, duration of the cold event and conditions during the freeze. Vineyard management practices and overall health of the vineyard also influence grapevine cold tolerance. Michigan is a big state and these conditions varied greatly within and between individual Michigan AVAs.
Climate and weather influences on winter cold
The west Michigan coast is an ideal fruit growing region because of the moderating effect of Lake Michigan. Figure 1 shows the location of the five Michigan AVAs. The waters of Lake Michigan warm and cool slower than land. In the winter, the westerly winds blow cold air across a relatively warm Lake Michigan and across the western regions of the state. This phenomenon, known as lake effect, is most noticeable near the lake and decreases further inland. These conditions cause lake effect rain and snow with cloudy conditions down wind. The result is areas near Lake Michigan are warmer and have significant snowfall in winter.
Wind direction is very important in determining areas affected by a lake effect event. An unusual easterly wind can remove the lake effect from Western Michigan. A more common southwest wind can reduce or remove the lake effect from Southwest Michigan.
Windy, cloudy weather holds less risk of extreme cold than clear calm weather. A layer of clouds acts as a blanket and holds heat near the surface. Without cloud cover, heat is quickly lost to the atmosphere (see "What are radiation freezes?" from Michigan State University Extension).
The temperatures for five to seven days before a cold event influence plants' ability to acclimate to the cold. Ideally, a gradual steady decline in temperatures gives the plant time to acclimate and reach maximum cold hardiness. A rapid decrease in temperatures known as a "cold snap" does not give plants time to adjust to the cold and reach maximum cold hardiness (see "How cold is too cold for Michigan fruit crops?" from MSU Extension). In these situations, damage can be severe and widespread.
Figure 2 shows the January low temperatures for the five Michigan AVAs. We can see that the first cold event was a rapid cold snap for the two southern AVAs and a gradual drop for the three northern AVAs. The second cold event showed a gradual decline to very low temperatures for all five AVAs. In these situations, damage can be severe and widespread.
Another important factor in cold damage is how long temperatures remain in the damaging range. With longer time at damaging temperatures, we see increased severity of damage.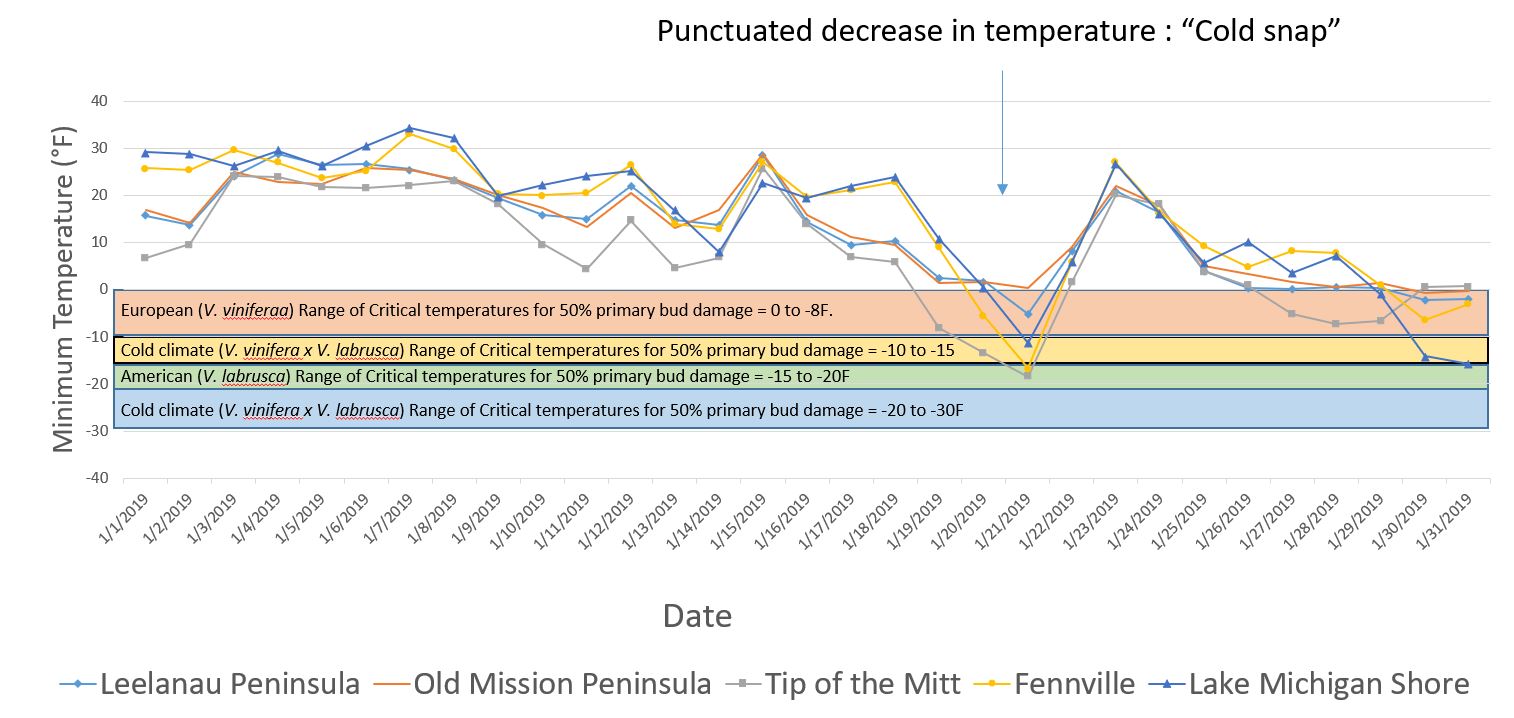 Grapevine freezing tolerance: The genetic potential for cold tolerance
Cold hardiness can be measured in different ways. One common measure is the LT50, the lethal temperature to kill 50 percent of the buds. Vitis labrusca species evolved in a harsh American continental climate. Cultivars of V. labrusca are considered hardy (LT50 range -15 to -20F). Vitus vinifera evolved in a milder European climate. Cultivars of V. vinifera are considered tender to moderately tender (LT50 range of about 0 to -10 degrees Fahrenheit) (Table 1).
Breeding programs at University of Minnesota and Cornell University, which focused on inter-specific hybridization between American (V. labrusca) and European (V. vinifera) species, have produced hybrid cultivars (V. labrusca x V. vinifera) named cold climate cultivars that have many beneficial traits such as increased cold tolerance and disease resistance, with award winning wine quality. In fact, some cold climate cultivars like Frontenac, Foch and La Crescent have greater cold hardiness than their American parents. The introduction of cold climate cultivars to Michigan has expanded the number of potential acres, and AVAs, for wine production in areas too harsh for European cultivars, like the youngest AVA, Tip of the Mitt established in 2016.
Temperature variability between Michigan's five AVAs
Jan. 21, 2019
Around Jan. 19, a low pressure system and winter storm passed south Michigan. The counterclockwise rotation of the storm brought an unusual north-northeast wind. Looking at the temperature gradients in Figure 1, you can see the elevated lake effect temperatures on the north coast of the Upper Peninsula from Lake Superior, the east coast of Michigan from Lake Huron and the northwest shore of the Lower Peninsula from Lake Michigan and Lake Superior. Because of the northeast wind, there was no lake effect in southwest Michigan.
On Jan. 21, Fennville and Lake Michigan Shore AVAs were exposed to the most severe cold snap out of all five AVAs with minimum temperatures dropping from -5.7 F (Jan. 20) to -16.7 F (Jan. 21) in Fennville, and from 0.3 F to -11.4 F in Lake Michigan Shore (Fig. 2). Portions of Fennville AVA dipped below -10 F for over three hours (6-9 a.m.) while temperatures in Lake Michigan Shore, recorded at the Southwest Michigan Research and Extension Center, hovered between -5 and -9, and dipping just below -10 a few times (Figs. 3 and 4). During this time period at those two locations, wind speed was very low. This shows how wind plays a major role in which areas receive Lake Michigan's weather moderation (Fig. 4).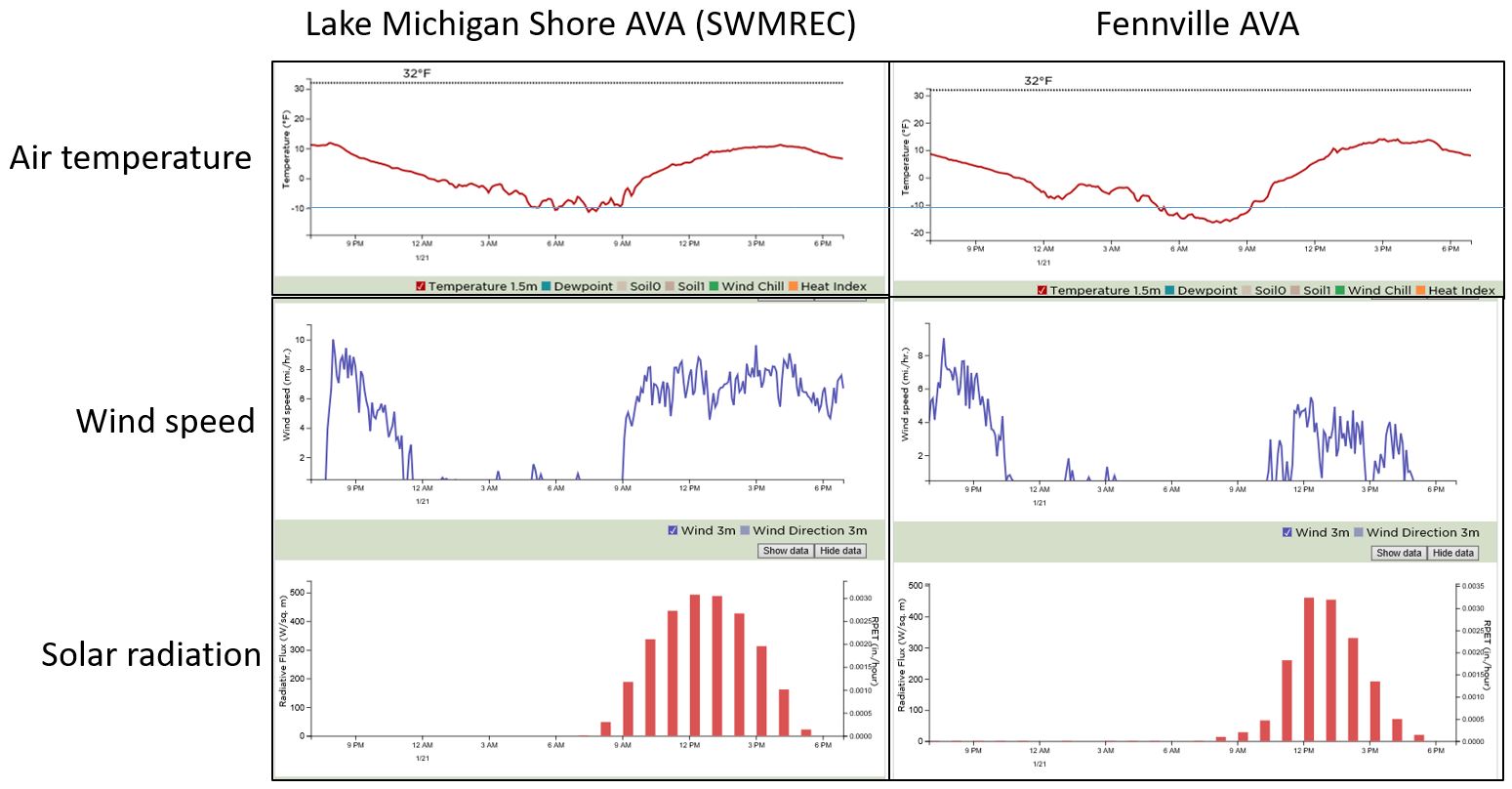 In Fennville and Lake Michigan Shore AVAs, sunlight returned about 9 a.m. and wind and air temperature increased (Fig. 3). In the northwest region, Leelanau Peninsula air temperatures approached -5 F, ranging from -2.6 to -4.3 F from 7 to 9 a.m. The Old Mission Peninsula AVA did not have a day with temperatures below -1 F. In fact, while Fennville and Lake Michigan Shore AVAs recorded temperatures at or below -10 F, Old Mission Peninsula stayed above 0 F (Fig. 2). On Jan. 21, the Tip of the Mitt AVA was exposed to -18.5 F air temperatures, the lowest of all five AVAs, and was below -15 F for three hours (6-9 a.m.).
Lake Michigan Shore AVA often gets southwest winds, which reduce the lake effect across the region and can receive very cold winter temperatures, colder than areas to the north. Consequently, the Lake Michigan Shore has highly mixed viticulture. This AVA had three days with temperatures below -10 F and one day with temperatures below -15 F (Fig. 5). Nearby, Fennville AVA also uses mixed viticulture and had the second lowest recorded temperatures (-16.7 F on Jan. 21) of all five AVAs, two days with temperatures below -5 F and one day with temperatures below -15 F (Figs. 3 and 5).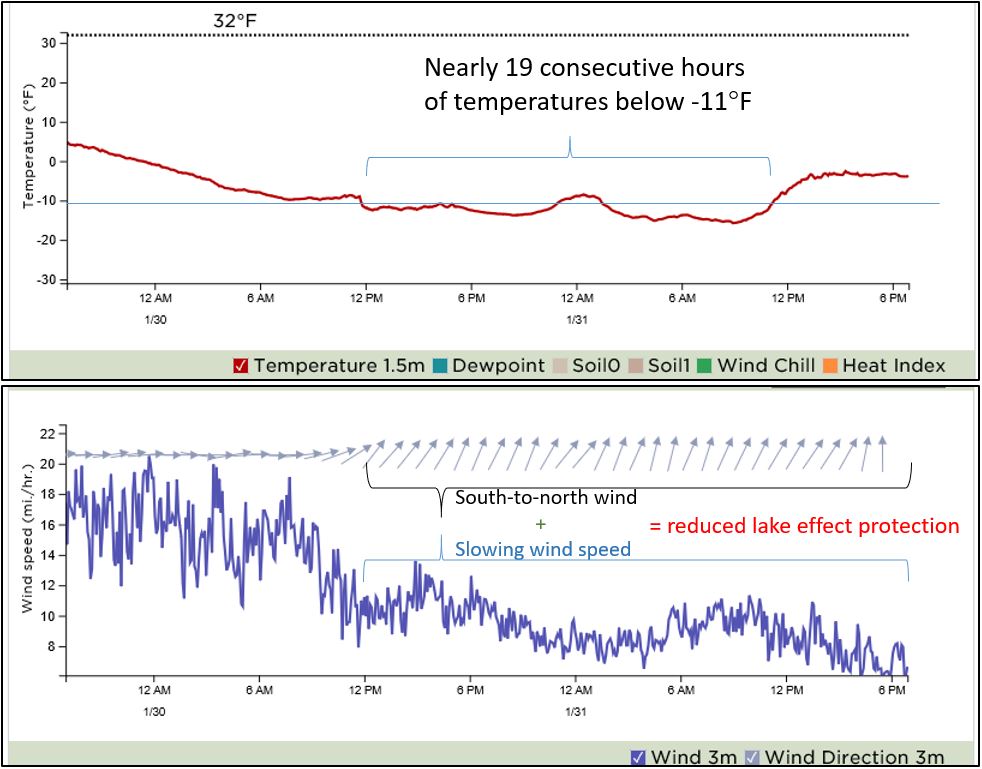 Polar Vortex: Jan. 30 and 31
Unfortunately, temperatures dipped again Jan. 30 and 31 across the state with the Polar Vortex. This event was characterized by high winds and lake effect snows across Michigan. At the end of this event, winds shifted to the southwest and reduced the lake effect in southwest Michigan. The impact of this event was most severe in the Lake Michigan Shore AVA where temperatures reached -14.1 F (Jan. 30) and -15.7 F (Jan. 31) (Figs. 1, 2 and 3).
On Jan. 30, air temperatures recorded at the Southwest Michigan Research and Extension Center remained between -11 F and -14 F for 10 hours (1-11 p.m.). On Jan. 31, air temperatures remained between -11 F and -15 F for nine hours (2-11 a.m.). Some portions of Lake Michigan Shore AVA were exposed to nearly 19 consecutive hours of minimum temperatures below -11 F (Fig. 4).
Cold temperatures on Jan. 21, 30 and 31 suggest that vineyards in the Fennville and Lake Michigan Shore that grow cold tender V. vinifera and even American and cold climate cultivars will see noticeable cold damage to primary buds when temperatures dipped well below the critical range for those three cold hardiness classes (Table 1). Research from The Ohio State University in 2014 found 100 percent of V. vinifera cultivars sustained 100 percent primary bud damage, after six to nine hours of exposure to -11 F (Fig. 5).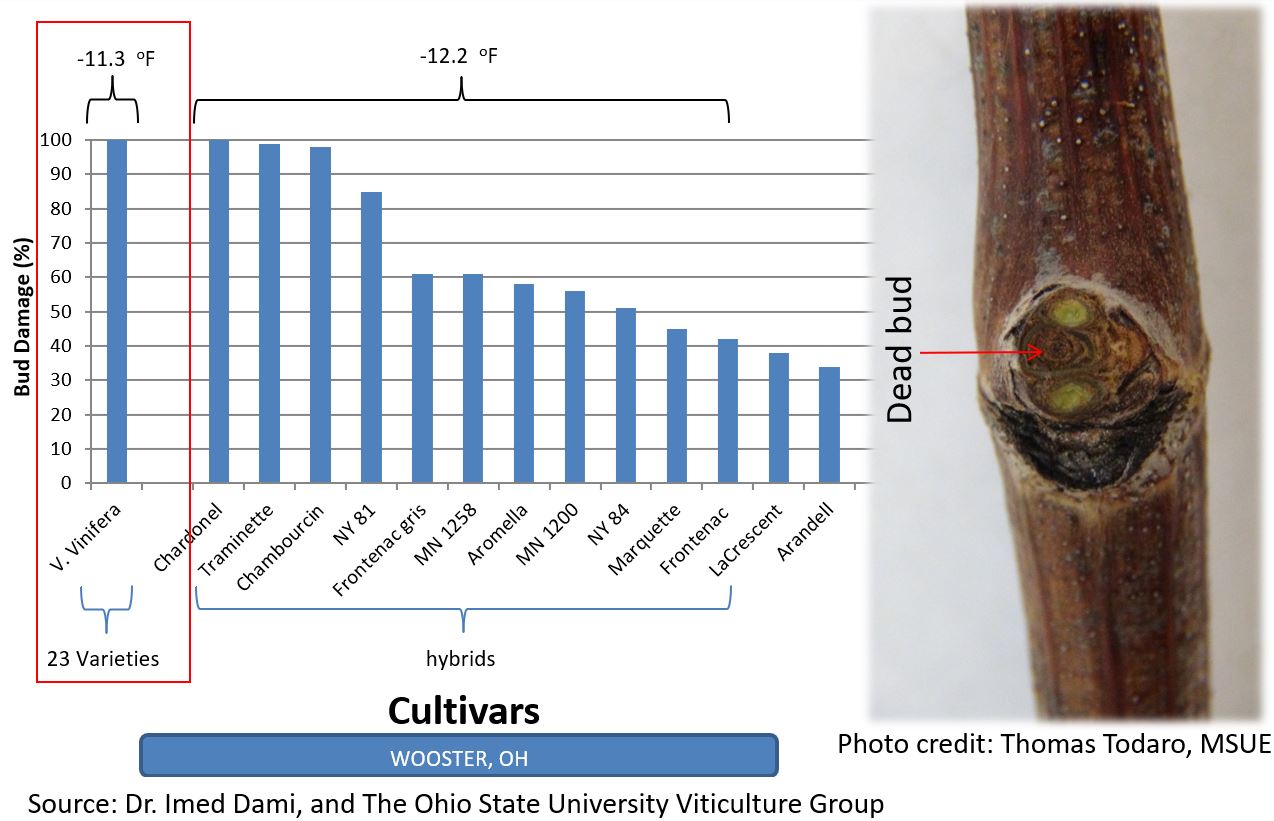 However, based on the reported minimum temperatures, vineyards in the Leelanau and Old Mission Peninsula AVAs with V. vinifera focused viticulture, were not exposed to such low temperatures or a long duration and should have less damage than those in Fennville and Lake Michigan. In fact, a small sample collection bud and cane tissue assessment was conducted at the Northwest Michigan Horticulture Research Center research vineyard and only about 15-20 percent primary bud damage was seen in Riesling and Blaufrankish cultivars (Table 3).
Although the Tip of the Mitt AVA, with highly specialized, cold climate focused viticulture, was exposed to the lowest air temperatures of all five AVAs (-18.5 F on Jan. 21), and had the most numerous cold days (days below -5 F) in January, it actually received the highest minimum temperatures (0.7 F) of all five AVAs during the cold events on Jan. 30 and 31 (Fig. 1 and Table 2). However, based on the reported minimum temperatures on Jan. 21 (-18.5 F), vineyards in the Tip of the Mitt AVA may see variable degrees of primary bud damage. The OSU damage assessment from 2014 showed that when exposed to -12.2 F, even cold climate cultivars sustained significant primary bud damage (Fig. 5).
The five-year averages of growing season heat accumulation expressed as growing degree-days (GDD) and recent extreme minimum air temperatures recorded during the month of January in Michigan's five AVAs (Table 2) highlight the importance these three types of grapevines (European, American and cold climate) have on the state's grape production regions, and how matching these cultivars to the site will improve vineyard success in winters with extreme low temperatures.
Bud and cane cold damage assessments in Michigan's AVAs following the minimum low temperatures described in this article are underway. Assessing cold damage should be conducted in the vineyard throughout the winter. Assess the bud and cane tissues for damage and visual tissue—browning can be seen in the bud and cane tissues—to determine the degree of damage for your specific cultivar and site (Fig. 6). Depending upon cultivar and degree of damage, specific pruning can compensate for primary bud damage and assist in vineyard recovery.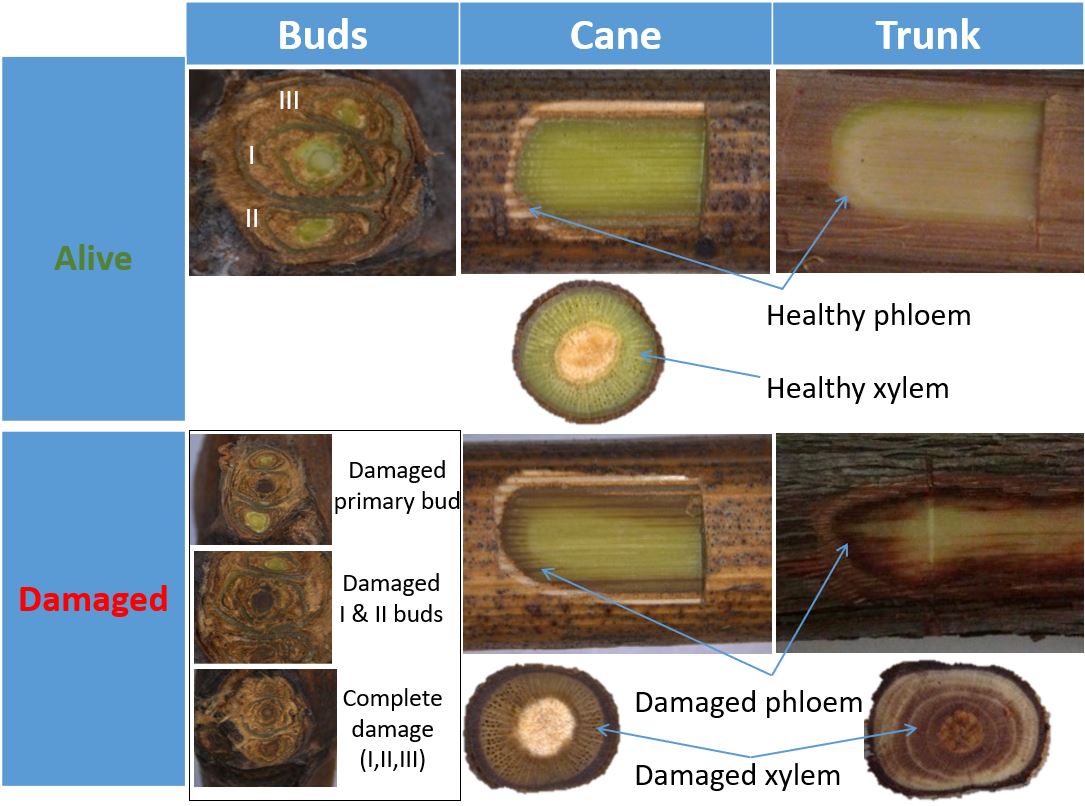 Considerations for future grape production in the wake of extremely low temperatures
Matching cultivar to a suitable site
The single most important cultural/management practice for successful vineyard production is to match the species and cultivar to a site that is suitable. For example, European cultivars are more cold tender and disease susceptible than all other species, and will require access to Lake Michigan's weather moderating effects. Historically, the southwest grape producing region of the state typically is warmer (higher GDD accumulation) and more humid than the northwest (Table 2). Pathogens like powdery and downy mildew, botrytis and sour rot proliferate in humid/wet conditions and are generally more prevalent in the southwest than in the northwest AVAs. These different macroclimate characteristics played a major role for the larger plantings of American or cold climate in the southwest region and the majority of V. vinifera planting and production being centralized in the northwest regions of Michigan near the lake shore.
Managing crop control and disease pressure
Over cropping the grapevine due to improper pruning (or lack of cluster/shoot thinning for vigorous vines), and early defoliation due to disease are the leading contributors to reduced cold hardiness in Michigan grapevines. With too much crop, the grapevine depletes carbohydrates during fruit ripening that would otherwise be directed towards cold acclimation -- mature or hardening off buds and wood for winter. With early defoliation, sometimes caused by early fall frost but typically caused by pathogens like powdery and downy mildew, the grapevine leaves cannot convert sunlight into carbohydrates that would otherwise be used for cold acclimation.
Table 1. Cold hardiness classes of grapevines

Cold hardiness class

Range of critical temp (LT50 F)

Species

Examples of varieties

Very tender

5 to -5

Most V. vinifera

Merlot, Semillon, Syrah, Sauv. Blanc

Tender

0 to -8

Most V. vinifera

Chardonnay, Cab Sauv, Gewurztraminer, Pinot gris, Pinot noir

Moderately tender

-5 to -10

Some V. vinifera, some hybrids

Riesling, Cab. Franc, Lemberger, Chambourcin

Moderately hardy

-10 to -15

Most hybrids

Chardonel, Traminette, Norton, Seyval

Hardy

-15 to -20

Most V. labrusca

Catawba, Concord, Delaware

Very hardy

-20 to -30

Some hybrids

Frontenac, Foch, LaCrescent
Table 2. Bud and cane cold damage tissue assessment at Northwest Michigan Horticulture Research Center research vineyard. Ten bud canes were collected for each cultivar. Collected Jan. 29, 2019, at 12 p.m.

Damage

Riesling (grapevine is 9 years old)

Lemberger (grapevine is 9 years old)

Primary bud damage (%)

17

19

Secondary bud damage (%)

6

4

Tertiary bud damage (%)

2

0

Cane phloem damage (%)

0

0
Table 3. Geographic size, GDD accumulation, and critical minimum temperatures Michigan's five AVAs

Michigan AVA

Year of establishment

Area (square miles)

GDD April 1 – Oct. 31 (five year average at base 50)

Types of grapes produced (specialization)

Minimum Temperatures (F)

Date in January, 2019

Growing season heat (GDD)

Dormant season minimum temperatures

Fennville

1981

75,000

2,717

Highly mixed:

European (V. vinifera)

Cold climate

(V. vinifera x V. labrusca)

American

(V. labrusca)

-16.7

-6.4

-3.0

21

30

31

Second highest

Second Lowest

Two days with temperatures below -5 F

One day with temperatures below -15 F

Leelanau Peninsula

1982

75,000

2,460

Moderately mixed:

European (V. vinifera)

Cold climate

(V. vinifera x V. labrusca)

-5.2

-2.3

-1.9

21

30

31

Moderate

Second Highest

One day with temperatures below -5 F

Lake Michigan Shore

1983

1,280,000

3,025

Highly mixed:

European (V. vinifera)

Cold climate

(V. vinifera x V. labrusca)

American

(V. labrusca)

-11.4

-14.1

-15.7

21

30

31

Highest

Low-Moderate

Three days with temperatures below -10 F

One day with temperatures below -15 F

Old Mission Peninsula

1987

19,200

2,371

Highly specialized:

European (V. vinifera)

0.3

-0.7

-0.3

21

30

31

Moderate

Highest

No days with temperatures below -1 F

Tip of the Mitt

2016

2,760

2030 (2018 data only)

Highly specialized:

Cold climate hybrids

(V. vinifera x V. labrusca)

-8.2

-13.2

-18.5

-5.2

-7.3

-6.6

0.6

0.7

19

20

21

27

28

29

30

31

Lowest

Lowest

Six days with temperatures below -5 F

Two days with temperatures below -10 F

One 1 day below
-15 F