Collaborative markets
Fremont and Newaygo Farmers Markets are managed collaboratively to better serve vendors and customers.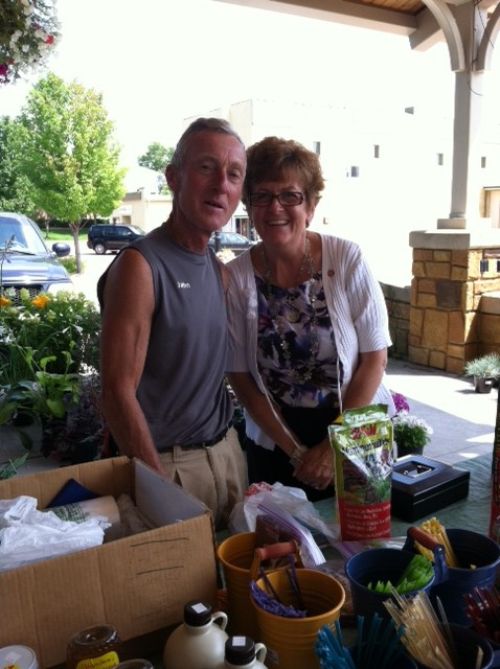 Karen Baird, Executive Director of the Fremont Area Chamber of Commerce, has been coordinating the Fremont Farmers Market since 2012. Her passion for local entrepreneurship, artisan food, and community spirit are apparent whenever you talk with her. Baird is also quick to give praise to the Fremont Market Manager, John Mellema, of Mellema Nursery in Fremont, and to Colleen Lynema, manager of the Newaygo Farmers Market, for their dedication to the success of each market.
The Fremont and Newaygo Farmers Markets work collaboratively to place vendors, to attract customers, and to manage their SNAP benefit and Double Up Food Bucks programs. Accepting SNAP benefits through Bridge Cards, WIC Project Fresh, and Senior/Market Fresh allows low resource families to purchase fresh, healthy and local food. This is also a win for vendors because it expands their customer base. The Double Up Food Bucks Program, designed and managed by Ann Arbor based Fair Food Network, provides Bridge card users with matching funds to purchase Michigan grown fruits and vegetables.
Baird is pleased with the diversity of vendors this year at the Fremont Market. The market now offers meats from Pine Row Farms and Dedicated Farms, in addition to the produce from Dave's Produce, Tom Cotton and Rose Eckert's farms plus numerous other local farmers. Unique sweet treats can also be found in the market from Maple Island Pie Factory, DeKuiper's Kettle Korn as well as the Hopps Diva. Fresh herbs and garlic can be bought from Rickerville Farms and Salle's Garden. The market also has a food vendor, Two Hot Tamales, which serves lunch to patrons during market days.
Baird has a strong vision for expanding area markets. She hopes to add regular musicians. She also would like to grow winter markets for customers purchasing live, local Christmas trees and wreaths. Baird hopes that area retailers capitalize on farmers market customers by adding outdoor seating, expanded hours and signage to encourage patrons to stop in to their stores on market days.
It is no surprise that Fremont and Newaygo have successful farmers markets. The county grew around agriculture and food processing due to the fact that it is the original location of Gerber Baby Food production facilities, which are still in operation today under the ownership of Nestle. Several area farms supply Nestle Nutrition Gerber Products with fruits and vegetables, which is a fantastic asset for area farmers markets and farm-to-table menus.
Michigan State University Extension works in partnership with the Michigan Farmers Market Association to support community farmers markets. Find a farmers market in your area