Community gardens cultivate healthier neighbors in Flint
This growing season's stories of two of Flint's community gardens positive influence in their neighborhoods, and their abundant food production, truly highlights their power to positively affect communities.
Community gardens can be a positive force within neighborhoods. According to the American Community Gardening Association, community gardening improves people's quality of life by providing a catalyst for neighborhood and community development, stimulating social interaction, encouraging self-reliance, beautifying neighborhoods, producing nutritious fresh food, reducing family food budgets, conserving resources and creating opportunities for recreation, exercise, therapy and education. Additionally, they provide opportunities for cultural and intergenerational interactions, and community service. Commuity gardens can evoke a sense of safety and act as a component of neighborhood crime prevention, in that people working outside in a community garden create that sense of extra 'eyes on the street', building social capital and a sense of place through neighborhood cohesiveness and monitoring.
In a research project in Flint, Michigan in the early 2000's, titled the Community Garden Storytelling Project of Flint, this idea of community gardens influencing neighborhood safety was advanced. Additionally, it demonstrated that gardens play a significant role in the restoration and revitalization of Flint by transforming uncared-for spaces into attractive gardens and places where neighbors and kids can meet, socialize and work together. It was the project author's belief that community gardens are about much more than food production. One gardener from a Flint community garden in the book was quoted as saying "In our community garden, we don't only grow vegetables, we grow values". Urban residential and community gardens in Flint have existed for many years - in a place where the challenges of population and job loss, limited access to healthy food, and abundant vacant land exists - these gardening efforts build community, improve public health, maintain vacant land, and empower residents to make a difference in their neighborhoods.
The edible flint non profit organization, with its mission to support Flint residents in growing and accessing healthy food in order to reconnect with the land and each other, is the most recent network supporting food gardening in Flint, having formed in 2009. At the beginning of the 2014 growing season, edible flint had an opportunity to take over the management of the former Hurley Community Garden arose (a beautiful space located directly across from the Hurley Regional Medical Center in downtown Flint), after the Hurley staff lost capacity to maintain the garden.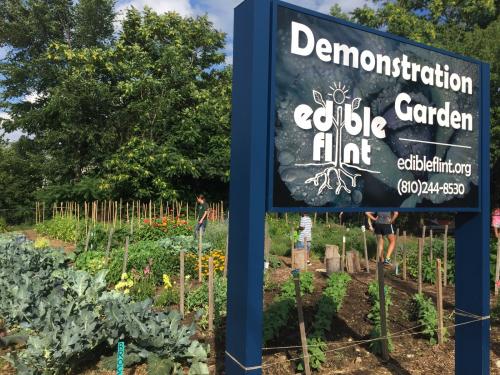 Through the energetic efforts of a committed volunteer group in 2015, (who performed 550 hours of volunteer service), the edible flint demonstration garden has thrived, producing 1,795 pounds of produce this year, which was primarily distributed to nearby low income neighbors who have come to rely on the garden's fresh produce to supplement their daily diets. It has become an educational space, with a series of hands-on workshops held each growing season on topic areas related to effective growing and pest management techniques, harvesting and storing produce, building soil health through cover crops, and exploring season extension techniques. Events are hosted in the space, including edible flint's Annual Food Garden Tour in the summer and a Harvest Celebration in the fall. People who have benefitted from the fresh produce offer to volunteer in the garden during the weekly volunteer 'work' sessions, which builds a sense of pride. One grandmother recently shared how grateful she was for the fresh produce that her family had regularly received, saying they had a much healthier diet this summer because of it. The space welcomes gardeners with physical limitations, by incorporating raised beds of different heights to accommodate individual needs. Nearby abandoned homes have been demolished, and the garden contributes to an attractive green space in the city.
Just over a mile away, the Uni-Corn Community Garden (a garden project which unites residents of Flint's University Park subdivision and a trio of apartment complexes off of Cornelia Street) exemplifies collaboration and is a model for community relationships and urban gardening. For years, the area between the buildings was overgrown and relatively unsafe. One resident began clearing the land alongside a path, and it was not long before others joined in. In the process, they uncovered fruit trees and grape vines. Working together, residents of the apartments and the subdivision planted both personal and community food gardens, beautifying the space. The produce is shared among the gardeners and their neighbors. About 100 people share the food throughout the season, and this year they grew 1,971 pounds of produce. A member of the Uni-Corn gardening team said it best when they remarked that despite "different takes on life and definitely different takes on gardening" the team was able to build something truly beautiful and productive.
Two Michigan State University Extension Community Food Systems educators provide support to the edible flint organization and its programming in Flint, including well over 300 personal and community food gardens.