Community gardens organizations need structure and strategic planning
Ensure the longevity and sustainability necessary for community gardens to thrive through the use of strategic planning and understanding organizational structure evolution.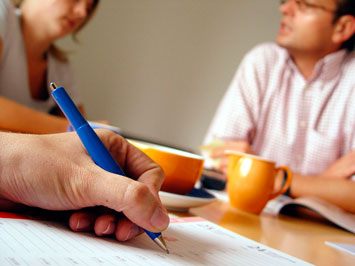 Once formed, a community garden organization must still work together to reinforce and strengthen its structure. The Michigan State University Extension article outlines some general organizing steps to ensure both success and sustainability for a new community garden program. In this installment we will explore how program structure and strategic planning can help foster independence and leadership among the people within your organization.
As your community garden organization begins to mature it may evolve into another stage or structure. The stages may be one of four as outlined in the Institute for Conservation Leadership's paper Four Stages and Four Challenges of Organizational Development. These include: "The Volunteer Base," where volunteers take charge, but over time becomes hard to maintain leading to "The Leap." The Leap is where the organization goes to the next level and hires a staff. This may be in the form of an executive director or other possible structures including: "Shared Governance," where the board may refocus its attention to fundraising and governance hiring an executive director for the day to day operations, and finally the "Institutional Stage." Institutions that have been long established, such as hospitals, universities, and museums operate in this stage. It is important to note that not every organization will fit perfectly into one of these four models. It is quite probable that they may be in various transition stages or move from one to another as needed.
Leaders of maturing organizations must work on strategic planning to define their business. They should adopt a mission statement to help provide their position and goals concisely. Developing a mission also aids in decision making and attracting like-minded donors. Strategic planning also serves to identify weaknesses and strengths where elements can be put into place to take advantage of opportunities that both of these may provide.
When organizations recognize the stage they are in and have a clearly defined mission the members can move forward with the tasks of fundraising, governance and decision making with confidence and leadership that enhances the community building that community gardens offer. An example of this is the Los Angeles Community Garden Council overseeing 70 gardens in Los Angeles County. In our next installment about community garden organization we will discuss evaluation and how self-assessment can help the decision making process.
Michigan State University Extension educators working across Michigan provide community food systems educational programming and assistance. For more information, you can contact an educator through MSU Extension's "Find an Expert" search tool using the keywords "community food systems."