Cooking for Crowds is available as an online course
This virtual program is designed to educate volunteers who prepare food for their organization or the public as part of fundraisers or events.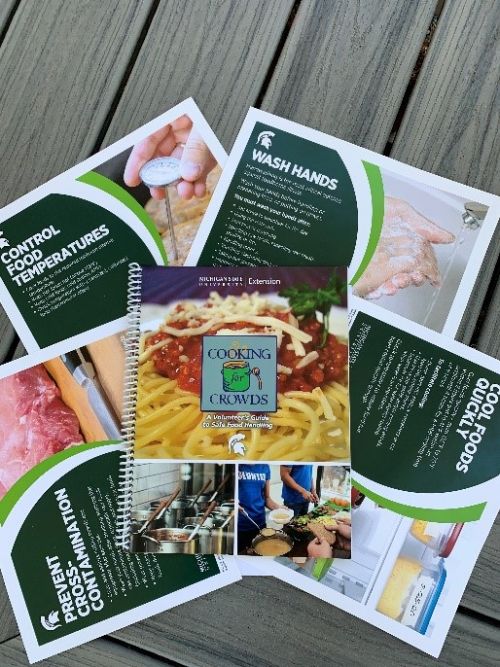 Many church and community groups prepare and serve food to generate funds or to celebrate a special event. Chicken barbecues, bake sales, soup suppers and spaghetti dinners are great ways for raising money needed to carry out worthwhile projects. But food safety is always a critical aspect of any food event that is offered in the community and a foodborne illness outbreak would be an unwanted guest. Each year, the Centers for Disease Control estimate that approximately one out of every six Americans (or 48 million people) will become sick, 128,000 will be hospitalized and 3,000 will die from a foodborne illness. That's why Michigan State University Extension recommends food safety training for all groups working with or selling food to help prevent foodborne illnesses.
Cooking for Crowds is a program designed to educate volunteers who prepare food for their organization or the general public about food safety. Participants learn where food safety risks can develop when preparing large volumes of food and how to reduce those risks so that the food is both safe and delicious. Although many of the food safety strategies recommended are like those done in a commercial food service establishment, Cooking for Crowds uses practical methods to meet the needs of a non-profit group.
The three-hour program covers the following topics:
Why Risk It?
The Causes of Foodborne Illness
Controlling Conditions That Cause Foodborne Illness
Safe Purchasing, Storage, Preparation and Service for a Crowd
Facilities and Equipment
Planning and Conducting Safe Events
Incorporating Food Safety Strategies in Your Organization's Kitchen
Participants attending the Cooking for Crowds class receive a manual that reviews the food safety information provided in class and provides many checklists to aid in planning their event. They also receive four posters that can be posted in the kitchen to remind volunteers about key food safety concepts. Cost is $15 per person.
Members of MSU Extension's Food Safety team are currently available to teach sessions virtually for your organization. Visit the Cooking for Crowds website to see a listing of course dates and times. For other questions, please contact MSU Extension's Food Safety Hotline at 877-643-9882; the hotline is open from Monday through Friday, from 9 a.m. to 5 p.m.