Cooking Matters program impacts teens and adults of Presque Isle County
Why this fun program is causing significant change in Presque Isle County above the MSU Extension statewide average.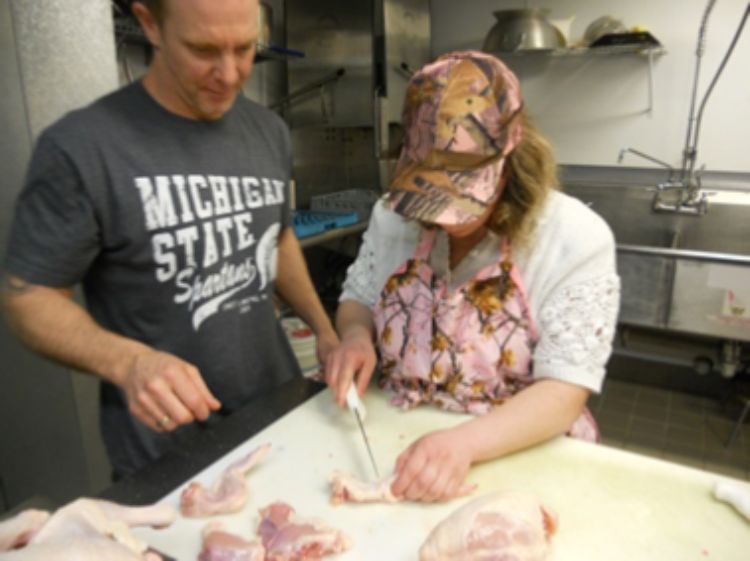 Scott, chef and owner of Scill's Grill in Rogers City, MI, can't help but encourage healthy changes. Scott has been volunteering his time teaching cooking to participants in a Cooking Matters class he teaches in collaboration with Pattie Spinella of Michigan State University Extension. He brings enthusiasm, persuasiveness, and a comfort that empowers class participants to try new things and enjoy time in the kitchen.
Patti, an MSU Extension instructor for 17 years, brings label reading, fat and sugar demonstrations, and shopping skills to the class. She recruited Scott to volunteer four years ago and couldn't be more pleased with the results.
The participants always enjoy themselves and, perhaps more importantly, significant changes are taking place. Participants are increasing how often they use fruit and vegetables for snacks at about 14 percent above the MSU Extension statewide change rate of 6.8 percent. That means these local participants have increased their adoption of healthy snacks by over 20 percent!
It matters having Scott and Patti lead classes, it matters trying new things, it matters having groceries to take home after class and ultimately, participants learn their health matters!
A recent participant had this to say, "I learned a lot from the class. I learned that healthy food can taste good, and I have started making (foods) healthier."
Cooking Matters curriculum and classes are a partnership between MSU Extension and Gleaners Community Food Bank, a satellite of the national organization Share Our Strength committed to ending hunger. Low-fat and low-sodium recipes are included in the curriculum and meals prepared in class are designed to feed four people for under $10.
US Department of Agriculture funds these programs and others across the state through the Supplemental Nutrition Assistance Program-Education as part of the Farm Bill specifically to reach audiences receiving free/reduce meal rates in schools and Department of Health and Human Services state benefits.