Corn stover and forage harvest programs Aug. 19 and 20
See new corn stover and other forage harvesting equipment at upcoming Michigan State University Extension programs.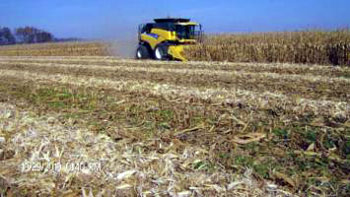 Two Michigan State University Extension educational programs have been planned to expose forage producers to some of the new practices, equipment and options for harvesting. The programs will be held Monday, Aug. 19, at the Ottawa County MSU Extension office (view map) and Tuesday, Aug. 20, near the intersection of M-142 and Sturm Road in Pigeon, Mich. in Huron County (view map). The programs will run from 10 a.m. to 2 p.m. including an equipment display.
The Ottawa County program will include speakers from MSU, MBI, Monsanto and Case New Holland. The program in Huron County will also include a speaker from Shredlage, LLC in addition to the other speakers.
The drought of 2012 is still having ripple effects across the Midwest. Shortage of forages has caused high prices and farmers looking for alternative feeds for their livestock. Corn stover is lower quality forage that, if done right, can be successfully removed from the field and fed to livestock.
In addition, the biofuel industry is ramping up for large scale production of second generation biofuels made from renewable feedstocks like corn stover and switchgrass. Various equipment companies have been working to develop harvesting methods to efficiently and cost effectively collect corn stover for feed or biofuel production purposes.
Corn silage is approximately 12 percent of all the corn grown in Michigan and is used primarily in beef and dairy livestock enterprises. A new corn silage innovation for harvesting called Shredlage will be on display for producers and custom harvesters.
To register, please call Wendy Hunt at 269-945-1388 for the Ottawa County program and Tina in Lapeer County at 810-667-0341 for the Huron County program. You can also register online. There is no registration fee and lunch will be provided.
For more information, please contact Dennis Pennington at 269-838-8265 or Phil Kaatz at 810-667-0341.
Photo: Cornrower head used to windrow corn stover will be on display at both forage programs.

Photo credit: Jim Streater