County government embraces natural shoreline project on lakefront park.
Emmet County Department of Parks & Recreation hosts Certified Natural Shoreline Professional 2014 at Camp Pet-O-Se-Ga on Pickerel Lake.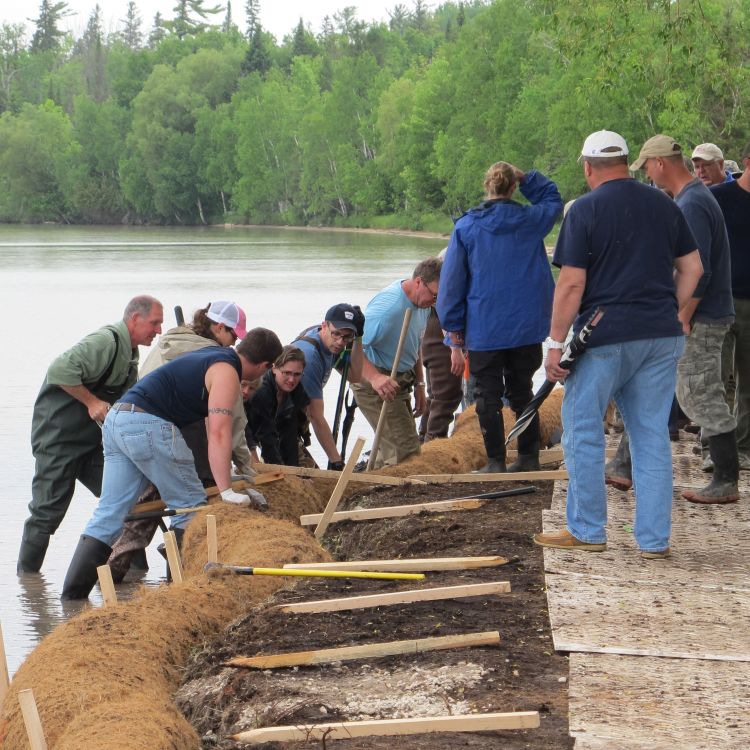 Wednesday, June 11, 2014 was a busy day at the park! Participants from the 2014 class of Certified Natural Shoreline Professional (CNSP) regrouped at Emmet County's Camp Pet-O-Se-Ga park to participate in their required field component and to take the 100-question CNSP certification exam. In preparation for the day, all had completed an intensive three-day classroom session held February 2013 in Traverse City, Michigan.
Certified Natural Shoreline Professional is the flagship program of the Michigan Natural Shoreline Partnership (MNSP). Michigan State University Extension serves as the educational lead for this statewide program. CNSP has been conducted nine times around the state since 2010 and, to date, has attracted 230 participants. This unique, skill-building certification training equips professional marine and landscape contractors to expand their business services to include more lake-friendly shoreline erosion control and landscaping techniques. The training focuses on designing and restoring inland lake shorelines that deter geese, stabilize soils, reduce runoff and enhance fish and wildlife habitat.
Of this year's twenty-four participants, twenty-two returned on June 11 for the required field practicum and certification exam, along with three make-ups from the 2013 class. Of the total twenty-five, all but one successfully completed the 100-question certification exam (administered by Dr. Robert Schutzki, MSU Dept. of Horticulture) to become Certified Natural Shoreline Professionals. They will be added to the MNSP's web-based, statewide listing of certified contractors.
The required field component of CNSP provides participants with hands-on experience constructing a natural shoreline project and results in a natural shoreline demonstration site for the host municipality – in this case Emmet County Parks and Recreation. Plants and bioengineering materials for the 1,000 square foot buffer strip were funded by the county. Donations of certain materials were gratefully accepted from CSI Geoturf in Traverse City and Drost Landscape in Petoskey. Project design for the bioengineered shoreline erosion control and the native plantings was provided by Tip of the Mitt Watershed Council (TOTMWC) and by Wildtype Native Plants – both members of the MNSP. Site prep and equipment was provided by Emmet County Parks and Recreation while labor was provided by CNSP participants. Instructors included Jane Herbert (MSU Extension), Jennifer Buchanan Gelb (TOTMWC) and Bill Schneider (Wildtype).
One 2014 CNSP participant wrote, "I found the training to be very in-depth and thorough. We learned about all aspects of lakeshore restoration; from plants to permits. I appreciated the hands-on exercise and the chance to work with qualified folks from the industry. I will be putting this training into practice immediately!"
The natural shoreline demonstration at Camp Pet-O-Se-Ga near Alanson is available for tours by school groups, lake associations, conservation districts, the Michigan Natural Shoreline Partnership's Shoreline Educator Network and others. This site makes for a total of eight MNSP demo sites that have been constructed around the state since 2010. It will be added to the MNSP's map of demonstration sites.