Cover Crop Field Walk on May 3 to focus on interseeding
The third field walk of the season in Hillman, Michigan, will focus on fitting cover crops into a northern Michigan rotation.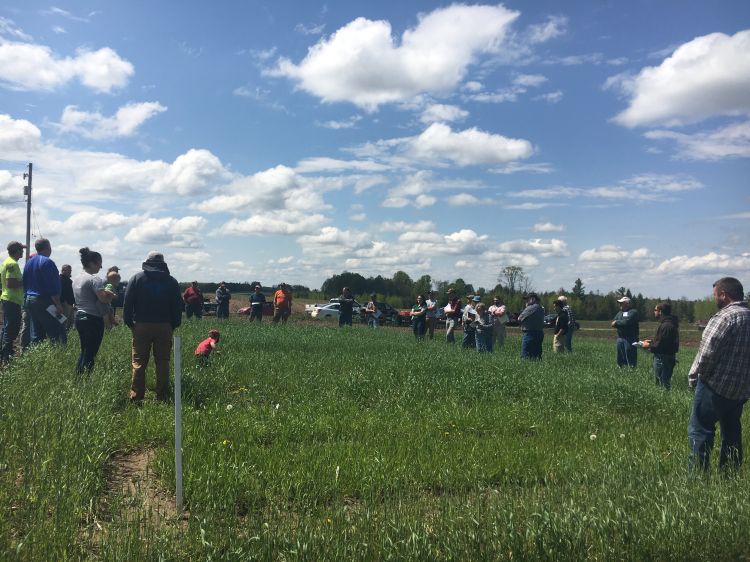 The Michigan State University Extension cover crops team is hosting a series of informational Cover Crop Field Walks in 2018 looking at different cover crop species and how they work in different cropping systems. This is an opportunity for producers and agricultural professionals to visit cover crop field sites in various locations throughout Michigan with MSU Extension educators to observe and discuss cover crop use, management, benefits and challenges.
Walks are scheduled on Thursdays from 5 – 7 p.m. The third field walk of the season on May 3 will take place at Ableidinger Farms, 24661 Lister Road Hillman, MI 49746. Participants will see cover crop plots that were interseeded into standing corn in 2017, experience a rainfall simulator demonstration, learn about NRCS cost-sharing for cover crops and have a free dinner!
Register for this field day by May 2, or request more information, by calling 989-734-2168
Join the MSU Extension cover crop team members and farmers at one or several Cover Crop Field Walks scheduled throughout the 2018 growing season (see the tentative schedule below). These events will be in-field opportunities for group discussion and hands-on learning. As dates get closer, visit the MSU Extension Cover Crops page for the most up-to-date location details (cancellations or changes).
May 10, 5 – 7 p.m., Bear Lake, 3217 Schoedel Rd, Manistee, MI 49660
July 12, 5 – 7 p.m., Oceana County (vegetable focus)
July 26, 5 – 7 p.m., Clinton County (planting demo)
Aug. 9, 5 – 7 p.m., Kent County (fruit focus)
Aug. 23, 5 – 7 p.m., St. Joseph County
Sept. 6, 5 – 7 p.m., East Lansing Student Organic Farm
Sept. 20, 5 – 7 p.m., Lapeer County
Oct. 4, 5 – 7 p.m., Lenawee County
Oct. 18, 5 – 7 p.m., Isabella County
Cover crop information and resources are available through MSU Extension's Cover Crops website and the Midwest Cover Crops Council, or Dean Baas at baasdean@msu.edu and other MSU Extension Cover Crop Team members.