Creating a weed management plan for hemp
Weed control in hemp will require careful planning.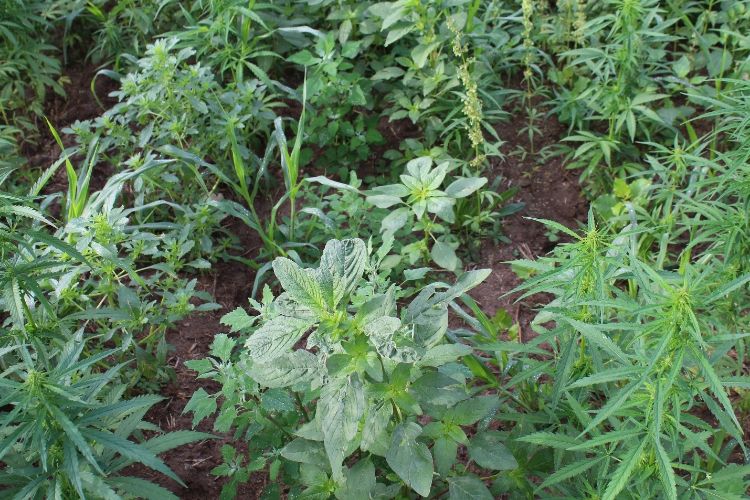 Weed control in hemp will require careful planning as very few pesticides are currently registered for use in hemp. For a current list of Environmental Protection Agency (EPA) registered products, visit EPA's Pesticide Products Registered for Use on Hemp. Below are five steps to follow when creating a weed management plan for hemp.
Step 1: Field selection
Start clean—do not plant into standing weed vegetation. Avoid fields with a history of problematic weeds such as perennials (e.g., Canada thistle, horsenettle, common pokeweed, quackgrass), highly aggressive weeds with rapid growth rates (e.g., palmer amaranth, waterhemp, common/giant ragweed), and fields with large weed escapes (e.g., horseweed/marestail) the previous season. In general, these weeds can be hard to control without herbicides. Additionally, mechanical weed control (e.g., disking or field cultivating) may make infestations of perennials worse by breaking roots, rhizomes or stolons, and spreading these pieces to uninfested parts of the field.
Know what herbicides were applied to the previous season's crop. Herbicides applied to previous crops can impact hemp establishment and development. Since hemp is a relatively new crop, it is not listed on many herbicide labels. Therefore, rotational restrictions fall under "other crops" when searching for this information on herbicide labels.
Step 2: Design your rotation to optimize weed suppression
Rotate crops! Growing the same crop year after year will favor the same weeds, thus rotating crops will prevent weeds from becoming adapted to your field. Rotate between crops having different characteristics such as planting date, emergence, height and nutrient requirements. Ultimately, crop rotation will allow you to protect poor competitor crops by planting them after competitive crops in which weed populations will be reduced.
Step 3: Have the right cultivation tools for your system
Asses what type of cultivation tools you have on your farm and design a field plan based off these. For example, if your cultivator is only 4 feet wide and your row spacing is 5 feet wide, the extra space may be difficult to manage. Asking the question what row spacing will you use to optimize the efficiency of your tools and accommodate optimal row spacing for the crop will help make these decisions.
Step 4: Utilize cultural weed control practices
Prevent the arrival of new weed species by ensuring you are planting weed free seed and cleaning equipment prior to entering the field.
Step 5: Create a weed control calendar to get your timing right
Knowing what weeds are in your field, their life cycle and when they emerge will help with planning the timing of mechanical weed control. The Michigan State University Weed Science website has a list of common Michigan weeds with life cycle and emergence timing information. For example, common lambsquarters is a summer annual and emerges in early spring. In contrast, eastern black nightshade is another summer annual but emerges after common lambsquarters and common/giant ragweed.
For more information about industrial hemp, visit MSU Extension's Hemp Production website.