Critters attacking your garden? Use them to teach your children about science!
If you have a flower or vegetable garden, you can turn a potential disaster into a teachable moment about science.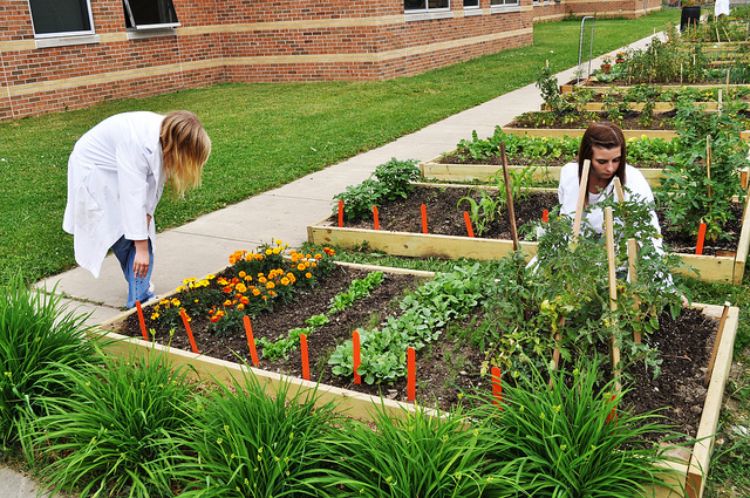 Over the Memorial Day weekend, a community garden in a Flint area school had their crop devastated by wildlife. This could be potentially devastating to the kids and community volunteers who put a great deal of hard work into planting the garden, and also frustrating as a result of the loss of plant material that may be difficult or expensive to replace. How can you turn that loss around into a positive experience engaging ingenuity and science? Here are some examples of things to try.
Try to determine what critters caused the damage: many things in the environment can damage plants. Woodchucks, rabbits, deer, mice, insects, disease and even hail from a thunderstorm can leave your garden shredded. Have the kids investigate and make observations to solve the mystery. Were all the plants eaten or were some untouched? How were the plants damaged? Was it lots of small holes or a few big holes? Was the plant eaten down to the ground? Were the stems clipped at the ends or shredded? Did the animals leave poop behind? Are there trails worn into the grass or dirt that lead to an animal den? Use all this evidence to make some guesses as to who has been visiting your garden.
Tracks can be the best evidence to determine what has romped through your vegetable patch. If you can find tracks in the soil, it is easy. If there aren't any discernable tracks, you can set up a "track trap." A board with some flour dusted on it can work if it isn't too windy. You can also set an aluminum roasting pan with mud in it to capture some tracks. Using this method, you can then even make a plaster cast of the track for a souvenir.
After having a good guess of what the creature attacking your garden is, try to investigate where they might be living. It could be underneath a porch, in an abandoned building or in a brush pile. Look for further sign (tracks or droppings) around any potential sites.
Depending on the individual location of the garden, "camping out" to attempt to "catch them in the act" might be a fun activity. If this is not possible, motion detector trail cameras might work.
Once you have a good idea of what the animal is and where it might be living, engage the students in how best to keep the critters out. You do not want to lose your vegetables again if you choose to re-plant. A few options to consider:
Exclusion – Can you build a fence around your garden? Have the kids discuss what kind of fence they would need, based on the animals in their garden. If deer are doing the damage, the fence needs to be high. If mice or voles are doing the damage, the fence needs to have small holes. If woodchucks are doing the damage, the fence needs to be buried into the ground.
Repellents – What would scare the garden pests away from crops? Have the students make guesses as to what might be effective and put them in place. If any of them have pet rabbits at home, they could discuss what their own rabbits don't like, and maybe try that in the garden. Designing scarecrows or other frightening devices can encourage creativity.
Michigan State University Extension recognizes there are many opportunities for science education that occur in the natural world. This opportunity can be conducted by any group working with children, including families, day-cares, schools or 4-H clubs. Have fun with your garden, and try to use damage from our furry friends as an opportunity to learn about the natural world.