Cultivate Michigan
West Michigan schools, hospitals and farmers encouraged to participate in a new local purchasing campaign.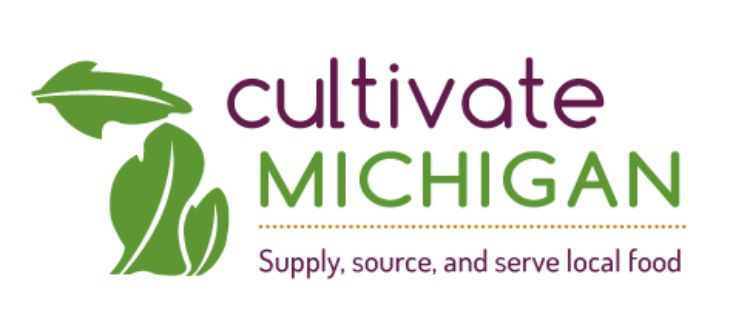 On April 3, the Michigan State University Center for Regional Food Systems (CRFS) and the Ecology Center launched a campaign to unite farmers, food processors and food service directors in increasing the amount of Michigan food served in institutions.
Cultivate Michigan will be a statewide campaign that supports Michigan institutions' efforts to expand local food purchasing and farmers' efforts to connect with and supply those institutions. The target audience is institutions such as schools, child care centers, hospitals, colleges and universities.
West Michigan is posed to lead the state in local food purchasing. Our diverse and abundant agricultural product base and history of public-private collaboration gives us a distinct advantage. All of our schools, colleges and hospitals should be able to source local asparagus, frozen blueberries, Michigan apples and tomatoes in the fall. It does take some time and dedication to make this happen, but these products are abundant in our region.
The goal is for these food buyers to source 20 percent of their food products from Michigan growers, producers and processors by the year 2020. This goal originates from the Michigan Good Food Charter. The Charter is a guiding document, developed in 2010 with input from farmers, food processors, researchers, food banks and non-profits across Michigan, which outlines strategies to promote equity, sustainability and thriving economies through our food system.
CRFS surveys show that, in 2013, 68 percent of school food service directors purchased Michigan foods and 82 percent were interested in starting or continuing local purchasing. In addition, the Ann Arbor-based Ecology Center worked with the Michigan Health & Hospital Association to secure pledges to purchase 20 percent of their food locally by 2020 from more than 100 hospitals.
Garrett Ziegler a Community Food Systems educator with Michigan State University Extension, said, "One of the major barriers we see to purchasing local is the extra time that it takes to find local sources and develop purchasing relationships. Cultivate Michigan will provide resources that take the guessing game out of finding local food for West Michigan institutions and help save them time. It will provide a platform for institutions to connect and develop stronger relationships with local food producers and suppliers."
The Cultivate Michigan campaign will feature four local, seasonally-available foods each year. The 2014 foods are: Michigan asparagus, Michigan blueberries, Michigan tomatoes and Michigan apples. Campaign staff will distribute toolkits, including recipes and marketing materials for each of the foods, as well as provide support to help farmers, processers and suppliers understand the foods institutions want, in the forms they need. The campaign will also assist buyers in locating and using local products. Finally, campaign materials such as posters, signs, window clings and stickers will promote recognition of these local foods among eaters at the institutions.
West Michigan Farmlink sent three staff members to the April 3 campaign launch event, a West Michigan based online food market place for institutions and a proud supporter of the Cultivate Michigan campaign. Jerry Adams, founder of Farmlink said, "At Farmlink we aim to keep more of our Michigan food dollars right here in our state by helping institutional buyers connect with local Michigan growers to procure the wonderful food products Michigan has to offer. For more information on how Farmlink can assist your institution, please contact us at info@wmfarmlink.com. We expect to have Michigan asparagus in mid-May."