Demystifying fertilizer labels for home gardeners
Understanding the numbers on a fertilizer bag and soil test results can help you choose which fertilizer to buy that will supply the needed nutrients for your garden or landscape plants.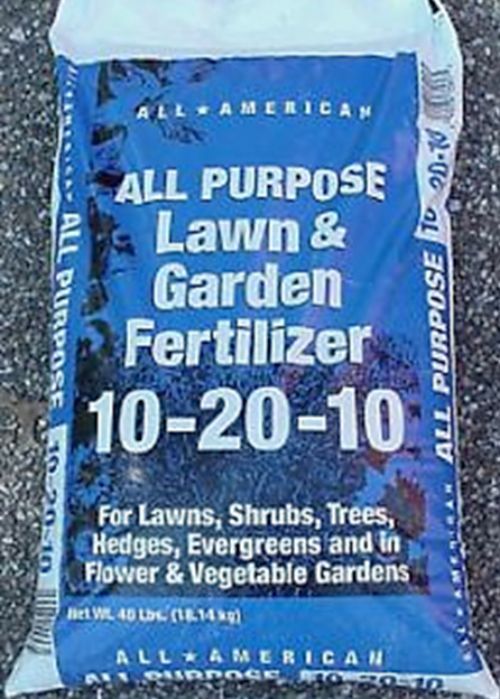 Understanding the numbers on a fertilizer bag can help you determine what kind to buy to supply needed nutrients for your garden or landscape plants. Recommendations that are provided with soil test results will give you the ratios of nutrients to use, but they don't always correspond to an actual fertilizer you can buy.
What's in the bag?
Fertilizers differ in the amount of nutrients they contain, and by law the amounts claimed must be shown on the label (guaranteed analysis). Soil test recommendations will tell you the amount of specific nutrients needed in pounds per acre, or for small scale areas, pound per 1,000 or 100 square feet. Soil test recommendations give you the ratios of nutrients to use, but these don't always correspond to an actual fertilizer you can buy. Sometimes, the easiest way to get nutrients in the amounts your plants require is to buy fertilizers containing a single ingredient and applying combinations of them to supply what is needed.
The table below lists some common fertilizers and the percentage of a plant nutrient they contain. A fertilizer may consist of a single plant nutrient such as nitrogen (e.g., urea, blood meal) or a combination of nutrients. Products that are called "complete fertilizers" have three numbers listed on the bag, for example 5-10-5. These are nitrogen (N), phosphorus (P) and potassium (K), and reflect the percentage by weight of each nutrient contained in the product. The first number refers to the percentage of elemental nitrogen present, the second to the percent phosphorus content expressed as P2O5 (phosphate) and the third number to the percent potassium in the form of K2O (potash).
To get the amount of actual nutrient in a bag of fertilizer, multiply the percentage by the bag weight. For example, an analysis of 5-10-5 contains 5 percent nitrogen, 10 percent phosphorus and 5 percent potassium. So, a 50 pound bag of this product would contain 2.5 pounds of nitrogen, 5 pounds of phosphorus and 2.5 pounds of potassium. For dry fertilizers, the rest is filler, such as sand or limestone, often added to make the product easier to spread. See the photo above for an additional example.
Nutrient percentages contained in some commonly available fertilizers.

Common fertilizer analyses

% N

% P as P2O5

% K as K2O

Comments, other elements

Urea

46

0

0

--

Ammonium sulfate

21

0

0

23.7% sulfur

Sulfur coated urea

35

0

0

21% sulfur

Calcium nitrate

15

0

0

19.4% calcium, 1.5% magnesium

Blood meal*

12

0

0

--

Feather meal*

12

0

0

Usually 12-13% N

Monoammonium phosphate

11

48

0

--

Diammonium phosphate

18

46

0

--

Triple superphosphate

0

46

0

--

Rock phosphate*

0

30-36

0

--

Bone meal*

2.4-5

22-28

0

20-25% calcium

Milorganite

6

2

0

1.2% calcium, 4% iron, 1% chlorine

Potassium chloride

0

0

60-62

Also known as muriate of potash—some plants are sensitive to the chloride

Potassium sulfate

0

0

50

1.2% magnesium, 17.6 % sulfur

Greensand*

0

0

0.01

Contains other trace elements

Sul-po-mag*

--

--

22

11.2% magnesium, 22.7% sulfur
* Indicates an organic fertilizer.
Is the fertilizer synthetic or organic?
Synthetic fertilizers are manufactured from inorganic compounds blended together to provide one or more essential nutrients. Synthetic fertilizers tend to be quickly available to plants unless they are formulated to release their nutrients more slowly. Nitrogen is obtained principally from the atmosphere. Phosphorus and potassium are obtained by mining rock deposits and processing them to make them more soluble.
Examples of some fast-acting synthetic fertilizers include ammonium sulfate, urea, mono-ammonium phosphate, di-ammonium phosphate, triple superphosphate, potassium chloride and sulfate of potash. Some examples of slow-release synthetic fertilizers include sulfur coated urea, polymer coated urea and urea formaldehyde. Slow-release fertilizers are often formulated to last three to four months or five to six months.
Organic fertilizers are derived from plant or animal sources. Organic fertilizers release their nutrients slowly; they rely on weathering or the activity of soil microbes. Some examples of organic fertilizers include blood meal, bone meal, fish emulsion, animal manures, dried grass clippings, seaweed extract and soybean meal.
Rock minerals that have not been processed beyond washing, crushing or grinding are also used in organic gardening. Some examples are rock phosphate, greensand, sul-po-mag, limestone and gypsum.