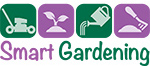 Have a home gardening or lawn question?
Call our gardening hotline at 1-888-678-3464 or Ask an Expert.
Gardeners aim to grow good produce or nurture lovely lawns and landscaping. "Smart gardeners" obtain those goals with earth-friendly techniques that can save money. Our advice is based on science performed at Michigan State University or other land grant universities.
Don't forget to check out our Smart Gardening resources, which includes tip sheets and informational videos.
News