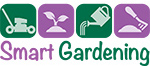 Have a home gardening or lawn question?
Our advice is based on science performed at Michigan State University or other land grant universities. To get an answer to your question:
Try our search engine.
If you didn't find an answer, call our gardening hotline at 1-888-678-3464 or use our online Ask an Expert.
Gardeners aim to grow good produce or nurture lovely lawns and landscaping. "Smart gardeners" obtain those goals with earth-friendly techniques that can save money. Check out our Smart Gardening resources, which includes tip sheets and informational videos.
News