East Michigan vegetable regional report – June 1, 2016
Good weather for planting increased activity across the region. Some harvests are starting for early markets.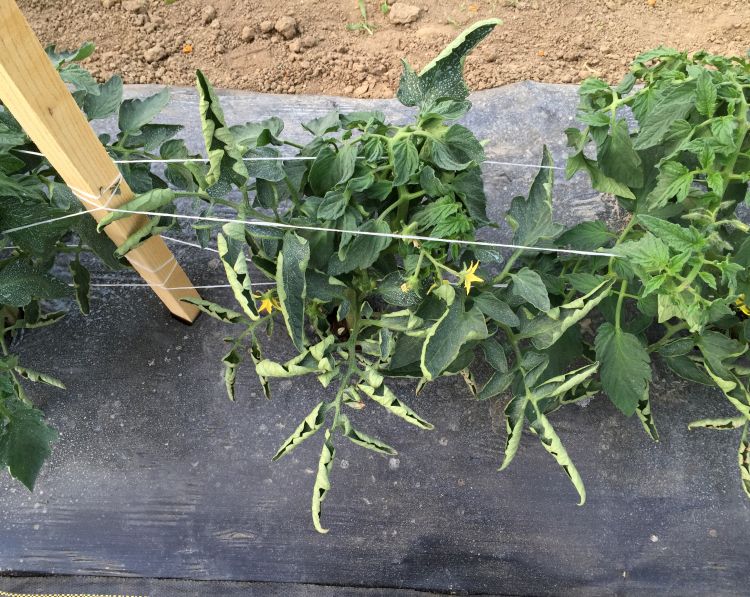 Weather
We had above normal temperatures last week, but Michigan State University agricultural meteorologist Jeff Andresen is predicting below normal temperatures for the next week. Most MSU Enviro-weather stations across the region reported a quarter inch of rain over the last week.
We have had a number of opportunities for migrating insects over the last week. Black cutworm and corn earworm are the only insects that are in a "blowable" adult life stage right now, and could damage plants in Michigan if they lay eggs in crop fields or weedy debris. In order to guide your scouting, check out Insect Forecast to see a daily output of potential field crop insects deposited from northeasterly weather systems. However, any insect can blow up on the same systems if they are in their adult life stage. Spotted cucumber beetles, cabbage loopers, fall armyworms, potato leafhoppers and aster leafhoppers all migrate into the state each year. At this point, we are primarily concerned with cutworms, corn earworms and leafhoppers.
The following table includes rainfall (inches since April 1) and degree-day (base 50 degrees Fahrenheit since March 1) accumulations to date from MSU Enviro-weather stations in the region.
Rainfall and DD totals as of June 1 , 2016

Location

DD (+ added from last week)

5-year average

Rainfall (+ added from last week)

5-year average

412 (+176)

424.4

5.07 (+0.38)

5.76

435 (+181)

428.8

2.23 (+0)

6.88

451 (+190)

456.1

2.89 (+0)

7.47

421 (+178)

445.3

3.23 (+0.22)

7.62

460 (+184)

474.4

4.22 (+0.27)

7.85

354 (+161)

395.6

3.66 (+0.37)

9.12

421 (+186)

440.9

3.94 (+0.46)

7.09

450 (+185)

446

3.64 (+0.07)

7.73

380 (+169)

400.2

4.14 (+1.13)

7.23
Crops
Radishes are starting to be harvested, with some re-plantings occurring simultaneously.
Kales and collards are starting to get picked this week, along with snow peas.
Pumpkins are being seeded. Most pre-emergent herbicides should be applied after pumpkins have been seeded, or after transplanting. If using plastic, target the soil between the rows. Command has some undesirable effects on jack-o'-lantern fruits, and Strategy contains a premix of Command and Curbit. To avoid this damage, just use Curbit. Dual Magnum, Sandea and Reflex are good pre-emergent herbicides as well. Do not incorporate any of these into the soil. If you apply before a dry spell, pre-emergent products can fail. If you apply before a heavy rain (1 inch or more), they can harm the crop. Most of these products work best if they are sprayed within a couple of days of final tillage, immediately followed by plastic laying and seeding or transplanting, and then get about 0.5 inch of rain within five days.
Pickling cucumbers are being seeded.
Processing jalapeños are being transplanted.
Field tomatoes for processing and fresh market are still going out. Low tunnels are coming off of early transplants.
Greenhouse tomatoes have between four and 12 fruit. Cherry-types are going to be harvested next week in some places. Plants are looking good where proper fertigation plans are in place. I was contacted more than once this week about leaf curling on plants. Sometimes this occurs through times of water stress and intense sunlight, and seems to occur soon after pruning. Leaves will usually straighten out after a few days, but production is not affected, even if they don't straighten out.
Carrots are showing their first true leaves. Aster leafhoppers are already showing up in west Michigan, and some tested positive for carrying the phytoplasma that causes aster yellows disease. I intend to sweep for them soon in Imlay City, Michigan.
Seeded onions are showing their first true leaves. The two-leaf stage opens up a lot of post-emergent herbicide options, including Outlook, which has good yellow nutsedge control when used at the full rate.
Transplanted melons, watermelons and summer squashes are making their way out to the fields. Low tunnels remain on some plantings, but others have been slit for venting and blown off the wire supports.
MSU Extension fruit educator Bob Tritten is finding strawberries are mostly at red fruit for farms in the south to thimble-sized fruit for farms further north. Most farms are done with bloom. Farms in the very southern parts of our region report they will be opening for the first picking this coming Sunday or Monday, June 5-6. It is amazing how quickly berries have ripened with all of the heat we have gotten in the past week.
Strawberry clipper or clipped buds continue being found at several farms where controls have not been applied. Angular leaf spot continues to be found on leaves at a few farms. Fields look spectacular at a few farms, however at others berry plants continue looking weak and off-colored. Tritten has recommended light nitrogen applications of urea at many farms this season.
Lastly, Tritten is concerned about small berry size where rainfall has been short and on farms where no or limited irrigation occurred just after blossom. These farms may have decent berry size for the first picking, but then will rapidly decline for later harvests.
Special notes
John Wise, MSU entomologist working in fruit crops, has done some interesting work comparing rainfastness of insecticides. That is the ability of the insecticide to remain active on the plant through rain events. Some of the general findings would probably apply to vegetable crop foliage as well. Check out the findings in "Rainfast characteristics of insecticides on fruit."
Please contact me at phill406@msu.edu or 616-901-7513 to grab any suspected disease samples from your farm, or send the diseased plant parts to MSU Diagnostic Services.