East Michigan vegetable regional report – May 25, 2016
Dry, warm weather has increased planting and plastic-laying in east Michigan vegetable fields.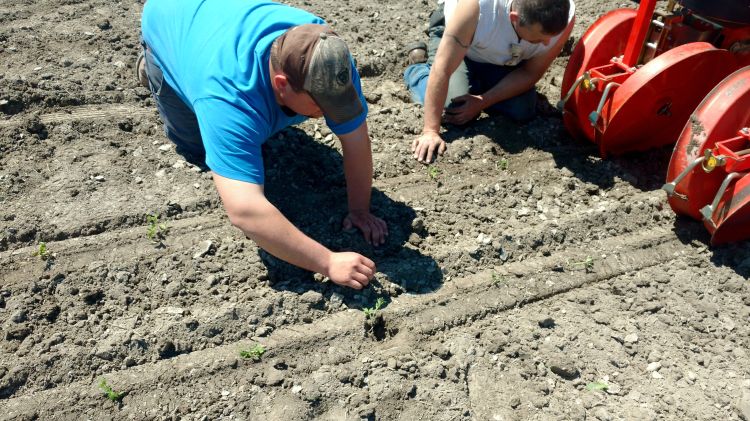 Weather
The dry weather and warm days have invigorated planting and plastic-laying. When possible, let plastic warm up before laying it. It will contract to form tighter beds and better heat transfer over cool nights.
More rain is on the way this week. Apply pre-emergent herbicides before rains, if possible.
Frost protection was necessary across the region early this week.
The following table includes rainfall (inches since April 1) and degree-day (base 50 degrees Fahrenheit since March 1) accumulations to date from Michigan State University Enviro-weather stations in the region.
Rainfall and degree-day totals as of May 25, 2016

Location

Degree days (+ added from last week)

5-year average

Rainfall (+ added from last week)

5-year average

236 (+63)

308.3

4.69 (+0)

4.59

254 (+67)

327.6

2.23 (+0)

5.56

261 (+74)

337.4

2.89 (+0)

5.86

243 (+78)

327.7

3.01 (+0)

6.12

276 (+67)

355.3

3.95 (+0)

6.3

193 (+66)

285.1

3.29 (+0)

7.91

235 (+76)

322.5

3.48 (+0)

5.95

265 (+73)

327.2

3.57 (+0)

5.97

211 (+62)

288.3

3.01 (+0)

5.92
Crops
Broccoli and cabbages have been seeded in Macomb County, with more going in this week.
Field tomatoes for processing and fresh market are going in this week and last week. For growers interested in Actigard, MSU Extension plant pathologist Mary Hausbeck recommends foliar applications at the lowest rate of 0.33 ounces per acre at 10-day intervals in the greenhouse and in the field. High rates combined with shorter intervals can result in phytotoxicity. If bacterial symptoms are not present in early July, you can discontinue preventative bacterial treatments, as soil-born bacterial issues are usually of little consequence. Follow the label or conduct jar tests to determine tank-mix suitability.
Melons and summer squashes are making their way out to the fields.
MSU Extension fruit educator Bob Tritten is finding strawberries are at full bloom at most farms. Flower trusses and new leaves continue emerging from the crown. Fungicide cover sprays are being applied to protect for gray mold infections. Most strawberry growers have frost-protected twice in the last week. Strawberry clipper or clipped buds continue being found at several farms, as have spittle bugs at a few farms. Angular leaf spot continues being found on leaves at a few farms.
Special notes
Hausbeck is looking for problematic bacterial spot, speck and canker outbreaks in tomatoes to run copper resistance trials, and a regional project is seeking samples of gray mold to sequence their genetic lines. Please contact Mary Hausbeck at hausbec1@msu.edu or 517-355-4534, or me at phill406@msu.edu or 616-901-7513 to arrange for a visit or shipment.
Aster leafhoppers are enjoying this weather and some samples have come back as positive as carriers for aster yellows disease.
MSU Extension weed specialist Bernie Zandstra has been getting herbicide damage complaints. Don't hesitate to call the Michigan Department of Agriculture and Rural Development at 1-800-292-3939 for economically damaging drift issues. The earlier the better for collecting samples for chemical analysis, and the report can be used for restitution.
Please contact me at phill406@msu.edu or 616-901-7513 to grab any suspected disease samples from your farm, or send the diseased plant parts to MSU Diagnostic Services.