East Michigan vegetable update — Aug. 23, 2017
Some diseases are showing up in late-season crops.
Weather
There is a potential dry spell ahead. Keep an eye out for mites and aphids in dry weather.
The table below shows growing degree-days (GDD base 50 degrees Fahrenheit since March 1, rainfall (inches since April 1) accumulations, and soil temperature ranges (Fahrenheit over the last week) to date from Michigan State University Enviro-weather stations in the region.
GDD and rainfall accumulations as of Aug. 23, 2017

Location

GDD (+ added from Aug 9)

GDD 5-year average

Rainfall (+ added from Aug. 9)

Rainfall 5-year average

1,945 (+ 264)

1,996.2

13.56 (+ 0.41)

13.85

1,934 (+ 263)

1,997.2

9.34 (+ 0.00)

14.54

2,161 (+ 294)

2,162.2

17.28 (+ 1.26)

16.42

2,006 (+ 267)

2,048.1

15.08 (+ 0.89)

14.38

1,964 (+ 260)

2,013.4

20.46 (+ 1.18)

16.27

1,910 (+ 225)

2,021.0

13.62 (+ 1.36)

15.52

1,859 (+ 253)

1,915.9

23.42 (+ 1.04)

15.68

1,993 (+ 266)

2,041.2

15.62 (+ 1.23)

12.73

2,105 (+ 286)

2,093.3

15.35 (+ 1.49)

14.43

1,844 (+ 254)

1,925.5

14.5 (+ 0.76)

15.83
Crops
I caught about four moths per night in sweet corn in Lapeer County over the last week. At this population level, MSU Extension advises treating every five days on green-silking corn. Besiege is a premix of the active ingredients in Warrior II and Coragen. It may be a more cost-effective way to introduce this new mode of action.
Winter squash and pumpkins are sizing up and gaining color. In the last two weeks I received reports and visited crops with what look like bacterial symptoms on leaves and fruit. Bacterial leaf spot in hard squashes and pumpkins usually starts with yellow, pin-sized spots, which sometimes combine into large, brown spots as they enlarge. They become crispy and can break, making leaves look ragged. They tend to have a yellow "halo" around the spots.
These pathogens move by water-splash and can also make similar spots on fruit. These fruit spots become raised, pimple-like scabs, and some can penetrate through the skin of the pumpkin and cause a rot in the field or after picking. Sometimes they just open the fruit up for another pathogen to cause the rot.
Young fruit, less than 14 days after pollination, are most at risk for rots. It's best to commit to controlling it before leaf symptoms get too bad and while fruit are young. Copper hydroxide products are effective for this. Make sure leaves have time to dry after applying copper or they can be burned. In addition, Purdue University's Dan Egel has some tips on using Actigard for bacterial spot.
Excessive moisture at the soil level can sometimes make scabby spots, called "oedema," that look similar to some bacterial symptoms. However, this abiotic condition is usually only on the ground side of the fruit, whereas the bacterial spots tend to start on the surfaces exposed to splashing water and leaf dripping.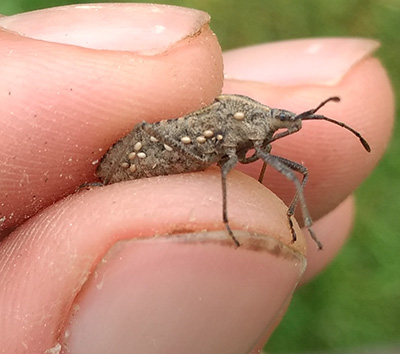 Upcoming events
The Midwest Mechanical Weed Control Field Day is Sept. 26 at the MSU Horticulture Farm. For more information and registration, see "Midwest Mechanical Weed Control Field Day."
Hotels are filling up for the Great Lakes Fruit and Vegetable EXPO, Dec. 5-7, in Grand Rapids, Michigan. The combination of grower-focused, research-backed presentations and an amazing exhibit hall make it a can't-miss event.
Please contact me at phill406@msu.edu or 616-901-7513 to pick up any suspected disease samples from your farm, or send the diseased plant parts to MSU Diagnostic Services.