Environmentally friendly horse farms
Express your horse farm's commitment to protecting the environment by participating in the Michigan Agriculture Environmental Assurance Program (MAEAP).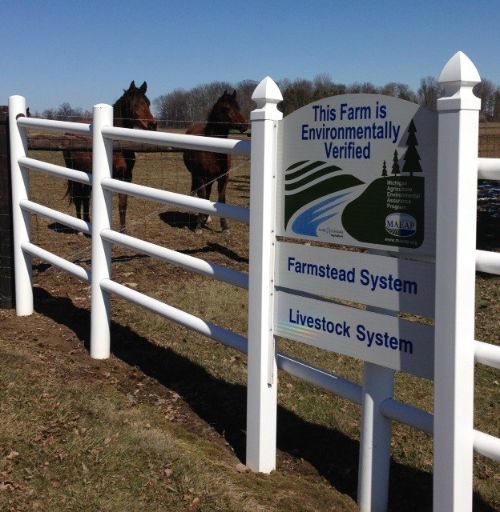 Interested in expressing your horse farm's commitment to environmental stewardship? If so, consider the Michigan Agriculture Environmental Assurance Program (MAEAP). MAEAP is an innovative, proactive program that helps farms of all sizes voluntarily prevent or minimize pollution risks to the environment.
This comprehensive, voluntary and proactive program engages participating farms in a three phase process including: 1) Education, 2) Farm specific risk assessment and practice implementation and 3) On-farm verification to ensure that the farm has implemented practices to protect the environment.
Top 3 Action Items for horse farms interested in becoming a MAEAP verified farm.
A. Managing manure – formulating a detailed plan documenting how manure is being managed on the farm in an environmentally sustainable way.
B. Dry or turnout lot management – practices implemented to ensure there is no runoff from these areas. This could be as easy as planting a vegetative filter strip.
C. Soil testing – relatively inexpensive (typically under $20 per sample). This task should be completed every 3 years, especially if you are interested in growing sufficient forage in pastures for horses to graze.
Sound intriguing or overwhelming? No worries, help is available throughout the process! Start by contacting your local conservation district. Ask to speak with the MAEAP Technician for more information about the program and what type of assistance they can provide. MAEAP Conservation District Technicians are located throughout the state for your convenience and guide you through the program process.
For further information, you may also visit http://www.maeap.org/.
Did you find this article useful?
---