European crane flies observed around lawns and homes in southern Michigan
European crane fly adults have been observed during the last three to four weeks. Here are some tips to prevent turf damage.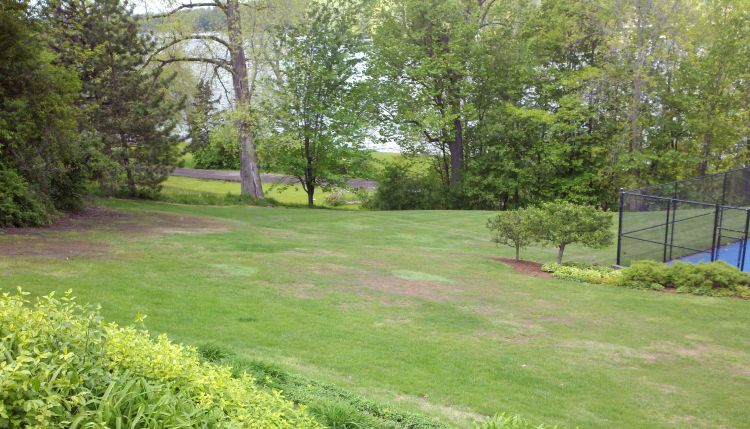 Two species of crane flies from Europe are continuing to expand their range around the northern Detroit suburbs, the greater Grand Rapids area and in a few other locations in southern Michigan. Heavily infested lawns become extremely thin in the spring and dead patches may appear. Most of the turf-thinning ends by early May. Adults of one species referred to as the 'common crane fly' (Tipula oleracea) emerge in the spring and in the fall.
If you have seen large numbers of the adults this spring, which look like a giant (1-inch long) mosquito, around your lawn and home then it is probably the common crane fly. However, if you have only seen a few crane flies it could be one of our native species which are not harmful.
Most of the root-feeding damage caused by the larvae (leather jackets) happens in October, early November and late April to early May the following spring. There is no need to use an insecticide unless your lawn was damaged by crane flies last fall or this spring. In order to prevent damage next fall and in spring of 2018, homeowners, lawn care professionals or golf course superintendents will need use one of the following products when indicated timing below.
Timing is critical because these are same products that are used for grub control and, if timed properly, one application will protect against both European crane fly and white grubs (Japanese beetle and European chafer). However, if your grub control insecticide is applied too early (in April, May, or June) it may not work for European crane fly in the fall.
Product

Correct Timing for European Crane Fly and for Grubs

Sevin (carbaryl)

In April, early May or late fall when turf damage is discovered

The following treatments are preventive:

Acelepryn (Chlorantraniliprole)

May (also protects against grubs and other turf pests)

Arena (clothianidin

Late July and early August (also protects against grubs)

Merit (imidacloprid)

Allectus (imidacloprid + bifenthrin)
Aloft (clothianidin + bifenthrin)
Meridian (thiamethoxam)