Experience the night skies of northern Lake Huron
Northern Lake Huron's brilliant night skies offer coastal tourism opportunity when the sun is down.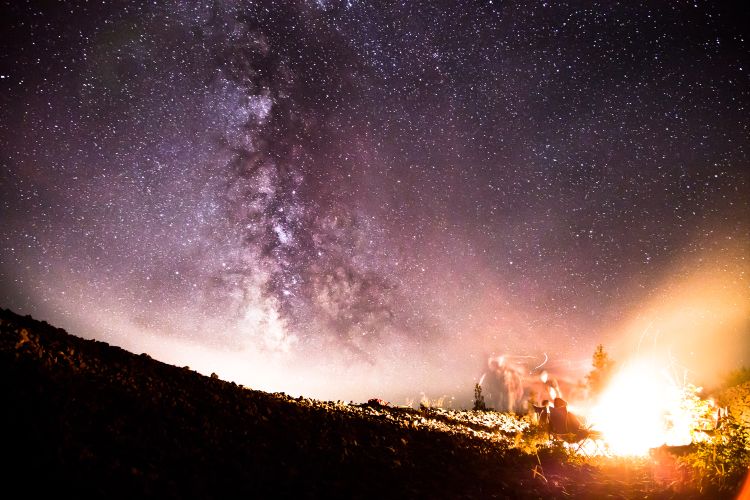 Sunrises and sunsets on the Great Lakes may offer some of the most memorable moments for many visiting the coasts of our freshwater seas. But have you ever wondered what these coastal skylines have to offer when the sun goes down? Have you ever gone to the beach at night to experience the night sky over our Great Lakes dancing with sparkling stars?
Three northeastern state parks along Lake Huron's coastline – Negwegon State Park, Rockport State Recreation Area and Thompson's Harbor State Park – were recently granted a new special dark sky preserve designation ensuring stargazers have the best starry view nature provides. Above the 45 parallel, star gazers will find Headlands International Dark Sky Park, Besser Museum for Northeast Michigan Planetarium, and now these three coastal state parks offer stargazing experiences. Each place allows a front-row seat to view the natural wonders in our galaxy.
Designated by the state Legislature as Michigan Dark Sky Preserves, these rural parks are well known for their lack of artificial light pollution (see online light pollution map: www.lightpollutionmap.info ). These dark sky light readings taken at these parks would qualify them for the highest Gold Standard with the International Dark-Sky Association. This designation preserves and protects the opportunity for future generations to experience a sky brimming with stars just as those have in the past – and you can today.
Select your shoreline spot or backcountry campsite, bring binoculars, spread your blanket on a starry beach to find a constellation, tell a star story, watch a meteor shower without street lights to washout the beautiful night sky.
A visit to northeast Michigan is worth the trip for night sky enthusiasts. Several experiences offer community members, and visitors alike, an opportunity to experience and explore the best of our night skies. Events hosted regularly by DNR Parks and local Friends groups offer the opportunity to experience, enjoy and learn about these unique coastal state parks and their brilliant night skies. You can now celebrate the International Dark Sky Week each April in northeast Michigan with events hosted at the Besser Museum and on the coastline with each of these three state parks.
On June 25, 2016, during the Besser Museum's annual Log Cabin Days celebration, you can learn more about astronomy and these recent Dark Sky Preserve designations with planetarium shows and guest speaker, Mary Stewart Adams, who is a star lore historian and storyteller from Headlands Dark Sky Park. The event is noon to 4 p.m. June 25 at 491 Johnson Street, Alpena, Michigan; tickets: $3/children, $5/adults, $12/family.
Stargazing at night can offer opportunity for low-impact enjoyment of these coastal state parks, while also providing educational opportunity to learn about the science of astronomy or the issue of light pollution. This type of coastal tourism can also preserve a quickly disappearing night sky experience that less than 100 years ago might have been commonplace for everyone. A recent guide to Sustainable Coastal Tourism in Northeast Michigan, by Michigan Sea Grant and Michigan State University Extension, illustrates the benefits of community investment in protecting these resources, while promoting awareness and education that incorporates maritime heritage as part of the coastal tourism experience for visitors to the region.
The night sky's beauty, wonder, and inspiration are all within your reach in the dark places along Lake Huron's shores and beyond. For more about night skies over northern Michigan and the Great Lakes, visit Headlands International Dark Sky Park (in Emmet County) or Besser Museum for Northeast Michigan (in Alpena County). To learn more about touring Northeast Michigan visit: http://www.us23heritageroute.org/
Michigan Sea Grant helps to foster economic growth and protect Michigan's coastal, Great Lakes resources through education, research and outreach. A collaborative effort of the University of Michigan and Michigan State University and its MSU Extension, Michigan Sea Grant is part of the NOAA-National Sea Grant network of 33 university-based programs.